« Sunday Overnight Open Thread (8/12/18 )
|
Main
|
Mid-Morning Open Thread »
August 13, 2018
The Morning Report 8/13/18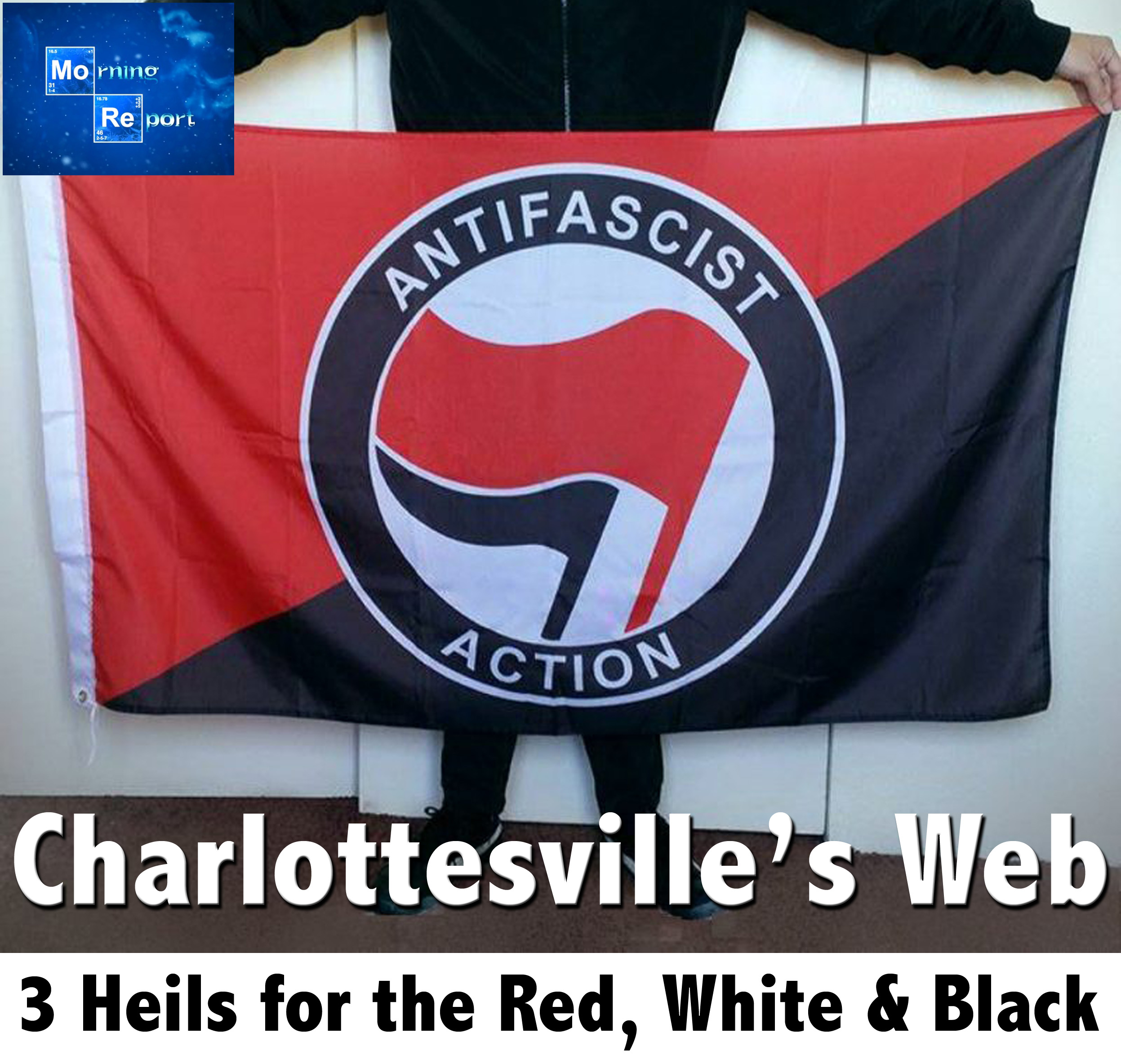 Good morning kids. Nothing like a bloody riot over the anniversary of a Reichstag Fire of a staged event to try and distract from the real scandals going on including Dianne Feinstein's unwittingly (or otherwise) having a spy for the Chi-Coms on her staff for 20 years, the heir apparent to take over Keith Ellison's House seat committing perjury, the Democrat ties to the New Mexico Jihad terror camp, and the continuing revelations that the case against PDT is nothing less than a coup attempt by Obama and Clinton to overthrow the 2016 election.
Let me cut right to the chase. There is no "alt-right." Whatever vestiges of white supremacist hate groups there may be in this country are so few and far between as to barely ping on a radar screen. Unless of course you are from the Southern Poverty Law Center whose sole mission is to associate racist hate groups with conservatives, Christians, pro-Constitutionalists and anyone and anything that is opposed to the Leftist-Socialist counterrevolution so as to effectively neuter them politically. Notice Islamic/Islamist is not on that list for obvious reasons. But I digress.
It turns out that the leader of this "Unite the Right" group whose actions caused that fatality last year was an Obama supporter and active in his Organizing for America movement only a few months prior. The bottom line is that this was all a false flag operation, much like Fast and Furious, to smear the President and his base as racists and thus cripple his presidency. And again, one year later, we have the same thing. Whatever unwashed, unreconstructed, pig-ignorant racists and bigots of the classic variety there might still be in the US, they are meaningless in the political discourse.
Contrast that with this "Antifa" movement which is openly causing violence, mayhem and destruction with the active cheering of supposedly responsible thought leaders in media, academia and politics. After every attempt to use the political system, the courts and the press to destroy his presidency and agenda, Donald Trump has been untouchable. And not only is his base standing fast but growing numbers of peopler heretofore disinterested in politics or indifferent at best about Trump are becoming disgusted by this entire spectacle, including significant numbers of Democrat voters, I might add.
So here we are. Libeled, censored, silenced and in ever-increasing instances targets of ever more escalating acts of intimidation and violence. From confrontations in public places to to riots to bike locks in the head to shootings, the Media owns this. And things are going to come to a head in the midterms, especially if the Democrats do not win big as the narrative has been pimped since the beginning of the year. If that happens, I predict a ramping up of violence and more open calls for the dissolution of our electoral process and Constitution. Fasten your seatbelts.
Diving into the nitty gritty, in politics we already mentioned the Ilhan Omar perjury scandal being hushed up by local Minnesota media but the son of Keith Ellison's ex-girlfriend is stepping forward just a week before the election to accuse him of physically assaulting the woman, another field of Dem-Socialists goes down in flames in Hawaii, Joe Donnelly is facing tough times in Indiana, Nancy Palsi is facing a revolt in her party and blames NBC, Kamala-Toe is touting her non-record of nothing in the Senate, a field of other Dem nobodies stump in Iowa, Jim Jordan getting the thumbs up from Tea Partiers for speaker, and the DNC reverses course and will take money from evil, filthy oil corporations. Aside from the hypocrisy why the hell would oil companies even offer to give that party money? I guess the board rooms are not what they used to be, courtesy of our school systems.
Some very good essays and stories in the first amendment department including the banding together of 100 papers to formally announce their plans to demonize Trump and Daniel Greenfield on Sarah Jeong and the Alt-Left. Speaking of censorship let us move down an amendment where Cody Wilson and his Defense Distributed are the latest victims of deplatforming, this time by on-line retail platform Shopify.
In Mewler Obamagate news, Miss Lindsay is calling for a special counsel to probe Bruce Ohr, Rudy debunks the Comey "go easy on Flynn" claim and what did Rosenskunk know about the FISA warrants and when.
On the international front, the Turkish lira is collapsing as a result of PDT's sanctions after Erdogan lied to us about releasing the American pastor, support for Hamas and other security issues. Meanwhile, as Venezuela and Cuba continue dissolving, they nevertheless are successful at stinking up the UN and Defense Secretary Mattis is heading to South America amid economic and political woes facing several countries there. In the UK, amid the Boris Johnson burqa non-flap, the Daily Mail has uncovered the fact that far Left Joo-hater (BIRM) Jeremy Cornyn attended a 2014 ceremony in Tunisia honoring the 1972 Munich terrorists.
Domestically, the economy is booming and the media is desperate to credit Obama, analysis of PDT's criminal justice reform and effort to employ ex-cons, good news about his insurance and healthcare reforms, while in education more Joo-hate on campus, LeBron's school funding scheme. In enviro news, wind and solar are a sham, the food-labeling fraud and NASA successfully launched a probe that will get crazy close to the sun - that big orange glowing ball in the sky that some people think might be related to changes in the climate. I hope we clear that mystery up so we can confirm that banning plastic straws will indeed save the polar bear.
Lastly, some interesting pieces on the Shays' Rebellion and Custer, both in context to the insanity we are going through today.
Anyway, links from around the world, across the nation and up your street. Have a better one and remain blessed.

posted by at
07:36 AM
|
Access Comments