« EMT 08/12/18
|
Main
|
The John Lennon School Of International Security: If We Hope And Pray, Maybe Iran Will Play Nice! »
August 12, 2018
Sunday Morning Book Thread 08-12-2018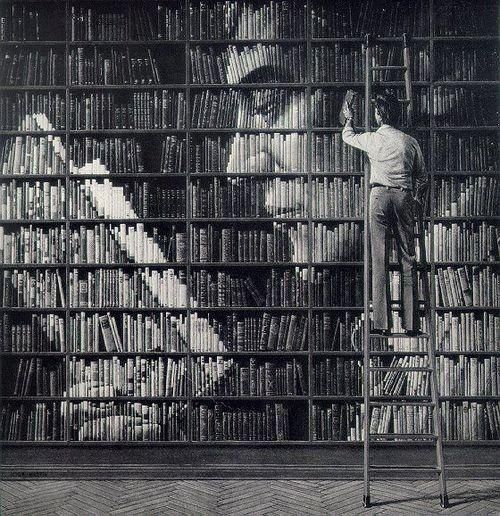 Good morning to all you 'rons, 'ettes, lurkers, and lurkettes. Oh, and we've got a new category of readers, escaped oafs and oafettes ('escaped oafs' is an anagram of 'Ace of Spades'). Welcome once again to the stately, prestigious, internationally acclaimed and high-class Sunday Morning Book Thread, a weekly compendium of reviews, observations, and a continuing conversation on books, reading, and publishing by people who follow words with their fingers and whose lips move as they read. Unlike other AoSHQ comment threads, the Sunday Morning Book Thread is so hoity-toity, pants are required. Even if it's these pants, which are the world's oldest:
Radiocarbon dating of two pairs of trousers discovered in a cemetery in western China has revealed they were made between the thirteenth and tenth centuries B.C., making them the oldest known surviving pants by almost 1,000 years...
(h/t to 'ette KT for the pants pic)

Book Scorpion
KT alerted me to an animal called the book scorpion, so-called because it is very helpful around libraries:
Properly known as pseudoscorpions, these tiny, tiny creatures have a fondness for old books, because old books also happen to contain delicious booklice and dust mites. And they're really not book scorpions… at all because they can't hurt us, and they've basically been performing a free pest control service since humans started stacking excessive numbers of dusty, bound-together piles of paper along our walls and nightstands. This arrangement works because old book-makers used to bind books using a starch-based glue that booklice and dust mites love, so without a healthy population of book scorpions patrolling your collection, those gross parasites are probably having a horrible, silent field-day chewing them all apart.
They're actually quite tiny, growing to no more than 4 millimeters in length.
God obviously created them to help us keep our books intact.

It Pays To Increase Your Word Power®
Word of the Day: IXIONIAN (adj.) eternally torturous, unendingly tormenting
Usage: Here on CNN, Ixion's the one!


Ruined By Sex
121 I'm currently reading the first "Roma Sub Rosa" mystery Roman Blood, by Steven Saylor. Like the SPQR mystery series, its set just before Caesar takes over (starting a bit earlier under Sulla's reign) and has a man who is a sleuth of sorts...I like the mystery so far, and nothing stands out as violating logic or historical evidence we have. The problem is that at least this book has a lot of sex in it, gratuitously so. Its described more than it needs to be and repeated in flashbacks and memories...I mean, its no graphic and play-by-play, but its way more specific than the story requires and seems to be in the book not to serve the story but just because Saylor likes to write naughty scenes...It becomes not so much storytelling as a form of pornography and it makes me start skipping pages.

Posted by: Christopher R Taylor at August 05, 2018 09:57 AM (39g3+)
This comment here in last week's book thread by Chris got me thinking about what books I've read that have been ruined by graphic and/or unnecessary sex. One book I can think of is by Robert Heinlein who, in my view, started out as what you might call a libertarian free-thinker type, but then, at some point, he became just a Dirty Old Man. The book of his that did it for me was I Will Fear No Evil, published in 1970, which plot concerns a rich, dying old man who has his brain transplanted into the body of his beautiful young secretary who had just been rendered brain-dead by a mugging. But her consciousness somehow is still inside her body and so the novel is mostly them talking (thinking) to each other. Which could be an interesting concept, but what they talk about mostly is sex, and Heinlein obviously had no clue how to write about sex from a woman's perspective, so the female character sounds like the type of woman men wish women would be like in bed, and it's just BORING. It's like one of those dumb Cinemax late-night movies. I have heard that Heinlein had grown too ill to edit it after he wrote it, which would explain a lot.
Back in the 80s, I started Jean Auel's Clan of the Cave Bear series ("Earth's Children", I think she called it) and the first one was OK, yeah, it might have had some sex in it, but if it did, it didn't bother me too much. But the I started the second installment, Valley of the Horses, holy crap, it seemed as if it a continual orgy. It got so bad that I started writing snarky notes in the margins about how bad it was. I couldn't finish it and I eventually just threw both books away, which is something I rarely do. One last thing, for being some sort of primitive, Neolithic cave-dwellers that hunted with stone spear-tips and wore animal skins, they sure must've had some pretty good birth control, because for all the random hook-ups and sexy, sexy times that was going on every few pages, nobody ever got pregnant. Now how amazing is that?
So I'm curious if any of you morons have a book like this, that could have been good, or better, except for the gratuitous sex.

Throne Reading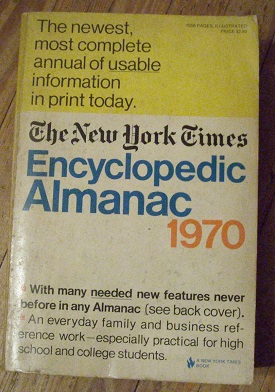 'Ette Lee e-mails:
Growing up, my family kept the 1970 New York Times Almanac in our throne room for YEARS.

I learned pretty much everything there was too know about the year 1969. I know an insane amount about the Cinderella Mets, the Battle of Bogside, the Attica Riots, Hurricane Camille, Woodstock, Bernadette Devlin... Well, 1969 on general.

When we moved my junior year of high school, it moved into the new house. Only when my parents moved again, in 2000, did it move from the bathroom to a shelf. I have it now: my dad died in 2006, and my mom in 2012.
I did not know there was such a thing as the New York Times Encyclopedic Almanac. But it apparently started in 1970 and ended in 1997.

Moron Recommendation
56 Recommended here a few weeks ago, I read the interesting and informative The Disappearing Spoon and Other True Tales of Madness, Love, and the History of the World from The Periodic Table of the Elements by Sam Kean. This is not only a history of the Periodic Table and how the elements were discovered, but Kean tells often amusing stories of an element playing a part in a wide range of subjects such as music, medicine, politics, finances, war, etc. An entertaining read which imparted much new knowledge to this reader.

Posted by: Zoltan at August 05, 2018 09:24 AM (HLy+M)
The Disappearing Spoon: And Other True Tales of Madness, Love, and the History of the World from the Periodic Table of the Elements by Sam Kean asks (and answers) such questions as:
Why did Gandhi hate iodine How did radium nearly ruin Marie Curie's reputation? And why is gallium the go-to element for laboratory pranksters?

The Periodic Table is a crowning scientific achievement, but it's also a treasure trove of adventure, betrayal, and obsession. These fascinating tales follow every element on the table as they play out their parts in human history, and in the lives of the (frequently) mad scientists who discovered them. THE DISAPPEARING SPOON masterfully fuses science with the classic lore of invention, investigation, and discovery--from the Big Bang through the end of time.
Those of you familiar with gallium probably could make a good guess at the prant, but for those of you who aren't:
Though solid at room temperature, gallium is a moldable metal that melts at 84 degrees Fahrenheit. A classic science prank is to mold gallium spoons, serve them with tea, and watch guests recoil as their utensils disappear.
$11.99 on Kindle.

Books By Morons
Another moron author, 'Sausage McMuffin' checks in with his new novel that he has published on wattpad:
Ammas Mourthia is a cursewright -- an order of outlaw magicians as adept at casting curses as breaking them. Practicing his trade in the bustling city of Munazyr, he is hired by the last person he ever expected: the daughter of the cruel Emperor who put his brethren to the sword and slaughtered his family. The Princess Carala has little choice: thanks to her father, there are no other cursewrights who might purge the werewolf's blood that now infects her. Bound by his oaths to aid even the daughter of his most hated enemy, Ammas delivers the cure to Carala ... only for it to nearly kill her.

Now, confronted with a strain of the sickness he cannot treat, pursued by a vicious pack of werewolves who want Carala for their own dark purposes, and forced to return to a part of the world where he is a wanted criminal, Ammas must try to lay his hands on the real cure if he is to have a hope of upholding the vows he swore to his trade and his client. but there are forces at play he cannot control, and secrets darker than any he ever imagined waiting to be disturbed.
The Cursewright's Vow is available FREE on Wattpad. Membership is not required to read it.

___________
Don't forget the AoSHQ reading group on Goodreads. It's meant to support horde writers and to talk about the great books that come up on the book thread. It's called AoSHQ Moron Horde and the link to it is here: https://www.goodreads.com/group/show/175335-aoshq-moron-horde.
___________
So that's all for this week. As always, book thread tips, suggestions, bribes, rumors, threats, and insults may be sent to OregonMuse, Proprietor, AoSHQ Book Thread, at the book thread e-mail address: aoshqbookthread, followed by the 'at' sign, and then 'G' mail, and then dot cee oh emm.
What have you all been reading this week? Hopefully something good, because, as you all know, life is too short to be reading lousy books.

posted by OregonMuse at
09:00 AM
|
Access Comments