« Thread before the Gardening Thread: Wonderland [KT]
|
Main
|
Ace of Spades Pet Thread »
July 14, 2018
Saturday Gardening Thread: July is heating up [KT]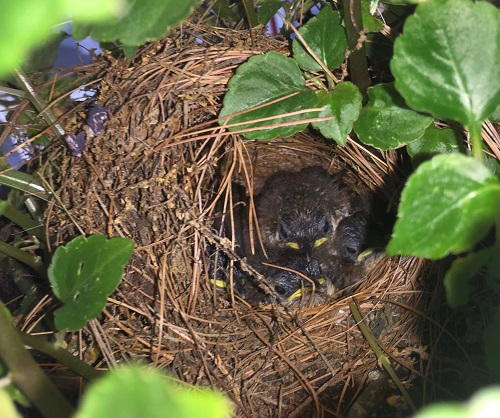 Bluebell sent in the adorable bird babies above:
I mentioned on the blog a couple of weeks ago (can't remember if it was on the garden thread or not) that I had a bird's nest in one of my hanging baskets, and it had eggs in it. Well, the eggs hostaed, and now I have babies!

They are house wrens, and there are five of them. I tried to get a picture of the mama bird, but I had to do it from inside poking my phone out the window, and it was much too dark. So here's a photo of the basket (the middle part where there are no flowers is where the nest is), and then one of the baby birds. My son climbed up on the railing to get that one for me!
Hanging basket photo below.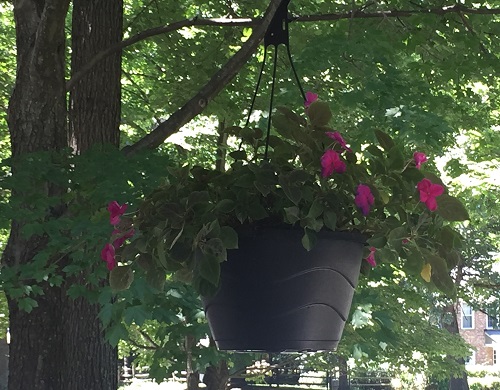 Usually we have house finches in our baskets, and I hope the wrens are a little neater in their, ah, toilet habits than the finches are, although I doubt they will be. I hope I get to see them fledge. In the meantime I enjoy the mama's beautiful songs and the babies' little cries as Mama draws near with the food.

Thank you for doing the garden thread and the thread above each week - I always looks forward to it for many reasons, but one of them is that it always has the most beautiful pictures on the whole blog!
Thanks, Bluebell. Most of those beautiful pictures come from members of The Horde like you.
More Wildlife
Golfman sees some wildlife in the landscape from time to time:
Rode by this deer early in the morning. At first, I just saw the tail end and thought the coyotes had got them one. Backed up and checked and there xe sat. Never flinched. They are somewhat used to maintenance traffic early in the mornings. I was probably 20 feet away.
The Edible Garden
Sometimes, you just don't want deer in your garden. MarkY sent in one solution, plus a couple of other garden photos:
Hey there! Love the thread, and thank you for doing it.

I've threatened to show our redneck deer-proof fencing. Here 'tis.

T-posts that drive in the ground to where 4' shows (for us, in this soil, that means 5'). 2 X 4 inch x 4' mesh cheap wire fencing on the bottom, attached to stakes with either zip ties or baling wire. Then, 1/2" conduit, cut into 4' sections with a sawzall, and skinned with 4' chicken wire. We attached the conduit with baling wire and good pliers, the fencing wire with zip ties for speed. Net 7' or so. Adequate to discourage deer.

The ribbons are needed to show the deer there is something there. I'ts surprising how that wire can disappear in low light.

The first two years we used deer netting on the top, but with sun degradation and one incursion by raccoons, we opted for a bit more permanency.
240' perimeter. Maybe 2 (4) hour sessions to install.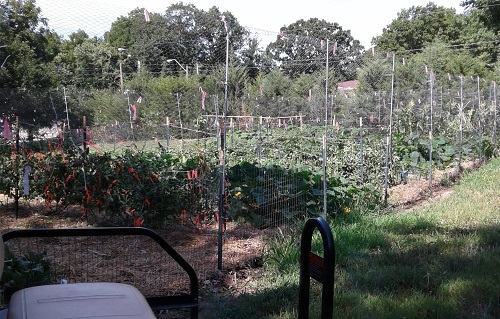 It's hot here, (Kansas City) and has been since early May, with very little reprieve. We had no spring. Went from freezing temps to 90's, so few cool season crops this year. Kale knows no weather.

We keep an aisle down the middle (tar paper... did I mention redneck?). And I'll spot spray glysophate early mornings when needed... but mostly we pull weeds. The straw helps.

The zukes and cukes are being picked every other day (or thrown out for being baseball bats). Peppers are doing good (Hungarian wax, jalapenos for pickling, and sweets, plus poblanos). Maters won't ripen til the evenings cool. Beans are about to explode, and we just picked our first okra... which means we better get out there every 2-3 days. Our squash of various tribes are ripening.
Tomatillos are just about ready for green sauce.

We did plant a row of corn, but that's only for the grandkids. Corn seems to be a coon magnet, and we don't need coons in that garden. Plus, with fresh picked sweetcorn $3/dozen not 20 minutes away, it's hard to get excited about taking away good garden space for it.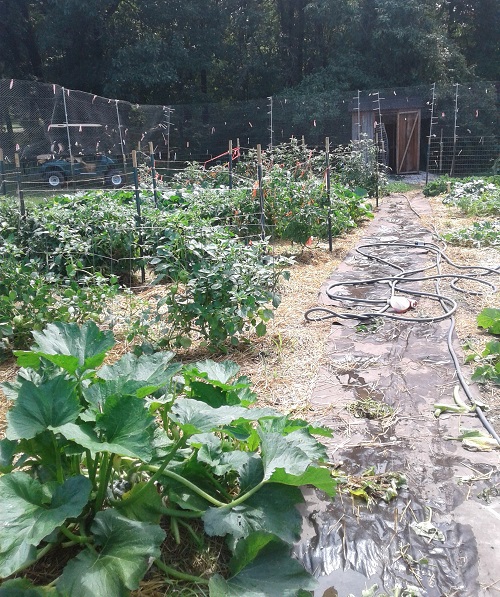 The garden shed. When we bought this property, it had 4 enormous wooden electrical poles on it left over from when the local util built major transmission lines 1/2 mile north. I had them sawn into 3/4" slabs, and used them for exterior siding on my outbuildings. They looked 100 years old the day they were built, and being treated with creosote, will last that long, too. The half moon for was grins. We ran a water line into the area, and placed the shed over it, just to keep the local chillen's from turning on the water and leaving.

Again, thanks for the thread. I enjoy seeing the challenges and crops from around the country.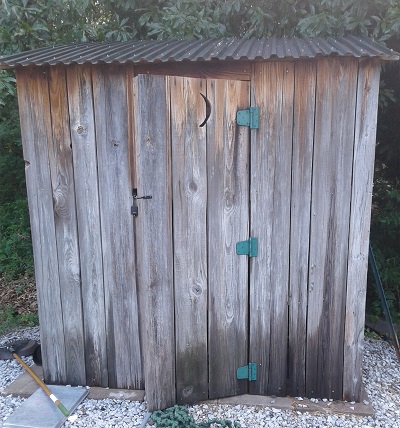 Sometimes persistence pays off
Le Garde Vieux writes:
This bird of paradise flower has been cultivated and kept alive mostly by prayer for 18 years by my neighbor here in northern Alabama. It FINALLY bloomed.
Eighteen years, one flower. This Bird of Paradis is the official city flower of Los Angeles, and it is not winter hardy in climates much beyond the winter temperatures of Los Angeles, where it blooms more in winter than in summer (after June Gloom). Where adapted, it is tough. But in Northern Alabama, I imagine it takes some special attention. Recovers slowly from frost damage.
You can grow it as a big houseplant in Wisconsin, though. If you MUST have a touch of the tropics from a non-tropical plant.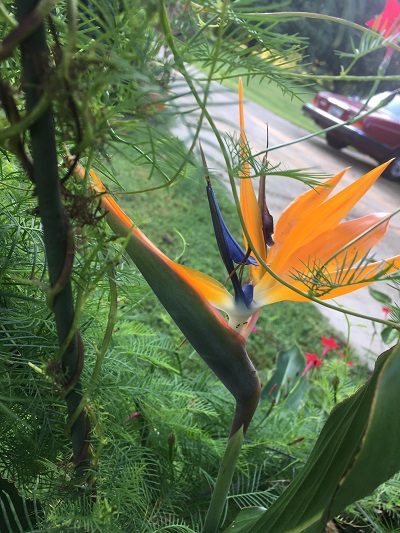 Anybody want to identify the red-flowered vining companion to the Bird of Paradise in the photo? From the leaves?
Garden Photography
It's been a while since we checked in with Don in Kansas. He has a post up on the name game.
Belamcanda chinensis. Or is it Iris domestica? Or Pardanthus chinensis? Or Morea chinensis? Or Ixia chinensis, Gemmingia chinensis, Vanilla domestica or Epidendrum domesticum? Taxonomists have too much time on their hands.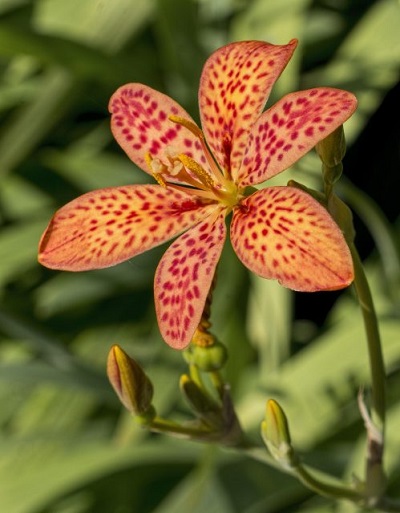 Be sure to check out the link at the end of the post for additional photos from Don's trip to the botanical garden. You can embiggen them or even open them in a new window for a full size view. Lots of beauty there in Kansas. And you might want to visit Don's main page for posts on unboxing mail order orchids, on little cacti and orchids and on another visit to the botanical garden.
Roses
We haven't had an over-abundance of rose photos this year. The Invisible Hand sends us an old rose photo from San Clemente:
Our backyard, when we bought this home, at 85 rose bushes. My far better half didn't like them. I fought to save this one plant. A 37+ yr old heirloom white rose bush.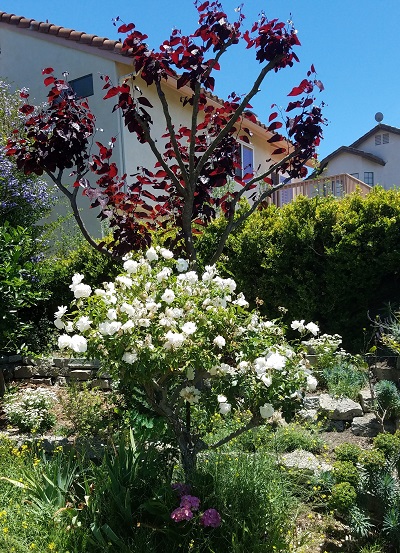 The "trunk" is tres impressive, eh?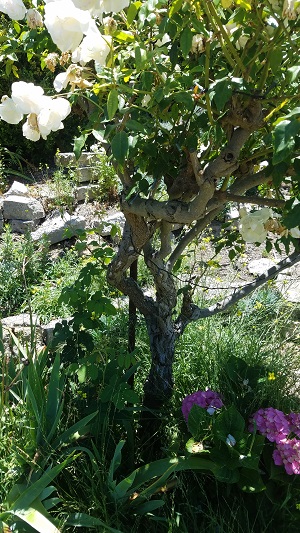 Why, yes it is. Not sure which cultivar this is. Any guesses?
Gardens of The Horde
Denver sent in a couple of photos of a familiar scenario, entitled, My Moron Tomatoes.
I have lived in my home (near Denver) for about 17 years, and have grown tomatoes for most of them. Early on, I had great beginner's luck, yield too great for me alone to eat, even growing one plant that reached almost to the roof line of the house (I had to rig up quite the cage to keep it aloft).

Attached are a couple of pictures of my non-thriving tomato plants, with leaves that are curled and deformed. I don't know what the cause is. An expert at a local nursery told me it could be herbicide residue, or summer heat. I did spray the lawn for weeds sometime back, but don't remember if I had those tomatoes planted at the time. If did, I would have protected them from the spray. I am probably going to pluck them out and try again next year because they don't appear to want to come out of it.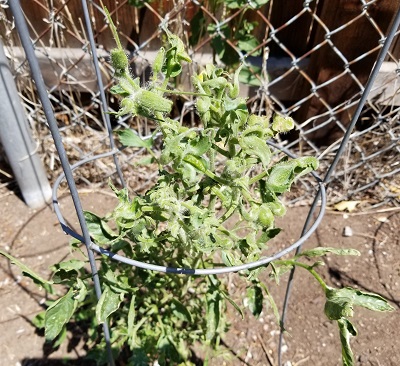 I see some leaf curling . . .
Later he sent this note:
By the way, I pulled them the other day. They were obviously not going to come back.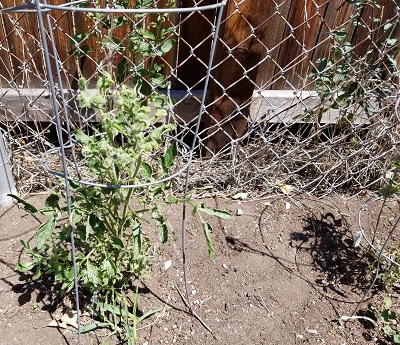 We've all been there, Denver. Gardening is real life. But you've done it before. Hope things work out better next year. Planting anything for fall?
Here in the San Joaquin Valley, we are in our Monsoon Season, which generally does not mean rain - just 100 plus degrees with humidity. Toads have commandeered one of the Garden Kitties' water bowls as a swimming pool at night.
Anything going on in your garden?

If you would like to send information and/or photos for the Saturday Gardening Thread, the address is:
ktinthegarden
at g mail dot com
Include your nic unless you just want to be a lurker.

posted by Open Blogger at
12:52 PM
|
Access Comments