« Tuesday Overnight Open Thread (7/10/18 )
|
Main
|
Mid-Morning Open Thread »
July 11, 2018
The Morning Report 7/11/18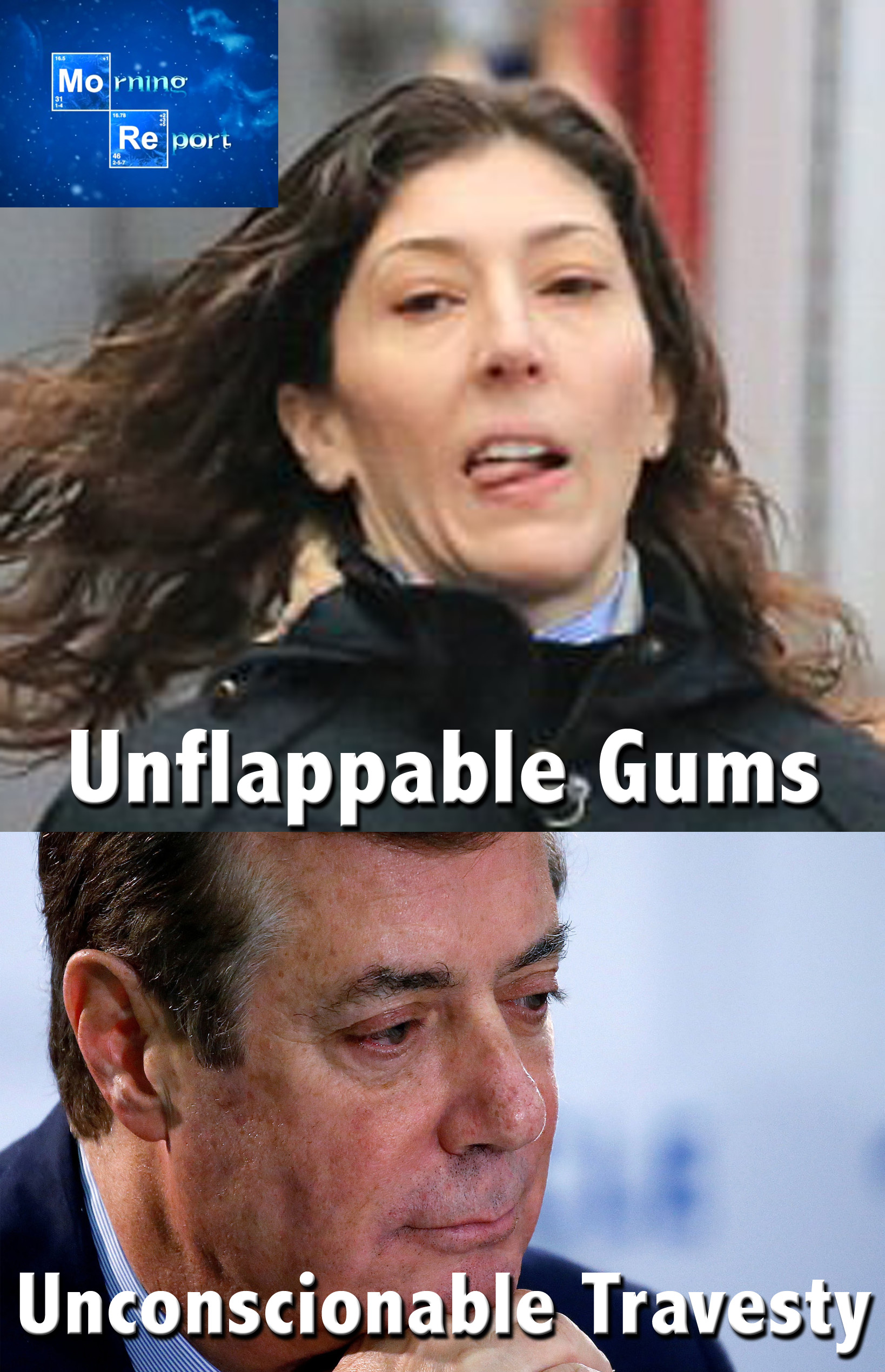 Good morning kids. Midweek and a number of things are brewing besides the typical outrage over any GOP SCOTUS nominee, although to be fair, this one is going to be different because a) it's Trump and b) it's potentially for all the marbles since the Left traditionally advances virtually all of its policy goals through the courts, and ultimately the highest court in the land. That said, there is almost universal praise for Brett Kavanaugh from the majority of conservative and GOP quarters while blood is shooting out of every orifice of the Left. Rush Limbaugh had Mike Pence on his show for a segment and in discussing Kavanaugh and the shit-show surrounding the nomination suggested not giving the Dems the opportunity to drag him through the mud and politicize the process by calling for a hearing and a vote next week. The other thing he mentioned, and this needs to be hammered home, is the Left's meme of having "balance" on the court; that is, a vacant seat should only be filled by a justice with the same political leanings as his/her predecessor (as if the Left would actually abide by that - see Gorsuch, Neil). HELL NO!; The only people that should be on the court should be originalists/strict constructionists who will subsume to the best of their ability their own personal political preferences and decide cases based on the Constitution. Period. Full stop.
But I digress. In any case, the Left thinks the hearings/vote should be delayed until the Mueller witch hunt is finished. It is to laugh. You can peruse the links here and elsewhere, but most have nothing but high marks for the pick and the judicial record so I've selected a few of the better ones.
And speaking of Mueller, traitor Lisa "Gummy-Honey" Page is refusing to flap her gums and will ignore a Congressional subpoena. Let that sink in; a lawyer and law enforcement officer who is refusing to respect the law, whatever her personal politics may be. Yeah, I know, she wiped her sagging buttocks on the Constitution a long time ago by actively participating in a plot to sabotage our electoral process and then a duly elected president. Par for the course, but still, it takes a special kind of arrogance to think that you can ignore a subpoena and get away with it.
Meh, Paul Manafort is rotting away in solitary confinement on the flimsiest of specious nothingness while murderers, rapists, pedophiles and other scum of the earth post bail and are out in a heartbeat before the ink on their fingerprints are dry. That is also an abject travesty. It's political terrorism just as bad in its own way as that suffered by Steve Scalise at the hands of a Dick Durbin-linked would-be assassin. The President can put a stop to all of this right now by firing Mueller, ending the kangaroo court and just flat out pardoning Paul Manafort, but the politics of that is dangerous to play with. I am of two minds on this given what's being done to an innocent man. But the nation hangs in the balance and November is crucial. Maddening and sad. And add to it the patently obvious attempt to destroy Jim Jordan, who is perhaps the most effective voice in Congress leading the investigation to stop the coup against the President and expose those ultimately in charge of it. In the process he exposed Rod Rosenfeces and made him look like the stooge that he is and so, Jordan must be punished. That must not be allowed to happen. And thankfully, Jordan is not backing down and many are rallying to his defense. The fact that Perkins Coie, the shysters behind the Steele Dossier and linked to every major Obama and Clinton Deep State player, are representing Jordan's accusers is evidence enough that this is a complete sham of a mockery or two Allreds of a joke. QED.
Moving along, big news on the Second Amendment front where the DoJ has settled with Cody Wilson, the man who raised alarm bells with Cuck Schemer over his ability to successfully 3-D print firearms and go around the Left's attempts at gun control. With the decision, his files are now free to be posted as open source information on the internet. Kind of a big effin' deal if you ask me.
On the political scene, as the Dems try to rally their base for November, now mostly about Kavanaugh, polling shows that any shot they may have had or may have thought they had about minimally retaking the Senate has all but evaporated. The hair-on-fire outrage is not a turn-on to most voters. In any case, DNC chair Tom Perez beclowned himself by posting the wrong photo in an e-mail alert about Brett Kavanaugh. Jeez, they had so much invested in [XX] they should've just stuck with that. Insert Nelson Muntz laugh here. That said, there's still this business of Nazi collaborator George Soros and his backing of AG races across the country. He has lost a couple including a crucial one in of all places California (Sacramento, IIRC) but still, this underhanded subversive needs to be watched. Actually RICO'd, his assets seized and then deported to Malaysia where I believe he has been sentenced to death. Also, Daniel Greenfield with a good piece on the Maxine "Roger" Waters Marxist minstrel show.
On to international affairs where the President is in London, much to the dismay of the yobs, lefties and Islamos and smack dab in the middle of the Theresa May fallout over Brexit. He also pulled no punches with NATO causing a churlish, infantile response from the EU President. Considering that traditional antipathy and 70-odd years of ingratitude coming from Western Europe after we liberated them twice in a generation and then spent trillions building them up, they should consider themselves damned lucky we didn't let the Soviets roll all the way to the Irish Sea. Also, tensions are on the rise on the Syria-Israel border; a situation to watch considering Iranian proxies and Iranian regulars are operating in the area while Iran is coming apart at home, the administration is warning about Iran's use of diplomatic cover to plot terror attacks, the US is challenging the freedom of the seas in the Taiwan Straits, the Chi-Com aviation firm AVIC, known for their leading edge technology (mostly by stealing it) is seeking to buy stakes in American firms (that has got to be stopped cold by PDT for obvious reasons), and several key cabinet members will be confabbing with Mexico's Marxico's president-elect. Lastly, adding to the revelations about how Obama sabotaged our efforts to stop Hezbollah drug-running is the news that he sabotaged similar efforts to take down the Taliban. How this nation survived eight years of this deranged, Marxist twat-waffle is mystery and a miracle.
Closer to home, manufacturing jobs are at a high, Obamacare and EPA regulations are getting the chop and some sort of big labor Medicaid scam-o-rama is being deep-sixed. On the down side, a 9th Circuit PDT nominee gets confirmed but all the 27 "no" votes came from the GOP; what's up with that? And the Senate is going to finally move forward with Ivanka's paid family leave effort. Meh, is that trip really necessary?
From hither and yon, Sasha Barely Cogent is one titanic asshole and Sarah Palin rips him a new one, and the #WalkAway movement has got the Left scared, for good reason.
Anyway, links from around the world, across the nation and up your street. Have a better one and remain blessed.
BRETT KAVANAUGH SCOTUS CONFIRMATION