« Random Thoughts And Open Thread
|
Main
|
Weekend Gun Thread »
July 08, 2018
Food Thread: "The time has come," the Walrus said, "To talk of many things: Of casks--and guts--and lovely pubs-- Of cabbages--and kings--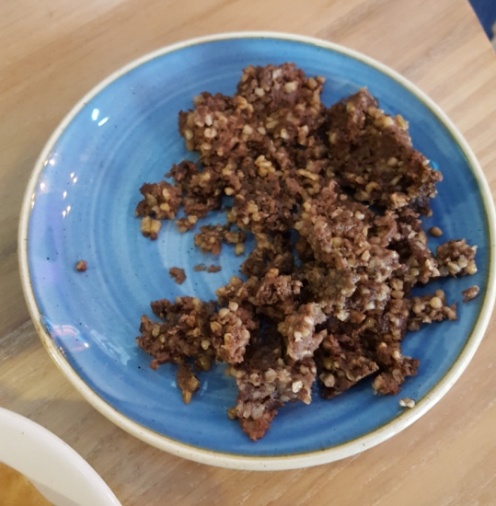 Contrary to all expectations, haggis was pretty damned good. And yes, the actual ingredients are every bit as disgusting as what we all imagine them to be. Heart, lungs, liver. Yeah, that's it. How much worse could it be? I guess adding ringmeat for the ultimate. Luckily everything is nicely minced so there is no hint of actual structure, and thanks God for that! But the reality was much more pleasant than I expected...so much so that I had it for breakfast the next day, and the day after that. It is also quite rich, so a little goes a long way. The flavor is sort of nutty (presumably from the oatmeal), and not nearly as strong and organ-flavored as I expected. Even the texture was pleasing...nice and firm and not mushy at all.
I really enjoyed the Scots' attitude toward haggis. They are unabashedly proud of it, and don't really give a rats' ass that it is the topic of much laughter and amusement in other parts of the world.
Good for them.
******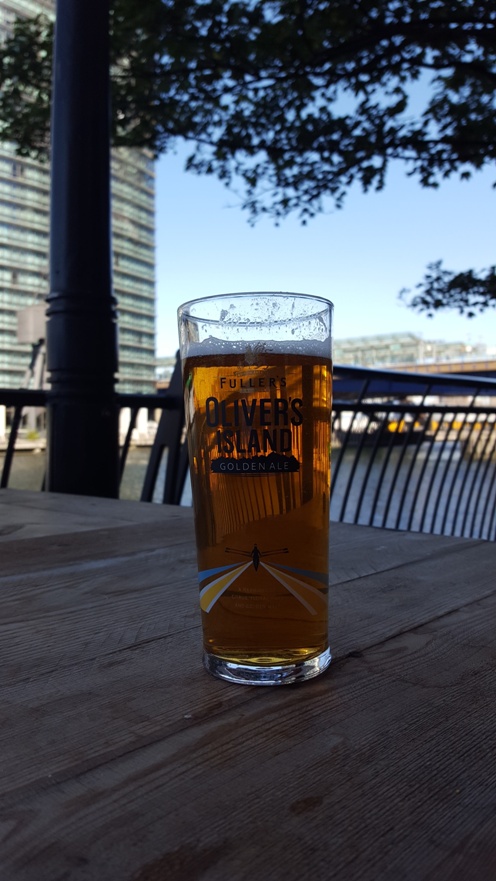 One of the many pleasures of certain English beers, in particular the cask beers, is the lack of carbonation. They don't drive the beer with CO
2
, rather they pull it from the cask with hand-operated pumps. And what little carbonation there is comes from a secondary fermentation that occurs after the beer is put in the cask, which makes tapping them entertaining for neophytes.
That photo, with the blue sky in the background, is not Photoshopped. it is actually London, with actual spectacular weather. That's Canary Wharf, which was a disused part of the Thames that was converted to a pretty nice (though architecturally sterile) financial center. The one problem is that it is really far from the airport and the center of London, but that doesn't mean that it is devoid of the pleasures of that great (but fading) city, as one can see from the next photo.

******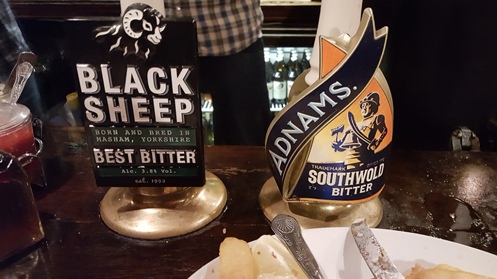 There has been a pub on this spot since the end of the 16th century, and in fact was one of Charles Dickens' haunts in the 19th century. It was saved from destruction by Ian McKellen, who along with a few partners purchased it and did absolutely nothing to it! Well, his staff from the Tolkien movies in which he played Gandalf is displayed prominently behind the bar, but that's about it.
Those two bitters are about 4% alcohol, which means that one can have a pint or three and still be able to function in polite society, another glorious advantage of English beer. As much as I enjoy the American beer renaissance, the Brits are beating us in this regard. There seems to be a race among many American brewers to make the strongest, hoppiest, insanely alcoholic beer on the planet.
Guys, I just want to have a couple of pints and still retain control of my faculties and be able to stand straight! Is that too much to ask?

******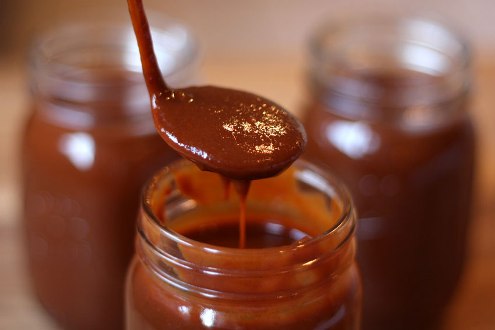 I regaled you recently about my attempt at duplicating Flints BBQ's glorious sauce, and my inability to figure out a way to keep too much bay leaf from infiltrating the mix. Well, I had a little bit left over from my last attempt, and I made ribs last night using a new technique of cooking them in a cool oven, wrapped in foil, then finishing them on the grill. Yes, that may be sacrilegious, but they turned out great, so....
Anyway, There was a fair amount of juice and stuff in the bottom of the foil, so I reduced it for awhile (until I got bored) and then added the last of the Oakland style sauce. I reduced it a bit more and served it to great acclaim and adulation for the genius of the chef.

******
Food and cooking tips, tender meatballs, really good jelly beans that aren't just cloyingly sweet, gefilte fish replacements, thick and fluffy pita and good tomatoes that aren't square, pale pink and covered with Mestizo E.coli:
cbd dot aoshq at gmail dot com
. Any advocacy of French Toast with syrup will result in disciplinary action up to and including being
nuked from orbit.
******
&topic=world_news">

posted by CBD at
04:00 PM
|
Access Comments