« Gardening/Open Thread Take 2 [KT]
|
Main
|
Chess Thread 07-07-2018 »
July 07, 2018
Ace of Spades Pet Thread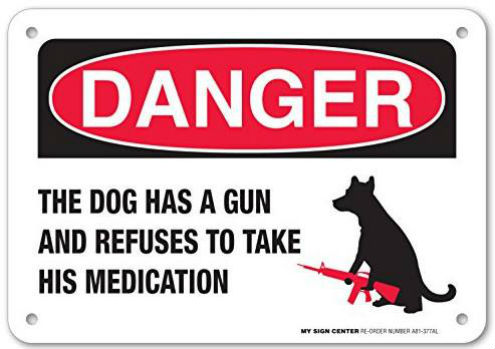 ***
Welcome to the almost world famous AoSHQ Pet Thread. The animals hope you take some time out for the next couple of hours. They are looking for serious couch time and a S-N-A-C-K.

***
A Little of This. A Little of That.

What a good puppeh!!! Man's best friend no doubt.

July 2 (UPI) -- An Arizona woman branded her golden retriever puppy "a hero" after the dog jumped between her and a rattlesnake that bit the canine in the face.

Paula Godwin of Anthem said she and her two dogs were hiking on a Phoenix-area trail when her 6-month-old golden retriever, Todd, bolted out in front of her foot.
***
What do you mean, you don't like Meow-Mix? It's not Ka-Boom after all.

Yost made a veterinarian appointment for the next day and bought some soft cat food and kitten milk for the baby animal, but that evening his family became suspicious of the loud noises that didn't sound like a domestic cat's meow.
***
K9s in the military. Training video.
***
Guardian angel? Nope, just a dog.
***
Meet The PetMorons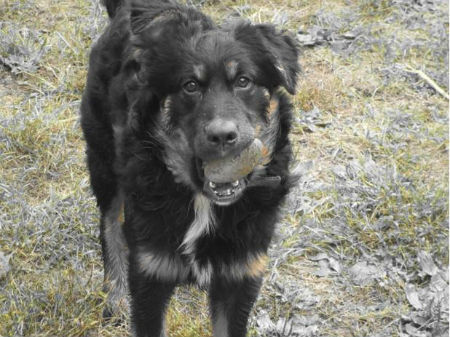 Howdy, part time commenter but mostly long time lurker, Edd Zachary.

A couple of things, a couple of pics of my best buddy, Leo, a 2 year old rescue English Shepherd.

Also a couple of links to a C&W singer from New Jersey that is a dog and gun lover. She was featured a couple of months back in the NRA 1st Freedom magazine in the NRA Country section. She has a new album and is asking for some support to market it, she is crowd sources thru Bandtwango.


Picture of her dog Rey with Mutt Muff hearing protection and a couple of Ars


Leo with his pet rock with a filter with camera-Edd Zachary
Leo is a neat looking dog. Pet rock? Hope Leo has the PetMoron Dental plan.
***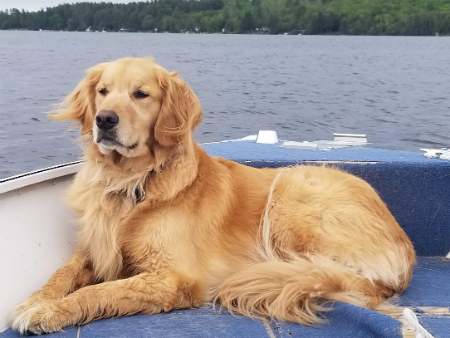 I'd like to submit my dog, Masonboro for the pet thread. He's a borderline defective golden retriever who will only retrieve things when they are thrown in the ocean or lake. He also collects rocks from the bottom of the ocean and deposits them on shore. He's actually the 2nd Golden I've had that does that - the other was one I had when I young. Not sure how they think of this stuff but, well, they are dogs. He is an amazing cuddler though - and incredible bed hog. Defenestratus
And here I thought we were the only ones who called our dogs bed hogs. Great photo. Thanks for the submission. Curious as to how dogs get along with the salt water.
***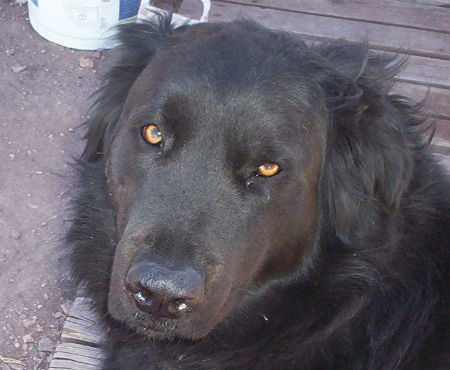 Hi,

I'm Joel, long-time lurker. Enjoy your feature.

This is Little Bear, my big black rabbit-eating doggie, who broke my
heart last week after a long bout with some sort of bladder problem that
antibiotics helped sometimes and sometimes not and then at the end WAY
not. We lived together way back in the southwest desert and while he
never achieved his life goal of starting his own outlaw biker club and
killing one of our local free-range calves, he did get lots of Jeep
rides and eat lots of cottontails. I'm not entirely joking - LB spent
most of his outdoor life on a leash or tie-out cable because when he was
young he liked to pack up with the other (all smaller) dogs and go out
to raise hell, and the neighbors did not find it as amusing as he did. I
did not bother locking the cabin door when I went off without him
because he did not approve of strangers coming around his lair.

I expect another dog will come exploit the niche he leaves at some
point, but it's hard to picture anybody really replacing him.
New dogs never replace the old ones. They compliment the memory of the deceased. Sorry to hear of your loss. Thanks for sharing Little Bear with us.
***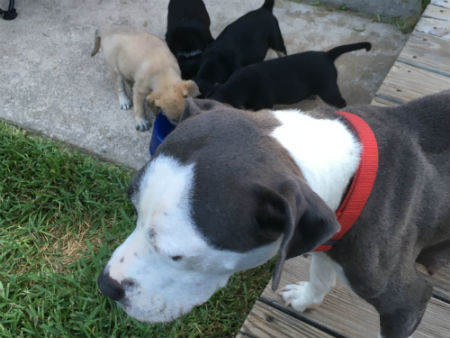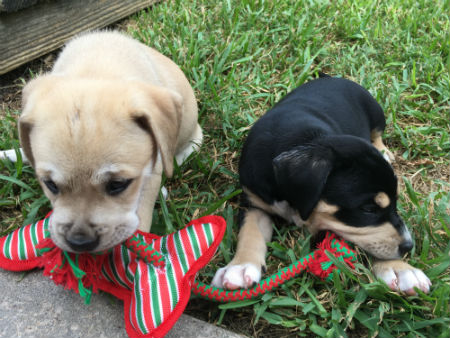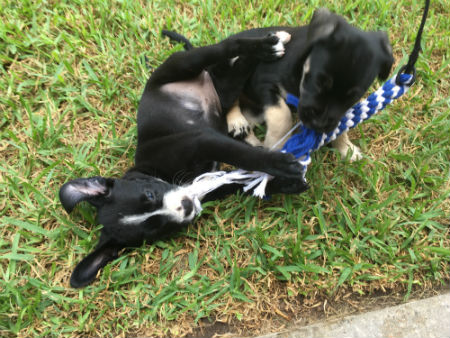 This is Julie, a momdog we're fostering. She's a very sweet cuddler. Her puppies are here too. The local shelter didn't want the puppies to only see the inside of a pound and wanted them to be acclimated to a home before they got adopted. We've never fostered any animals before so it's been quite an experience. Also, our other dogs (Jackson and Carmen The Dog) finally realized that it's ok and they're not about to be voted off the island. The puppies are three girls and a boy. They are May, Oreo, Cici, and Bryce. Named by different members of our family. We'll be sad to see them go and hope they go to friendly homes.

Rihar
Those photos look like the fostering is going well. What a cute group you have there. Good luck on finding new homes for those pups.
***
This is the black kitty rescued by dumbass from a busy I mean damn busy intersection here in ETEX on Independence Day. Mrs. E said she would have filmed the rescue but thought she might capture me and kitty being squished by a tractor trailer. In retrospect I think she was wise to stay in the truck. Would have made a hell of a video though. -Eromero
It sounds like the dumbass is one hell of a good guy!!!! Thanks for saving the little critter. Hopefully it has at least 8 more lives. Eromero, thanks again!!
***
H/T and thanks to Laurie for today's opening picture. Also thanks to the Morons who submitted photos of their pets today.
If you have something you wish to submit to the Pet Thread please feel free to reach out to us at petmorons at gmail dot com.
Have a great week!


posted by Misanthropic Humanitarian at
03:00 PM
|
Access Comments