« Weird News Dump
|
Main
|
Ace of Spades Pet Thread »
July 07, 2018
Gardening/Open Thread Take 2 [KT]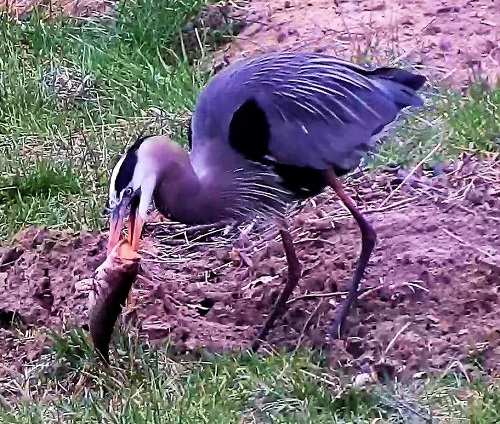 Another wild week here in the San Joaquin Valley, so another dual-purpose Open and Gardening Thread. I don't feel quite like the fish in the photo above, but thanks to all the members of The Horde who make it possible to put together a post without thinking too much.
Fauna in the Flora
This week, we are starting off with some wild critters which have been attracted to the gardens and farms of The Horde. The heron above is from Illiniwek, who has a pond on his property, of course. Herons are becoming favorites here at the Gardening Thread, along with owls and eagles.
This is the blue heron after a catch ... not exactly a garden pic but thought you'd like it. He swallowed it whole of course.
Our carnivorous plant specialist Tony Litwin sent in the following photo of a frog in peril:
Went out to check my plants this morning and found this small Cuban Treefrog hanging out in one of my pitcher plants. Seems he is hiding in there, and if he is not careful, the predator will become the prey.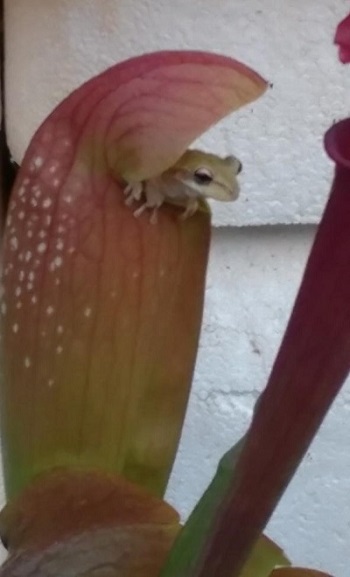 But he looks so cozy . . .
A while ago, Illiniwek sent in a photo of some milkweed growing with his snow peas. Ordinarily, you want to remove the spent flowers or unripe seedpods of common milkweed before it sets seed if you have farming neighbors, but Illiniwek seems to be able to deal with his milkweed. Wonder if the snowpeas are done yet?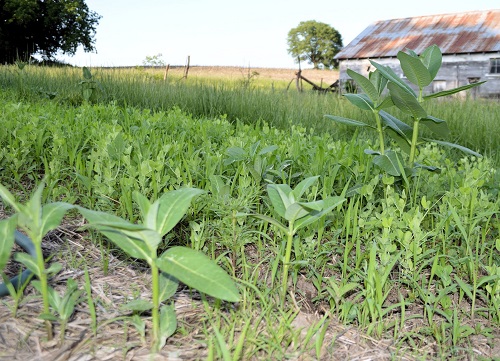 The reason that people plant various milkweeds is because they attract Monarch butterflies. And other butterflies. But they also attract other insects. Life is not always easy for butterflies.
This has a beaten up monarch ... I noticed later two monarchs that approached the milkweed flowers, but appeared to be repelled by swarms of black flies (or some small "bug").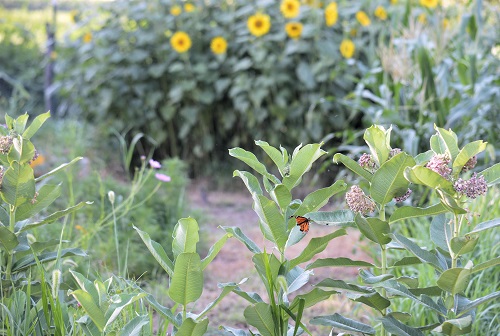 And here's an unidentified species of bee in Illiniwek's single Hollyhocks: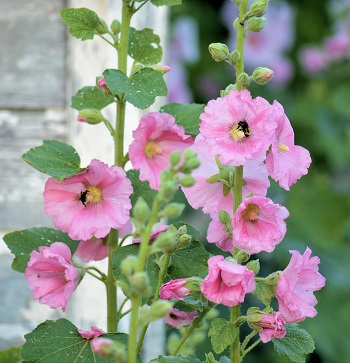 The Edible Garden
We enjoyed seeing some tomatoes in the garden of NadineCharmichael last week. Here's what else she's got going:
Lovely thread [with the Texas wildflowers - ed.]! Many of my neighbors have had success growing Texas wildflowers here in Middle Tennessee. They take very well to the awful soil and the intense heat, particularly around mailboxes and edgings near roadways. I have several varieties I'm looking forward to growing next year.

I saw your note about vegetable gardens so here's mine. We have a very small lot, less than a 1/4 acre, with lots of trees and horrid 6ft privacy fences, so sunlight is at a premium. It's a 12x4 raised bed garden lined with gravel and rebar to keep out burrowing critters, topped with landscapers fabric and then piled high with garden soil and my own magical blend of compost and sarcastic gardening puns.

We always grown tomatoes because they're easy and my kids are allowed to eat them whenever they want, right off the vine. This year we did large Celebrity hybrids and a cherry variety. Also repeats are green bell peppers and jalepenos. New this year are string beans, zucchini, and cucumbers. Someone crazy told me you can cage up zucchini and trellis cucumbers to save space. Darn if they weren't right! Definitely recommend for anyone with a small garden.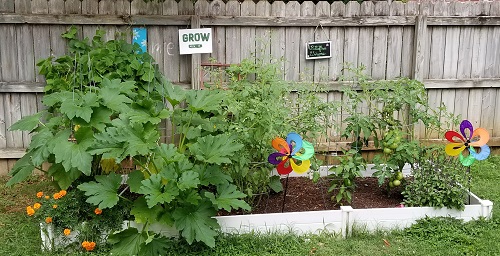 The second picture is what happens when you only water for 2 days but don't actively check your plants for produce. Yes, just 2 days. The zucc easily weighs over 2 lbs. If this is a harbinger of harvest to come we should clock in over 60 lbs of produce this season. Oh, also, there's a Thai basil plant in there somewhere.

Despite most gardeners I know who pooh-pooh big bix garden centers, I've had great luck with standard variety seeds and seedlings from Home Depot and Lowes. I don't go in for all this organic-only nonsense, so we have a mix of conventional and organic fertilizers and pest control methods. I do what works, virtue signalling be damned. I'd rather take pride in a well-grown tomato that tastes like heaven right off the vine, regardless of growing methods.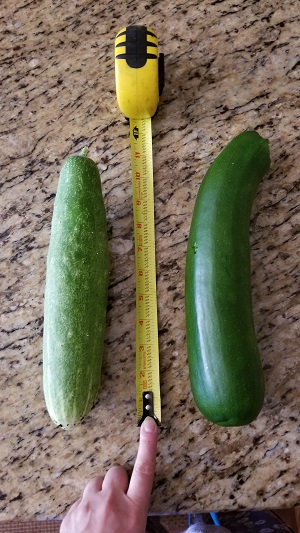 Oh, and for any southerners who might need a reference (because I'm a book nerd), the book pic is my garden bible. Being a transplant down here means learning a whole new growing environment. Rule #1: only grow stuff suited for your climate. Seriously. You're not special. Nature will always win. Accept it. Rule #2: Nature is a...

All the best!

Cheers,
NadineCharmichael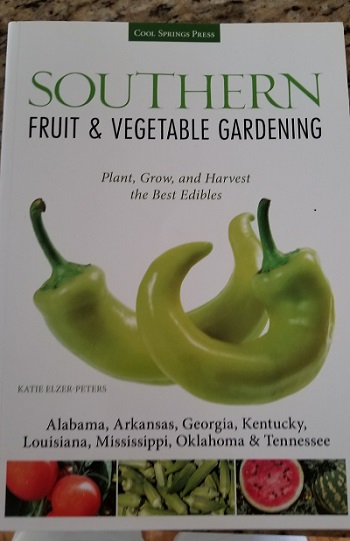 Cumberland Astro sends in an update:
Quite a few tomatoes on the vine - some have started to ripen since I took this picture a few days ago. Unfortunately we just had about 10 straight days of heavy rain without a ray of sunshine. That took out all the current round of blooms without any new tomatoes setting, so there is not much for me to look forward to after this round of tomatoes ripens.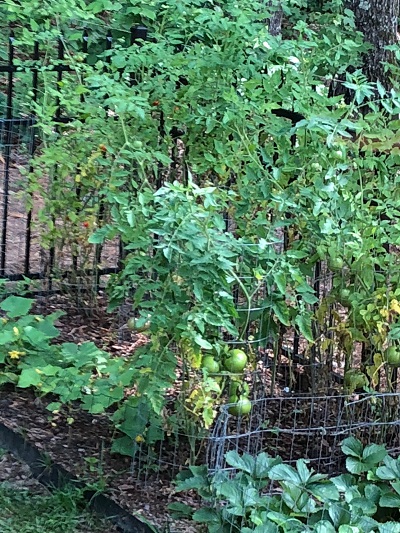 Gardens of The Horde
From Tom Servo, late last month. You might recall that Crinums are related to Amaryllis, Hippeastrum and Amarcrinums. Eat your heart out, CBD:
KT, just took this photo, my first Crinum Lilly of the season bloomed this morning.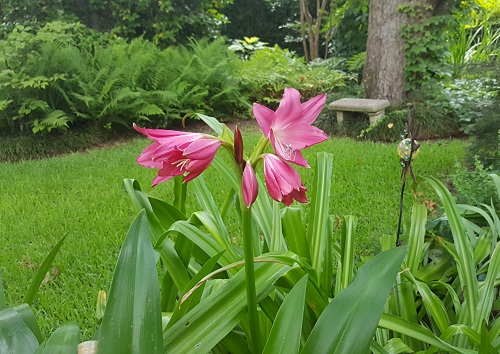 Also, just a general shot of the backyard. Here in East Texas, there's a lot of trees with a lot of shade so I can't go for too many flowering things. But we've put together a nice garden, I think. Thanks for your work!
Thanks for the photos, Tom! Looks like a good place for a party, don't you think?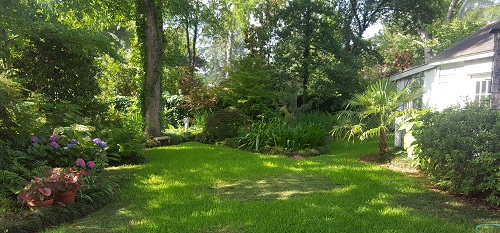 And this just in from Tom! Now we know when to have the party!
Just for fun, here is how that bed pops for July 4th every year - Red, White and (well Blue is really hard to get in flowers, so I gotta settle for a lot of green).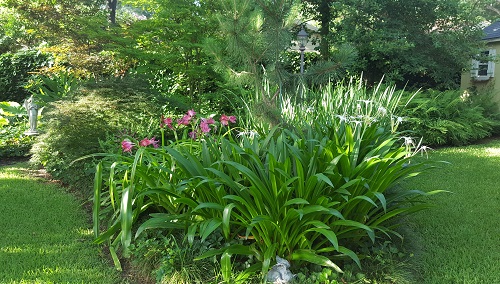 The purplish red crinums are Ellen Bosanquet variety, a staple of classic Southern Gardens, and the white is Giant Spider Lily Crinum (Asiatica)

Best time of the year for them!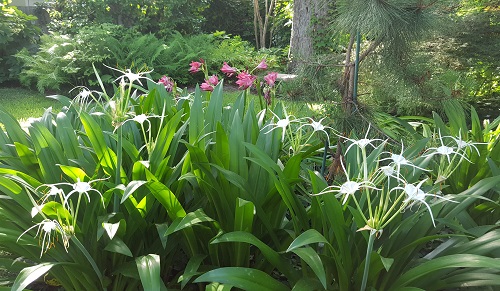 From Illiniwek, who loves living in the country, sent a while ago:
Ideally I'd motivate some people to buy some rural property and grow something, but a few big grain farmers seem to buy up everything, often with outside help. Of course California has a similar problem I suppose, but those are more high end operations.

These flowers just came out in full bloom yesterday ... I'm sure you know what it is but I'd have to go check my receipts. I'm not organized enough right now, to just keep a database of what I plant and when, where bought, etc. . . ha

There's an ever-bearing clematis on the other side of the post, but this became dominant. I was going for the Illini "orange and blue".
Anybody know the species or cultivar?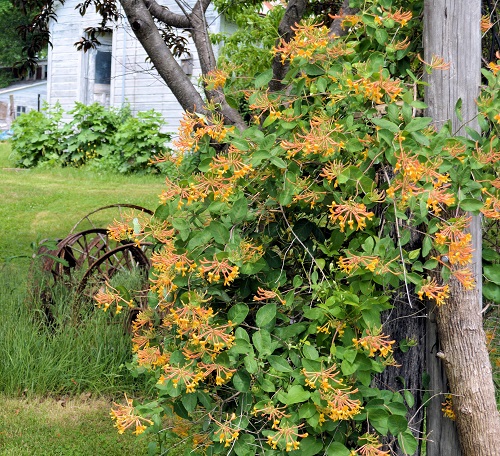 More on clematis later. A Horde favorite. Here is Illiniwek's.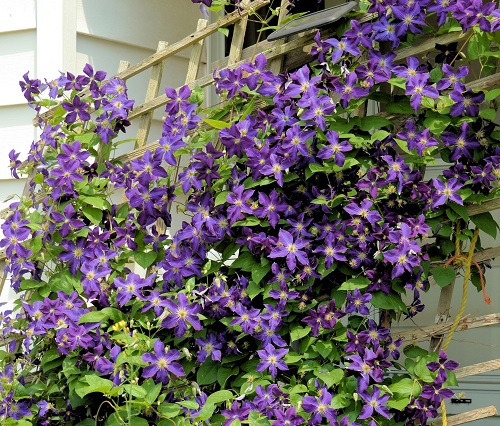 If you would like to send information and/or photos for the Saturday Gardening Thread, the address is:
ktinthegarden
at g mail dot com
Include your nic unless you just want to be a lurker.


posted by Open Blogger at
11:30 AM
|
Access Comments