« Weird News Dump
|
Main
|
Ace of Spades Pet Thread »
June 30, 2018
Gardening/Open Thread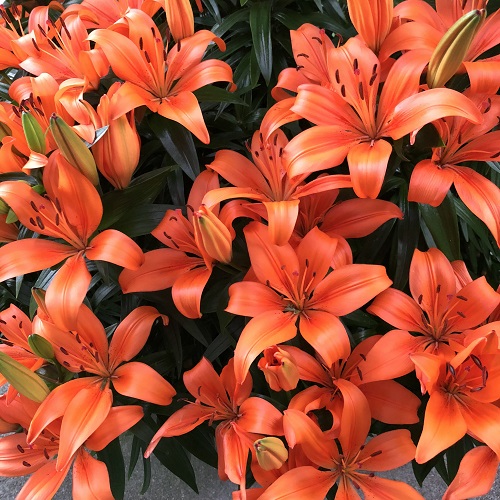 Happy Weekend before Independence Day!
It has been a roller coaster week here. My thinker is not working real well. Fortunately, we have some great photos and commentary by members of The Horde. CBD suggests that they may attract some new people to the "voodoo magic of gardening".
Our first contribution for today is photo above, which, if you use your imagination, might remind you of fireworks.
I'm a lurker, currently living behind enemy lines in the San Francisco Bay Area. I bought some Asiatic lilies five or so years ago, planted them in a large pot, and this is what I've got now. Evidently they multiply! (I love to grow vegetables but choose flowers for their ability to thrive without much more from me than water so this is a perfect flower for me!) JulieC
Here's another flower that might remind you of fireworks, from a little further South in California. The photo below, and the one that follows it, are from aRomaTomato, a lurker who lives south of CaliGirl.
Lion's tail. This is a tough plant that does well even in dry conditions. When I got it, one of my co-workers warned me that this plant is poisonous. I replied that I have trimmed without gloves and never had a problem, so I looked it up and discovered that it's a cousin of marijuana. Based on this, some dolts tried to smoke it and it's apparently a LUNG irritant.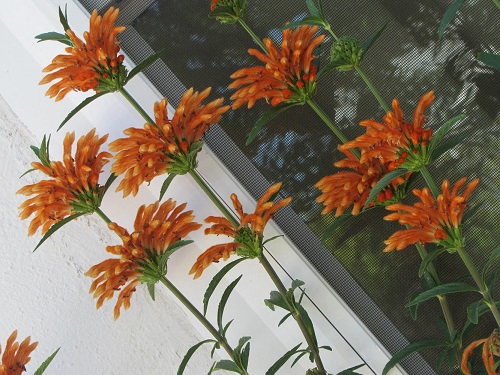 And a Trumpet Lily. "The only one I have left".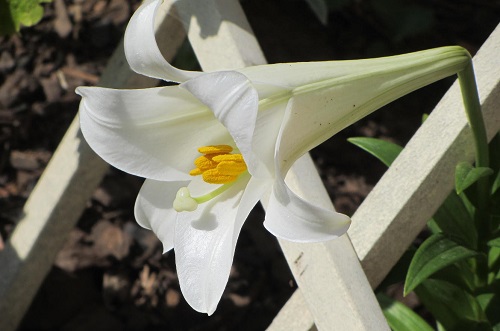 Mechanical and Hardware Corner
Illiniwek ups the ante in the Riding Lawnmower category:
That is my "new" toy ... 1939 Allis Chalmers B with a finish mower, caught on my security camera.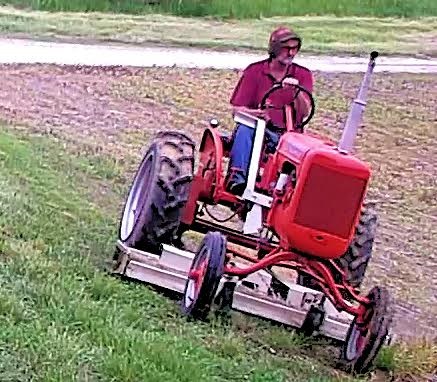 But for the Midwest farmer with any acreage, the batwing is useful to keep the brush at bay.

May not fit in with the garden theme, but has been an essential tool.
Weasel said he was getting a sickle bar for mowing his brush ... also effective as I hear it.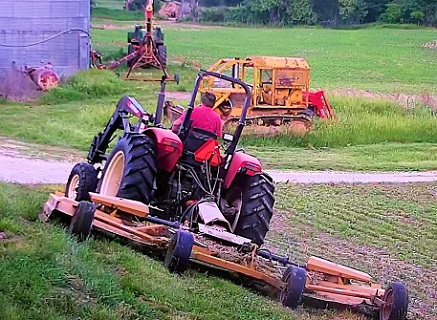 We have some result-based photos from Illiniwek for later.
The Edible Garden
I ask for veggie photos and people come through. Now here's some high drama from Gordon in Minnesota. Nice raised beds. Construction details?:
Tired of fighting the zuch, the acorn squash makes a bold move west for sunlight and elevation.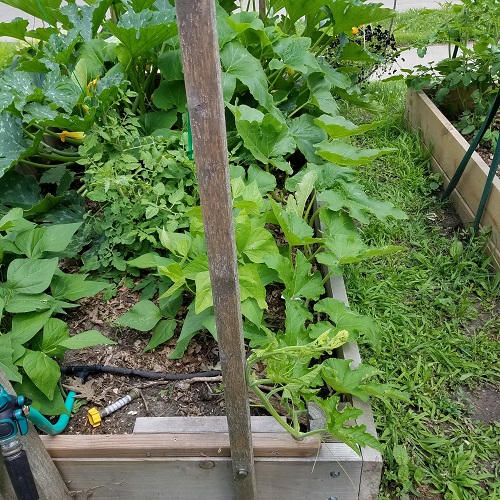 From further south, in middle Tennessee, tomatoes already! NadineCharmichael sends the following. More photos from her pending:
We always grown tomatoes because they're easy and my kids are allowed to eat them whenever they want, right off the vine. This year we did large Celebrity hybrids and a cherry variety.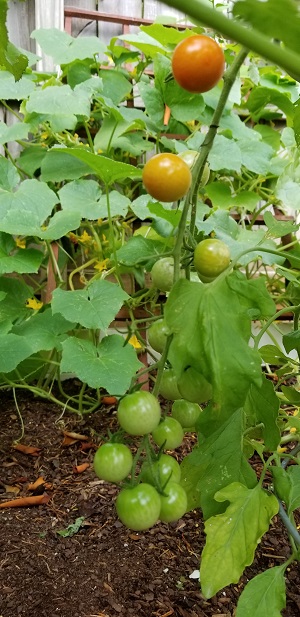 Pat* in Idaho prompts many of us to check back on the Gardening Thread on Sundays for her detailed comments on the progress in her garden. They often get posted late because she has been . . . working in the garden.
And sometimes she sends a photo or two. To the non-gardeners joining us today, these tomato plants are WAY too close together. But healthy! Except at the edges where water is probably limited. Because, Compost! Pat* has other tomato plants elsewhere from which she intends to harvest a crop this year:
This is what happens when you put lots of overripe tomatoes into your fall 2017 compost, then flip it in the spring of 2018. There are even plants growing on the ground beside the compost. (The current compost is to the right in the photo, beneath the black mini-sprayer.) - Pat*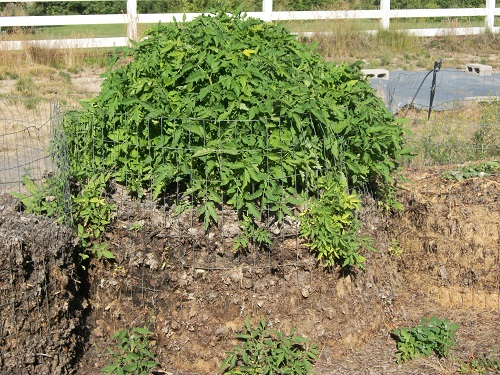 Plant I.D. Challenge
Pat* has also asked for help in identifying a bush.
We call this the Do-Nothing Bush, because it has not done anything interesting, like flowering, or turning interesting colors in autumn. It's growing under a ball-shaped pine tree, whose lower limbs we are slowly removing for Christmas decorations. When the pine is too ugly, we will remove it - but we would like to know what this bush is, to decide whether we should dig it up as well. (It appears to spread by root runners, because we need to keep mowing down the sprouts that get out from under the pine and into the lawn.) -Pat*

(I see my boot got into the top photo...)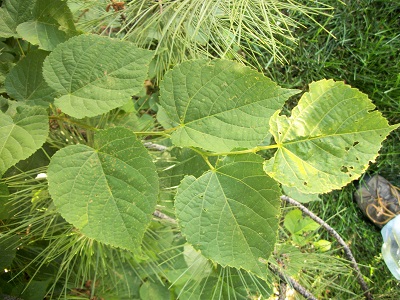 I went out to measure leaf size. The largest leaves I can find, are 4 inches from base to tip, 3.5 inches across.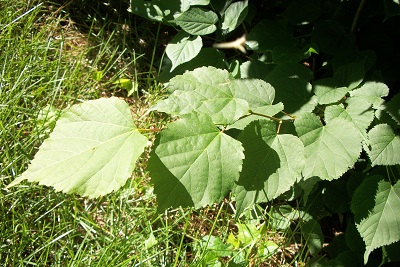 If you would like to send information and/or photos for the Saturday Gardening Thread, the address is:
ktinthegarden
at g mail dot com
Include your nic unless you just want to be a lurker.

posted by Open Blogger at
12:04 PM
|
Access Comments