« Chess Thread 06-23-2018
|
Main
|
SCaturday Overnight Open Thread (6/23/18 ) And Yoko Free »
June 23, 2018
Saturday Evening Movie Thread 06-23-2018 [Hosted By: TheJamesMadison]
It was Terrible, Except…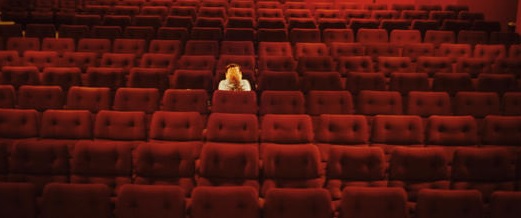 I've stopped watching a movie part of the way through once. It was
Sicko
, the Michael Moore documentary about healthcare. It infuriated me to no end, not because it was an apologia for Cuban healthcare, but because it's manipulative technique was so obvious and forced that I just couldn't take it anymore. He'd start making a point with numbers, and then cut away to some sob story about a family who couldn't afford insurance. I found the technique itself infuriating, so I just stopped it (I paid no money to watch it, by the way).
However, with that said, I watch every new movie all the way through whether I love it or hate it. I don't need to explain the love it part, but why do I subject myself to a film if, through the opening minutes, I decide that it's garbage?
There are really two reasons. The first is that I always hold out hope that the movie will redeem itself. That it will build to some great ending that makes all of the mistakes over the previous 90 minutes or so completely worthwhile (this oh so rarely happens). The second is that even bad movies can have good elements.
You know what I'm talking about. That one scene or performance or design element that grabs you despite the awfulness of everything else around it. Yes, the movie as a whole is awful, except did you see that one part near the end?
Star Trek V: The Final Frontier



I've defended both The Motion Picture and The Search for Spock as misunderstood good movies, but that does not extend to William Shatner's directorial effort. The Final Frontier is bad. The story makes no sense (borrowing a plot line from The Animated Series of all places), with completely needless retconning, a total misuse of some beloved characters, and mostly questionable performances.
With that being said, there are three things in this movie that I genuinely and totally love.
First is the opening scene:
This does not feel like the start of a Star Trek movie. The slow motion, the desolation, and the color palate seem so off from what we expect from the series. And yet, as almost a short film unto itself, I love the feel of it. I buy the digger's isolation and desperation (and casting, he's got a great face). The weird and unexplained way that this new entity (Sybok) brings peace. It's really quick nice. The movie that follows doesn't really do anything good with it, though.
The second and third actually happen at once, but I consider them separate elements. The second would be McCoy's scene where he faces his pain.
I don't think I've seen DeForest Kelley give a better performance than in that scene where he has to relive the euthanization of his father. I don't know what Shatner said to him to get that performance, but it worked. Go back to the beginning of that clip to see the third thing that I absolutely love about The Final Frontier. You have to watch the whole thing, but pay attention to what goes on outside of the window. It's a surprisingly subtle effect that draws absolutely no attention to itself whatsoever, but the cluster of stars just gets steadily bigger as the scene draws on. It took me years to notice that (granted, I've only seen the movie all the way through perhaps twice), but once I did see it, I was a bit amazed. Through all of the cutting back and forth, and the fact that the effect was captured in camera with projection on a screen in the background as opposed to any sort of post-production compositing, it still just grows larger with every shot. There's a command in the handling of that effect that is absent in almost everything else in the film. It's obvious to me that a lot of thought went into that effect, and it pays off in its own way. I just wish the rest of the movie had that much thought.

Alexander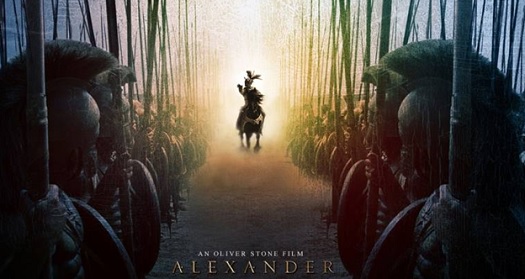 Oliver Stone's foray into historical epic filmmaking on the heels of Gladiator and in the same year as Troy is…not good.
I actually saw this in theaters. I was excited. Oliver Stone is not a bad filmmaker, and the movie looks quite good, something that came through in the trailers very easily. However, no two actors seem to be performing like they are in the same movie. Colin Farrell looks like he's in a soap opera and Angelina Jolie acts like she's a monster in a horror movie. I think Val Kilmer gives the only good and grounded performance as Philip, Alexander's father. Even Anthony Hopkins seems to be half asleep as Ptolemy.
However, as implied by the movie's inclusion on this list, I do feel that the sequence that dramatizes the Battle of Gaugamela is quite well shot and assembled. The only clips I can find online are pixelated to all hell, so this will have to do:
There's a grand sweep to the sequence there that's missing from a lot of the mess of the movie. I genuinely find it quite engaging to watch on its own, separate from the rest of the film. But seriously, though, Val Kilmer is actually pretty good in his limited role.

The Lone Ranger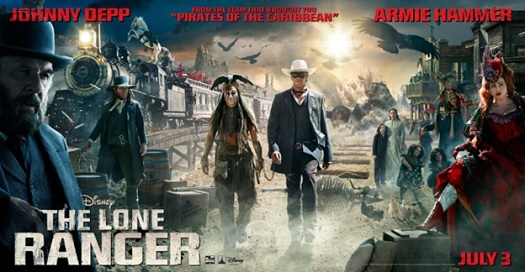 Have you seen this movie?
Did you fall asleep during it? I almost did. Almost.
This was Disney making one of the largest miscalculations of the last twenty years, and it happened at about the same time that it also dropped the egg that was John Carter (addendum: that movie is awesome. Don't hate.). It was wildly expensive (actually less expensive than originally intended), had a huge star at the height of his power (Depp), was supposed to launch Armie Hammer to stardom, and was directed by the man who had brought Pirates of the Caribbean to the screen, Gore Verbinski. It was the kind of sure bet that Hollywood is always desperate for and further proof of William Goldman's adage, "Nobody knows anything. Not one person in the entire motion picture field knows for a certainty what's going to work."
The move as a whole is largely self-serious and boring. It doesn't engage as it tries to build this weird mystique about itself that never settles while also using the US Army as bad guys in a super dense plot that made William Turner say, "Wow…that's overly complicated."
However, that being said, the final train fight and chase sequence is one of the most fun big budget sequences over the last couple of decades. It's the first time the familiar theme comes into the film. The action is big, brash, bold, and wildly inventive. Here's the opening to that sequence:
I don't own this movie because Disney has a very tight handle on the primary market for its films which keeps the price of its films high, but if I saw a copy for $5 or less, I'd pick it up just for that final sequence.

I'm not the only one here
Are there movies that you generally dislike but contain individual sequences or elements that you overall enjoy? I've listed a few up above, but mine isn't the only voice that matters.

Movies of Today
Opening in Theaters:
Jurassic World: Fallen Kingdom
Next in my Netflix Queue:
Payback: Straight Up: The Director's Cut
Movies I Saw This Week:
Mother of Tears (Netflix Rating 2/5 | Quality Rating 1/4) Poster blurb: "Feels more like the work of a no-name than the man who made Suspiria. It's almost like Dario Argento forgot how to make a movie." [Netflix DVD]
The Taking of Pelham 123 (Netflix Rating 3/5 | Quality Rating 2/4) "Travolta was bad, and I don't like how Tony Scott makes movies in general, but it was almost entertaining enough." [Netflix DVD]
Backdraft (Netflix Rating 2/5 | Quality Rating 1.5/4) "Rote and tedious, but at least the fire looked nice." [Netflix DVD]
Suspiria (Netflix Rating 5/5 | Quality Rating 4/4) [Rewatch] "My second viewing of this jumped my opinion up a full star. Stylish descent into the logic of a nightmare." [Personal Collection]
The Four Feathers (Netflix Rating 4/5 | Quality Rating 3/4) "Handsome adventure story that holds up well enough. Could use some tighter focus, though." ["Library"]

Contact
Email any suggestions or questions to thejamesmadison.aos at symbol gmail dot com.
I've also archived all the old posts here, by request. I'll add new posts a week after they originally post at the HQ.
And, please, visit my website.
My second collection of short stories is on sale now in both eBook and print editions.

posted by OregonMuse at
07:26 PM
|
Access Comments