« Newest Media/CNN/Don Lemon Conspiracy Theory: We're Only Seeing Pictures of Boys in Immigrant Detention Facilities So Trump Can Scare American Citizens Into Thinking These are All MS-13 Gangsters
|
Main
|
Tucker Carlson: The Ruling Class Has Decided to Use Open Borders to "Change the Country Forever" »
June 19, 2018
Progressive Conspiracy Theory Of the Day, #2: OMG, Not Only Does ICE Have NAZIS Working For Them, They Publicly Promote These NAZIS!!!!
Really?
John Sexton explains at Hot Air.
It's all based on this picture, and then propagandized by ignorant media-class morons:
Sexton adds:
Apparently, a reporter for the New Yorker was also sharing this nonsense. It caught on enough that ICE issued a response on Twitter this morning.
Well, ICE had to respond to this idiocy, and they did. The tattoo on his elbow is of his unit in Afghanistan, and outfit called "Titan 2."
Of course, this should have been obvious from the start, for one simple reason:
The tattoo is plainly not an Iron Cross.
You'd have to be an idiot not to recognize the shape, and further recognize the shape as "not an Iron Cross."
Here are some iron cross symbols, on Google. The interesting thing about them is that they do not look like the tattoo on this guy's elbow, except in that they are, yes, crosses of some kind.
Did that shape not stir any recognition in the minds of the retards who see a four-armed symbol and shriek "IRON CROSS!!! NAZIS!!!" ?
Because the moment I saw it, I recognized it as the type of cross most famously seen on virtually every fireman's helmet, which is actually a Florian cross, a variant of the Maltese cross.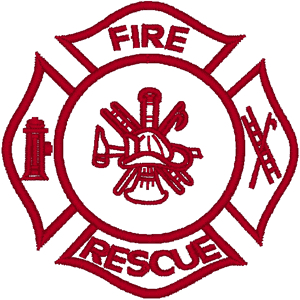 OMG, it's the symbol of the Nazi Reichstag Fire Squad!!! REEEEEE!!!!
See, there are lots and lots of cross symbols -- it's one of the most ancient symbols on earth, predating even Christianity by, oh, fifty thousand years.
There are many variations.
The Iron Cross and Florian Cross look very different -- apart from having four arms. The Iron Cross either has flat-sided arms or arms with a concave curve, and ends that are either flat or concave, while the Florian Cross is almost all convex, rounded outward on the sides, rounded at the end, so much that it looks more like a four-leaf clover than a cross.
We're now down to the point where retarded actors and reporters cannot even recognize very basic shapes apart, shapes we see weekly (in the case of the Florian cross, given that just about every firetruck and fire helmet is emblazoned with them) or every once in a while in movies about WWII or WWI.
I realize you mental defectives cannot read written words. Can you at least learn the difference between common shapes, you malignant, lunatic obsessive retards?
Life is now imitating SNL's Celebrity Jeopardy sketches.
OMG: The New Yorker employee who shared this on social media?
Bear in mind the New Yorker used to be famously proud of its fact-checking department. That bit was featured in Bright Lights, Big City.
Now they can't tell basic shapes apart and don't feel the need to Shape Check their social media farts.
Officials with ICE are now demanding that the New Yorker and Talia Lavin apologize over her erroneous tweet about Justin Gaertner.

In the gaffe, Lavin allegedly implied over the weekend that Gaertner, a combat-wounded veteran and ICE forensics analyst, had the Nazis' Iron Cross inked on his elbow.

...

But she deleted her post after "military veterans responded that the tattoo looked more like a Maltese cross, a symbol associated with firefighters," ICE said in a statement.

The tattoo, according to Gaertner, is actually a "Titan 2" symbol for his platoon when he served in Afghanistan.

"The writing on his right arm is the Spartan Creed which is about protecting family and children," ICE said. "Anyone attempting to advance their personal political opinions by baselessly slandering an American hero should be issuing public apologies to Mr. Gaertner and retractions. This includes Levin [sic] and the New Yorker."

Gaertner lost both of his legs and suffered other permanent injuries when an IED exploded during his deployment to Helmand Province, Afghanistan. He served as a fire team leader and lead sweeper for IEDs.

Now Gaertner is a para-Olympic athlete who has "volunteered his time to motivate other wounded warriors and Boston bombing victims," according to ICE. With the immigration agency, he helps solve criminal cases related to sexually abused children.

Lavin made her Twitter account private following the backlash over her tweet -- which was in response to a May 25 ICE post that featured a photo of Gaertner.
BTW, although the Maltese and Florian crosses are often confused, the tattoo is definitely of a Florian cross.
The Maltese cross is all sharp edges and looks like two bow-ties crossed over each other.
Sue. Sue Like the Wind. Ron Perlman must have a little bit of money.
This guy should file a slander suit post-haste. Automatic win.

posted by Ace of Spades at
05:07 PM
|
Access Comments