« Thread before the Gardening Thread: No Snark Week [KT]
|
Main
|
Ace of Spades Pet Thread »
June 23, 2018
Saturday Gardening Thread: The Science is Shifting [KT]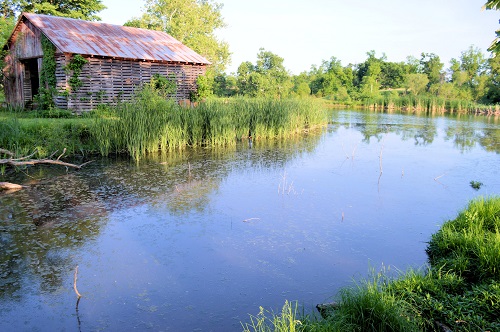 After reading about the attempted coup news of the day, nice to have my Shangri la --- the real world we fight to maintain.
Illiniwek
Welcome to the first official week of Summer 2018 on the Gardening Thread! It is weeks like this that I appreciate The Horde. We get some great things in the mail. It's been a wild week for me. Haven't gotten to all of them. Sorry about the short thread. But The Horde supplied the ideas and/or photos which follow.
Wildflowers in the Wild and in the Garden
Cumberland Astro has some friends in Texas who are interested in Indian Paint Brush and Indian Blanket. One of these is an easy summer garden flower. The other is not so easy, and may be better in a wild setting, unless you are doing a meadow or something, because it is a hemiparasite. But it brings up an interesting topic: changes in botanical names.
As a result of developments in the science of genetics, a few decades ago, the Figwort Family, formerly very large, was decimated. Most of its members were moved to other families. Even snapdragons, formerly considered to be models for the family. That is because genetic evidence was more powerful than similarities in plant structure. Changes in botanical names continue at a slower pace today. They remain disconcerting to gardeners. Don't get me started on "Chrysanthemum".
But still, botanical names are less confusing than common names. Especially of wildflowers, as Cumberland Astro has noted. I think the Indian Paintbrushes pretty much retained their genus and species names when they switched families.
Indian Paintbrush
Here is a photo of Scarlet Indian Paintbrush, Castilleja coccinea, one kind of Indian Paintbrush for which seed is offered. It is an Eastern species, though there are many more species in the West. It is apparently pollinated primarily by the Ruby-throated Hummingbird.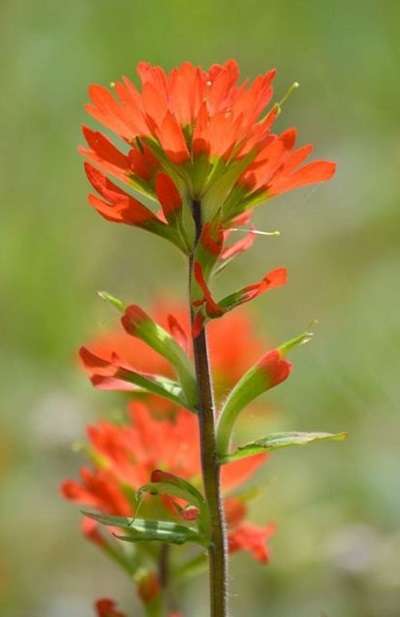 If you will be starting Indian Paintbrush in a container, good hosts for many hemiparasitic species include low-growing grasses and sedges like Hairy Grama, Blue Grama, Buffalo Grass, Common Oak Sedge, Sweet Grass, and June Grass. With a knife make a 2" deep cut at the base of the host plant. Sow seed in the cut, making sure seed is not more than 1/8" deep. If host is transplanted at sowing time, the cut is not needed because damaged roots will be available for attachment by the parasite. You may also try sowing hemiparasitic and host species seeds together at the same time. To add hemiparasitic species to existing sites, scatter seed on soil surface (rake in if seed is large) in late fall.
The Forest Service says that this species is found in Texas as well as in more easterly states, though their map doesn't show Texas in its native range. I expect that planting instructions would be similar for other species found in Texas and elsewhere. The Forest Service did provide some other information:
Ironically, this plant was used by Native Americans as both a love charm in food and as a poison used to against their enemies, as this species is known to have toxic properties.
Indian Paintbrush is known to concentrate selenium if it is in the soil. This might account for beneficial properties in small amounts and toxic properties in large amounts.
Owl Clover
As an aside, I was surprised to find that Owl's Clovers, which were never real clovers, has been re-classified into the same genus as Indian Paint Brush. They grow around my house where the land is not cultivated for a season and grasses take hold. They are also hemiparasites.
See the little owls peeking out of the flower? More photos of Owl's Clovers and Paintbrushes at the link.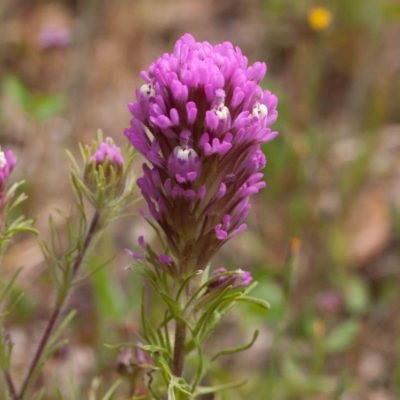 Fields of Owl's Clover are sometimes seen in places where this plant and its host plants don't get much competition: deserts, alkali flats, sand dunes, etc. They often seem to bloom after their host plants have dried up for the season.
Indian Blanket
In contrast to the hemiparasites above, Indian Blanket, Gaillardia, is a pretty easy summer garden flower to grow in much of the country. This genus is in the Aster Family. There are several species in North and South America. Sometimes it is called 'Firewheel'. Below is G. pulchella, which is found in Texas and much of the Southeast.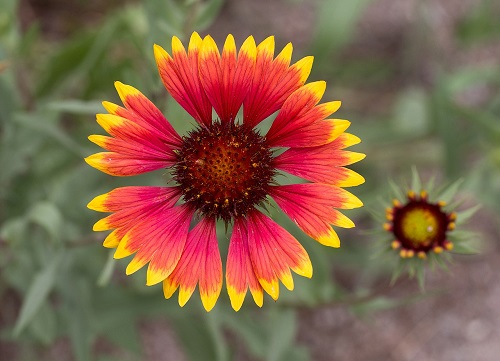 Photo by Rhododendrites -

Own work

, CC BY-SA 4.0, Link
Garden hybrids are mostly called 'Gaillardia x grandiflora'. I like 'Arizona Apricot' and the red solid color ones.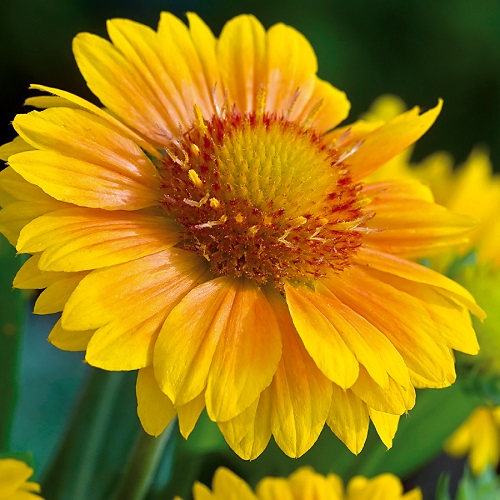 Gardens of The Horde
We have been getting some lovely flower photos, but not many veggie photos yet this season. Some nice veggie commentary in the comments though.
Ever wondered what turnip flowers look like? This is what turnips look like the second year. I've eaten my share of turnip blossoms. They're the yellow ones. The blue ones are vetch. Don't think I would eat those flowers. These were grown by Illiniwek, who has the means to dig them under.
Looking forward to some photos or tips from you, too.
If you would like to send information and/or photos for the Saturday Gardening Thread, the address is:
ktinthegarden
at g mail dot com
Include your nic unless you just want to be a lurker.


posted by Open Blogger at
12:45 PM
|
Access Comments