« EMT 06/17/18
|
Main
|
Words Have Meanings »
June 17, 2018
Sunday Morning Book Thread 06-17-2018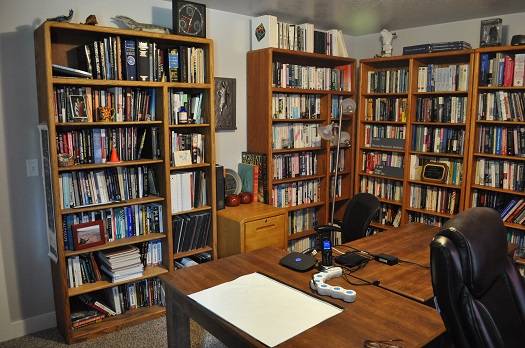 Another Part of Frizworth's Home Library
(click for larger view)

Good morning to all you 'rons, 'ettes, lurkers, and lurkettes. Oh, and we've got a new category of readers, escaped oafs and oafettes. Welcome once again to the stately, prestigious, internationally acclaimed and high-class Sunday Morning Book Thread, a weekly compendium of reviews, observations, and a continuing conversation on books, reading, and publishing by people who follow words with their fingers and whose lips move as they read. Unlike other AoSHQ comment threads, the Sunday Morning Book Thread is so hoity-toity, pants are required. Even if it's these pants, which are yet another example of pants that don't look good even on an attractive woman.

Pic Note
Fritzworth says;
...these are in my home office (I work from home) – technical (mostly information technology/computer science), math, science, languages, books on writing, etc.
It Pays To Increase Your Word Power®
To BLUTHER is to smear or blot ink while writing.
Usage: MSNBC is filled with bluthering idiots.
Duncanthrax tips me that the word for the irrational fear of palindromes is aibohohibia.
Of course, it was deliberately constructed to itself be a palindrome.
I think he's having me on.
The Clinton Book Tour
From a Tuesday morning thread:
304 I'm in trouble with my daughter .... again.

She and my SIL went to last night's 'book tour' event in San Antonio for Bill Clinton's alleged book. I babysat granddaughter and grand-dog for them. When they got home I learned they'd paid $60 dollars each to attend. I was appalled.

I told them I've attended well over 2 dozen book tour events in my life and NEVER paid a dime. They got defensive and explained it was an opportunity to see and hear an ex-president...

Posted by: Lurking Cynic at June 12, 2018 11:45 AM (5fkET)
So, all you moron authors, I have a question: how common is this? I wonder if I'm being fooled by my confirmation bias because I believe the Clinton clan are a bunch of sleazy grifters. How often does an author charge the public merely to be in his presence? I thought that with these book-signing tours, you just paid only if you wanted to buy a copy of the book and have the author sign it. I suppose Clinton could be donating the proceeds of his book tour to charity, but the only charity I've ever known him to be interested in is his own.
This reminds me of an article I read in the American Spectator back when the Clintons first metastasized in the national blood stream. Some sleuth (it might even have been David Brock before he wigged out) went through the Clintons' tax returns, particularly their charitable contributions, to see if there were anything interesting. He did note that one on return, they claimed the monetary value of their used underwear(!) which they had donated to some charity. Even though it was perfectly legal, I thought, wow, how greedy and grasping do you have to be in order to claim that deduction? Here is a couple that will go to extraordinary lengths to chase down every last cent.
So perhaps it shouldn't surprise me that Bill Clinton charged $60 to be in the same room with him. If I bought his book and asked him to sign it, maybe he'd charge me extra.

Call For Manuscripts
Go to
this link
on Dave's site for more info.
The first volume of Appalling Stories may be purchased for $2.99 on Kindle. It is also available in paperback.

Books By Morons
Moronette author artemis is out with a new novel, The True Pretender:
A member of the French émigré community in London, Epione is forced to hide her true identity, and instead works as a milliner's assistant in a Bond Street shop. Cautiously optimistic, she believes she's managed to avoid public scrutiny—until she notices that a handsome man is watching her movements from across the way.

As she is swept up in the plots and counter-plots surrounding the restoration of the French monarchy, Epione must call upon reserves of courage she wasn't aware she possessed, and re-learn long-forgotten lessons about loyalty, and love.
The Kindle edition is $4.99. Also available in paperback.
___________
Moron R G Ainslee also has a new one out, The Ethiopian Intercept: A Ross Brannan Thriller (The Secret Cold War Book 2) featuring ELINT analyst Ross Brannan. This latest installment takes place
...during the 1978 conflict between Somalia and Ethiopia. Somali forces invade the Ogaden region of eastern Ethiopia. The Soviets support the Ethiopians as their principal ally in the Horn of Africa. A Cuban defector reveals the arrival of new air defense system.

The Pentagon brass wants to know: What is the new system? Is defector J. Andrew Marsden involved? One man has the qualifications to find out. Ross Brannan. He reluctantly volunteers to fly a covert mission in the SR-71 spy plane over Ethiopia.

Following a ditching into the Indian Ocean, Ross lands on Lamu Island, Kenya and finds himself the target of an intensive manhunt by Cuban operatives. He must rely on his instincts and training to survive and reach safety with critical data from his Ethiopian Intercept.
The Kindle edition is only $2.99. Also available in paperback.
The book trailer may be viewed at YouTube.

What I'm Reading
****NERD ALERT****
The World of Ham Radio, 1901–1950: A Social History by Richard Bartlett is another book I snagged this week, this one for $3.99.
During the first fifty years of the twentieth century, ham radio went from being an experiment to virtually an art form. Because of the few government restrictions and the low monetary investment required, the concept of ham radio appealed to various people...

This book explores the history of ham radio operators, emphasizing their social history and their many contributions to the technological development of worldwide communications....The book highlights the part played by ham radio in many of the headline events of the half century, especially exploration and aviation "firsts". The ways in which these primarily amateur operators assisted in times of disaster including such events as the sinking of the Titanic and the 1937 Ohio River flood, are also examined.
I'm sure you're all as excited about this book as I am, but reading about teen-agers who build their own radios by wrapping wire around those round Quaker Oats boxes and buying tubes down at Woolworth's for 89 cents and then getting up at 5AM to hear a burst of Morse code, barely louder than the background static, and gee whillikers, he's in *Tasmania* and then, wonder of wonder, being able to contact him and exchange signal reports, well, that just can't be beat. It's like hitting an inside-the-park home run. Or, perhaps better, it's like sailing from England to New York in your own small sailboat and staying on course by doing the calculations yourself. Bowditch's Navigator for the win!
___________
Don't forget the AoSHQ reading group on Goodreads. It's meant to support horde writers and to talk about the great books that come up on the book thread. It's called AoSHQ Moron Horde and the link to it is here: https://www.goodreads.com/group/show/175335-aoshq-moron-horde.
___________
So that's all for this week. As always, book thread tips, suggestions, bribes, rumors, threats, and insults may be sent to OregonMuse, Proprietor, AoSHQ Book Thread, at the book thread e-mail address: aoshqbookthread, followed by the 'at' sign, and then 'G' mail, and then dot cee oh emm.
What have you all been reading this week? Hopefully something good, because, as you all know, life is too short to be reading lousy books.

posted by OregonMuse at
09:00 AM
|
Access Comments