« Wednesday Overnight Open Thread (6/6/18 ) Listener Supported ONT Edition
|
Main
|
Mid-Morning Open Thread »
June 07, 2018
The Morning Report 6/7/18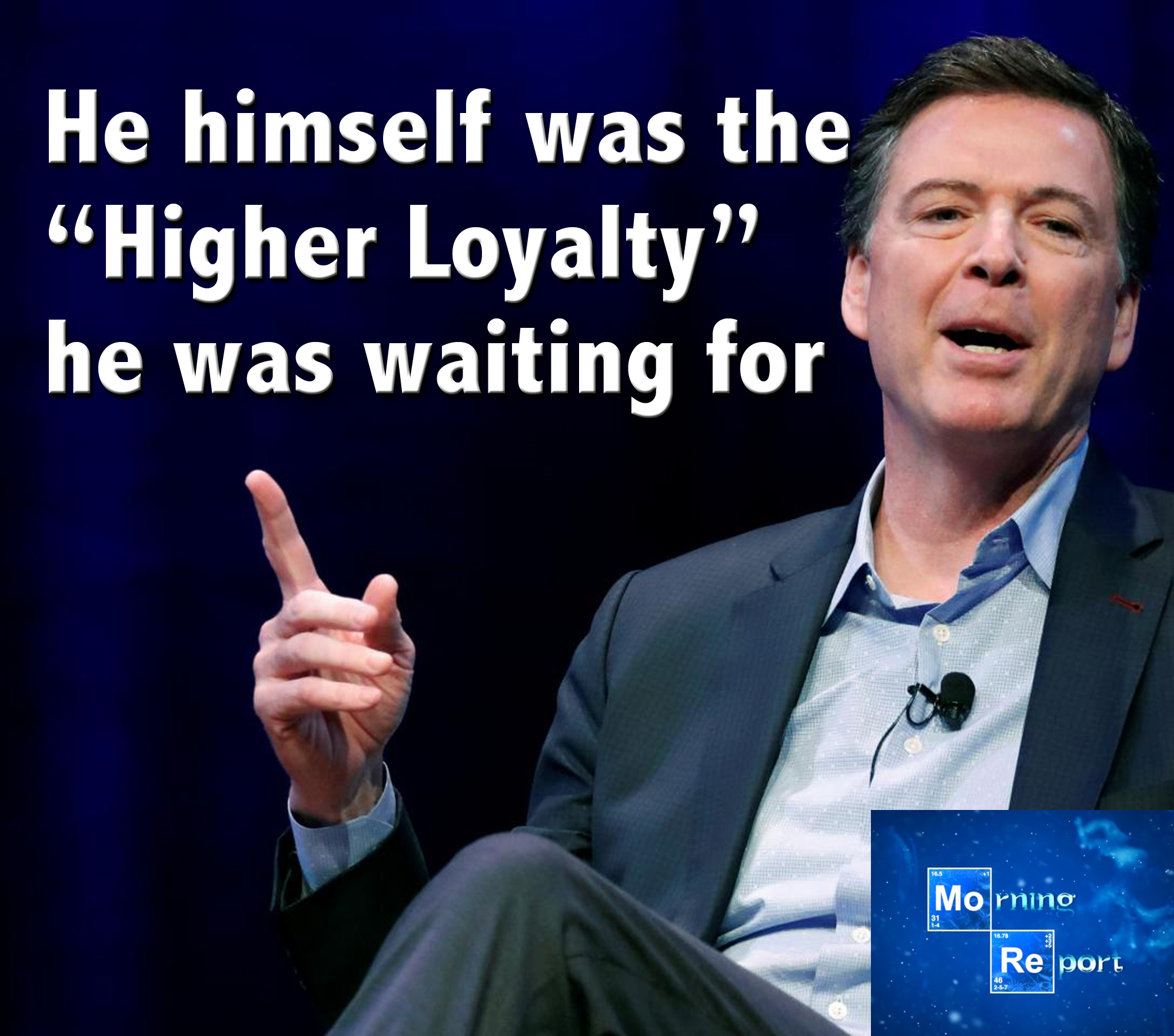 Good morning kids. In the lead this Thursday is the first revelation from the long-awaited Steiner IG report that James Comey completely defied his authority while conducting the investigation into Hillary Clinton's use and abuse of her e-mails. In fact, the draft report actually uses the word "insubordinate" to describe his actions. That just underscores with double red lines in bright red ink that a) the President was absolutely correct in shit-canning him, and b) the utter ridiculousness of the reaction of outrage at that time by the Democrat-Left-Media complex and their Rino-Cuck allies.
Other observations include Hillary's and her rapidly-shrinking allies' anger at the overgrown megalomaniac for allegedly sabotaging her campaign at the 11th hour when in fact he was trying to insulate her from criminal charges and prevent a stain (heh) upon her presidency once she took her hoof off the Bible. The other one that still makes what's left of my hair hurt is the rapid-fire chain of events after the firing of Comey, which was recommended by none other than Rod Rosensteinpenis himself, including the instantaneous recusal of Sooper Secret Sleeper AG Jeff Sessionszzzz that elevated RosenRosen to lead the Russian Collusion investigation/coup attempt against PDT that resulted in the hiring of Robert Mueller to lead the 18-month old and still going witch hunt by the Democrat-Left-Media complex, of which Rosenschvantz and Mueller are card-carrying members, and which legal scholars including Mark Levin have called unconstitutional, contrary to such imbeciles as Johnny Isakson and Jeff Flake et al. as well as the disgusting and duplicitous proclamations of support for the FBI and Mueller by K Street-bound phony Paul Ryno.
In any case that revelation was merely a taste of what's to come, but as time drags on, the fear is that the report is going to be sanitized and reworded so as to remove as much criminality and culpability as possible. Unfortunately this is the process of IG reports/investigations; they allow those named and accused in them of crimes and malfeasance a chance to read the report and clear their names before the report goes public. If I am correct, these rules and this process have been in place for a long time, but considering what we have witnessed during the Obama eight-year Reign of Error and really before and after vis a vis the President, Michael Flynn, Scooter Libby, Tom Delay etc. etc. I find that to be yet another glaring example of the bifurcated justice system that is in play in today's America - one for the elites and one for us lumpenproletariat. And all of this while we are learning the absolute depths of criminality that Obama himself engaged in in not only looting the Treasury with cash to bribe the Iranians but in attempting to extort banks into illegally flouting the sanctions regime by changing money into Euros for them. That to me is enraging.
No matter what happens, this shit-show is not going to stop. No way no how; not without someone going down, whether it's the President or the guy that runs the newsstand in Trump Tower. Even if that doesn't happen, the other longterm strategic aim of the Deep State is to ensure another outsider hell bent on disrupting the Progressive's Counter Revolution never even considers trying to run for office. And that is why the beat goes on; to taint PDT's victory and entire agenda as illegal and illegitimate. The other, more insidious aim is to do away with the electoral process altogether since, in the Left's insane weltanschauung every time they lose an election it has to be because the fix is in, not because their policies and candidates are abhorrent to a still majority of American people. And this on top of already destroying and corrupting our intelligence, justice and law enforcement agencies. With this happening, the NorKs and Farsis have to ask themselves who needs nukes?
Let's move on to the rest of the headlines. On the Amnesty front, a non-Hawaiian black-robed tyrant has ruled that PDT's policy of withholding funds to sanctuary cities is illegal, a Leftist freak in New Mexico who won a Democrat House primary is pledging to boot ICE out of the state should she win, and Mitch McCoCbrother is claiming he won't allow any Amnesty bills to move forward in the Senate. We shall see. In other domestic news, the President signed a bill giving veterans greater freedom of choice in healthcare and insurance, hopefully a harbinger for the rest of us vis a vis the crumbling, lingering, toxic mess that is Obamacare and a good link about how slowly but surely PDT is taking an axe to the administrative bureaucratic state. Yet on the down side of the ledger, over $500,000 to put fatties on buses, another government showdown/shutdown looms and the Dem answer to Medicare going bankrupt is to expand it.
Meanwhile, despite all of the forces arrayed against President Trump, his economy is roaring ahead at a pace unimagined and unseen in decades. As low as unemployment is it could actually go even lower, and NEC Advisor Larry Kudlow is crowing loudly about it. That said, we still have a massive trade deficit with the Chi-Coms which helps them to arm up while Mexico has retaliated against PDT's recent tariff. Meh, maybe they'd like a 75% taxation on remittances.
On the political front, the big story after Super Tuesday was the surprisingly good showing of California's all but lifeless GOP. Some of it is because of their idiotic "jungle primary" process but between low Democrat voter turnout, the growing revolt of municipalities and counties against the state's sanctuary policy and gas tax, perhaps this November could be a shocker for the Dems, polling shenanigans notwithstanding. With Max-Scene Waters to inspire the youth vote, what could possible go wrong? Anyway, just expect nothing and you won't be disappointed.
In "muh edjumakashuns" tyrannical commie alcalde Bill DeBolshevik is under fire for scrapping the entrance exams to NYC's elite high schools because "disparate impact" and we have a disturbing yet unsurprising video of Antifa public school teachers "teaching"your kids the 3 R's - Rioting, Racialism and Revolution. Something has got to be done.
Lastly, the Natural Resources Defense Council is an anti-American Chinese front group (cue the Claude Rains shocked face), the lava flow from the Hawaiian volcano has engulfed dozens of homes despite a 9th Circuit Judge's decree, and a swarm of midges is so vast over Cleveland that it registers on radar screens. Open wide, vegans. It's protein - a line attributed to Bill Clinton.
Anyway, links from around the world, across the nation and up your street. Have a better one and remain blessed.


posted by J.J. Sefton at
07:21 AM
|
Access Comments