« D-Day Open Thread
|
Main
|
The Morning Report 6/7/18 »
June 06, 2018
Wednesday Overnight Open Thread (6/6/18 ) Listener Supported ONT Edition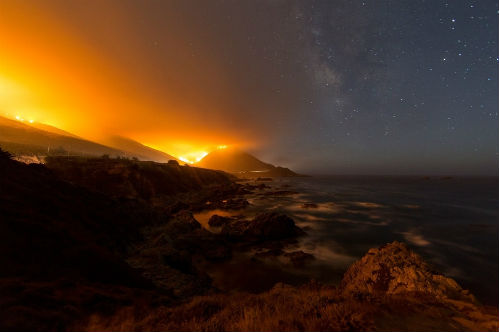 (2016 Big Sur Soberanes fire)
*****
The Quotes of The Day
Quote I

"In the long run luck is given only to the efficient." Helmuth von Moltke
Quote II

Democracy may not prove in the long run to be as efficient as other forms of government, but it has one saving grace: it allows us to know and say that it isn't. Bill Moyers
Quote III

Prayer gives a man the opportunity of getting to know a gentleman he hardly ever meets. I do not mean his maker, but himself. William Ralph Inge
*****
Over the past year regulars at The ONT have gotten to know ibguy and his sister Joyce. Ibguy has shared the path of his sister and her battle against cancer. We traveled with Joyce through ibguy's regular Baby Sister Updates. We experienced the highs and lows of her journey.
Unfortunately Joyce lost the battle. And ibguy is sharing with us his eulogy at Joyce's recent Memorial Service. It is only fitting that our Moron community share this experience with ibguy.
Baby Sister Update: Eplilogue

[At the suggestion of LadyL and MisHum, here is the eulogy that I delivered at her Memorial Service on Monday - properly Horde-erized]

Joyce the Baby Sister.

Aka JJ, Joycee, Jennifer, a few others, I'm sure.

It's difficult to believe that she's really gone. Hubby and Daughter, I can only imagine your pain and the hole that's left in your lives, and I wish you healing of the spirit.

I always knew that Joyce was special, but never just *how* special until this past year and a half. Friends and family from all over the country came to visit Joyce. Two in particular, her "earth angels" took the reins early on and lifted her up in so many ways.

And it's not as if Jess, Roni and Joyce had been lifelong friends from childhood: they'd really only known each other less than a year before she was diagnosed. And then they inspired others, and there were very few weeks that went by without a visit from one of her Minnesota, or Columbus, or North Carolina friends. And cousins? From Boca, from Philly, from Detroit and Chicago. One wonders if Joyce wasn't secretly working for United or Delta.

What kind of person inspires this kind of love, concern and loyalty? Someone whose heart is bursting with love and compassion.

We have a prayer, the Eishet Chayil, "a woman of valor." Tell me this doesn't speak to Joyce's spirit:

"A woman of valor, who can find? Her worth is far above jewels. The heart of her husband trusts in her, and nothing shall he lack. She renders him good and not evil all the days of her life. She opens her hand to the needy, and extends her hand to the poor. She is robed in strength and dignity, and cheerfully faces whatever may come. She opens her mouth with wisdom. Her tongue is guided by kindness. She tends to the affairs of her household, and eats not the bread of idleness. Her children come forward and bless her. Her husband too, and he praises her. Many women have done superbly, but you surpass them all. Charm is deceitful, and beauty is vain, but a God-fearing woman is much to be praised. Place before her the fruit of her hands. Wherever people gather, her deeds speak her praise."

Along her journey, we were told countless times by friends, family and well-wishers to have faith, that miracles *do* happen. What's funny is that the miracle *did*, in fact, happen, and right before our eyes. How else to explain the past year, with Joyce once again on horse-back. And swimming. And, perhaps most important to her, shopping. One of my absolute favorite memories is from our trip this past January, where she navigated the vast halls of the Market of Marion like the pro that she was, trying on approximately 700 pairs of sunglasses, and angling for another deal from the vendor. Truly in her element.

Taken from us far too soon, her bright light and life will continue to be a blessed memory.

Baruch Dayan HaEmet - Blessed is the True Judge.

Bless you Joyce. We miss you.
*****

Six facts about D-Day you never learned in school.
The ONT Musical Interlude
June 6, 2012, Adam Clayton's former personal assistant and housekeeper went on trial, accused of stealing almost 3m euros (£2.4m) from the U2 bass player. Carol Hawkins, from Dublin, pleaded not guilty at Dublin Circuit Criminal Court to 181 counts of theft. She was accused of stealing money from two of Clayton's bank accounts over a four year period from 2004 to 2008. According to the latest Sunday Times Rich List, Bono, the Edge, Larry Mullen, Mr Clayton and their manager had a combined fortune of €628m, ($788m) via thisdayinmusic.com
***
*****
Finally!! A guide for men.

Okay, so imagine you're looking at a picture of a woman in her underwear. Now, of course, the first thing that comes into your head is: "Is this woman being sexually objectified?" Because, obviously, if she is you're going to stop looking at her immediately. (Right?) But if, instead, the woman in the photo is being sexually empowered, then it's your duty (as a good feminist, or feminist ally) to keep looking. Even if she's ugly and you're busy. But, how can you tell the difference between sexual empowerment and sexual objectification? Well, just ask your friends at Everyday Feminism!
*****
May The ONT make a suggestion to our California Morons? Go into the canoe sales and rental business pronto.


When authoritarians exploited the Sandy Hook killings to require registration of "assault weapons" in Connecticut, few gunowners complied. A recent story from the other side of the country helps explain why:

A member of a prominent farming family was charged with a dozen weapons-related felonies, after he attempted to comply with California's state-mandated gun registration laws.

According to court documents, Jeffrey Scott Kirschenmann's home was raided in April, after he attempted to register an AR-15 using the state of California's website, KGET reported.

Kirschenmann is the CEO of Scott Kirschenmann Farms, Inc., which is one of the chief potato suppliers for Frito Lay.

His reward for attempting to comply with California's new requirement that "assault weapons" be registered earned him 12 felony charges for not being in compliance with the state's tightening gun laws.
*****

If someone where to SWAT my house I would be really pissed off. David Hogg, the little Brown-Shirt, not so much.
Just thinking out loud here, I wonder why?
*****

Speaking of pencil arm geek David Hogg, He who lives by Twitter can get called out and bitch slapped on Twitter.

SMARMY little runt.
*****

And this is why everybody who values their safety should own a gun. Pair of thugs break into Senior citizens home. He fights them off with cane.
*****
It's only a hamburger, amirite? Tonight's Genius Award Winner.
*****

The fight against cancer is never ending. Tonight's Feel Good Story of The Day.
*****

Tonight's ONT has been brought to you by A Lot of Us.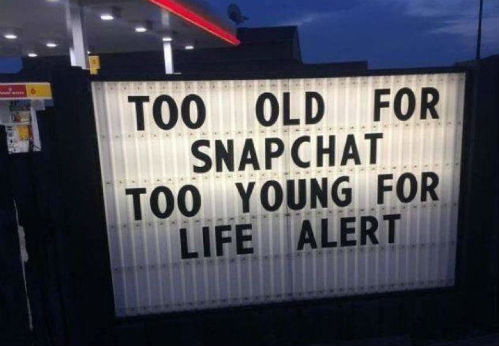 Notice: Posted with permission by AceCorp, LLC. The ONT is a wholly owned subsidiary of AceCorp, LLC. and Ewok, Inc. Employee Handbooks available upon request and receipt of down payment.

Above fold photo h/t AKA Average Guy
Quote I h/t Hrothgar
David Hogg h/t Hank Curmudgeon

posted by Misanthropic Humanitarian at
09:58 PM
|
Access Comments