« Saturday Evening Movie Thread 06-09-2018 [Hosted By: TheJamesMadison]
|
Main
|
EMT 06/10/18 »
June 09, 2018
Saturday Overnight Open Thread (6/9/18)
(Facts that you didn't know. Or did you?)
*****
The Saturday Night Joke

Three friends from the local congregation were asked, "When you're in your casket, and friends and congregation members are mourning over you, what would you like them to say?"

Artie said, "I would like them to say I was a wonderful husband, a fine spiritual leader, and a great family man."

Eugene commented, "I would like them to say I was a wonderful teacher and servant of God who made a huge difference in people's lives."

Al said, "I'd like them to say, 'Look, he's moving!'"
*****

Off year elections matter. 13 votes and a radical. h/t ALH

Malcolm's X's quote came 29 years before Mariah Parker was born. But she still feels it.

On Monday, the 26-year-old University of Georgia doctoral student was sworn in as an Athens-Clarke County commissioner. When Probate Judge Susan Tate swore Parker in as the District 2 commissioner, she was didn't use a bible.

On the steps of the Athens City Hall, Parker cocked her right fist in the air and before taking the oath of office, placed her left hand on a well-worn copy of "The Autobiography of Malcolm X," held by her mother, Mattie Parker.
Think your vote doesn't matter, think again.
*****
I've always enjoyed reading Westerns. Twenty one Western novels everyone should read. I've only read a handful of these.
*****
He was guilty of white privilege. Toxic masculinity at its best. Safe spaces, what safe spaces? Eddie Rickenbacker.

This American Fighter Pilot Had 26 Kills, Raced The Indy 500 Four Times, Survived Two Plane Crashes, And Lived 24 Days Stranded At Sea
*****

The soon to be disappearance of the Miss America Pageant Mark Steyn musings.

I'm reminded that the old saw about history repeating itself - first tragedy, then farce - gets things the wrong way round. Every time I glance at the news, an old gag of mine from fifteen years ago is being reprised with a straight face. For example, on Tuesday the Miss America pageant announced that it would no longer include a swimsuit competition:
*****
The ONT Musical Accidental Interlude
***
***
*****
The problems with government schools? The failure to teach logical thinking.

The Crime Gun Tracing Modernization Act has the support of Parkland survivor Emma Gonzalez. On Twitter, Gonzalez touted the importance of the bill.

"This bill is Super Important, with it we will Actually be able to find the original owner of weapons like we see in Criminal Minds," wrote the teen.
*****
Our society is going to hell in a hand basket. Wait a gosh darn minute. This bulletproof backpack is the thing to stop that ride.

One of the interesting, and perhaps a bit disturbing, sideshows of school attacks is marketing. We're very good at capitalizing on tragedies and making money and/or seizing political power. One can't blame people for making an honest buck selling legal products, but we can surely take politicians to task when they fail to do what's necessary to ensure the safety of students and staff, and buy into marketing ploys that support progressive narratives–feeling safe–rather than actual safety instead.
*****
Public education. How refreshing. A teacher is more concerned about making some extra money off of her students rather than getting her rocks off with them.

A Philadelphia high school has removed a teacher from the classroom after she was accused of taking bribes from students in exchange for better grades. NBC10 received a tip that Amanda Richardson, a humanities teacher at LINC High School, was giving students higher grades in exchange for undisclosed bribes.
*****
Accidents will happen, so do Genius Award Winners.
*****

Tonight's ONT has been brought to you by Accidents Waiting To Happen.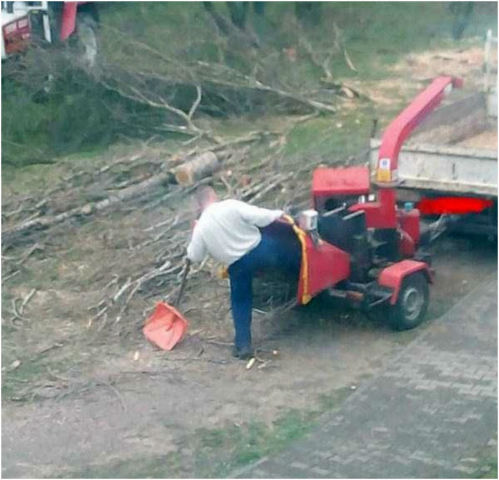 Notice: Posted with permission by AceCorp, LLC. The ONT boasts of being hatched, raised and harvested in the U.S.A. Nothing accidental about it.

posted by Misanthropic Humanitarian at
10:04 PM
|
Access Comments