« McCabe Suspected Rosenstein Was Part of RUSSIA Plot to Fire Comey; Wrote His Own Memo About It, Which He (Of Course) Gave to Meuller
|
Main
|
The Morning Report 5/31/18 »
May 30, 2018
Wednesday Overnight Open Thread (5/30/18 )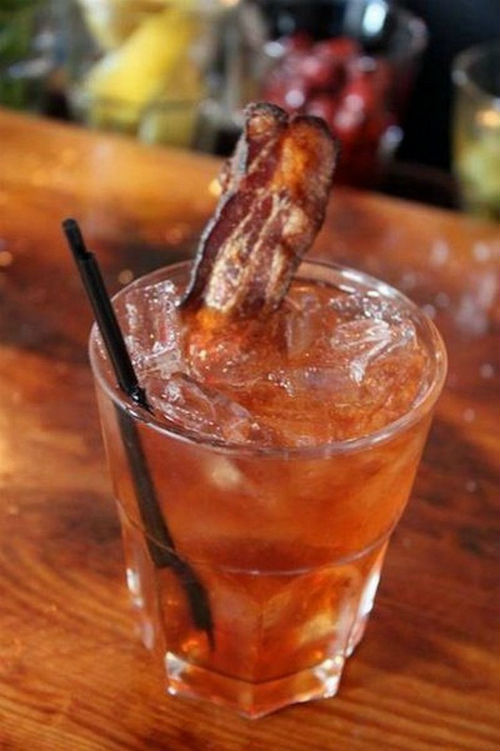 *****
The Quotes of The Day

Quote I

Art is anything you can get away with. Marshall McLuhan
Quote II

When you wake up each morning, you can choose to be happy or choose to be sad. Unless some terrible catastrophe has occurred the night before, it is pretty much up to you. Tomorrow morning, when the sun shines through your window, choose to make it a happy day. Lynda Resnick
Quote III

A new command I give you: Love one another. As I have loved you, so you must love one another. Jesus Christ
*****
White liberal guilt and virtue signaling. A happening thing at Happy Hour. h/t red1c41

It's been four years since Ta-Nehisi Coates made an exhaustive case for reparations in the pages of The Atlantic.

And on Monday, white Portlanders who agree with the idea had the chance to kick in $10 and buy a drink for a neighbor of color. It was an event billed as a "reparations happy hour" by prominent local activist Cameron Whitten, 27, and hosted by Brown Hope, a nonprofit he co-founded.

The premise was simple: Black, brown and indigenous folks could show up and collect $10 at the door donated by their white neighbors. In total, 40 people attended Monday's event.

"The best part for me was showing up like Portland Oprah and see their eyes light up when I handed them $10," Whitten said. "Because it was about more than that."
*****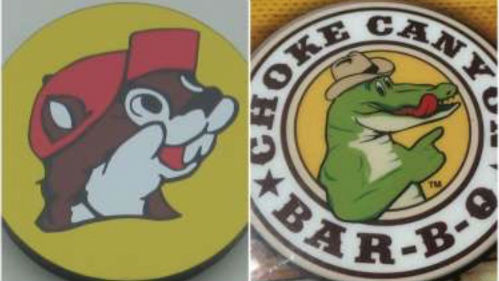 Heaven help us if we need a jury of our peers.
Would you confuse the two? Because a Texas jury held last week that you probably would.

Last Tuesday, the jury held that the alligator logo (on the right) was too similar to the beaver logo (on the left), and so the company that runs Choke Canyon travel stops will have to pay Buc-ee's Ltd. for trademark infringement. That seems odd, given that the two logos look nothing alike. True, each one features a cartoon animal that is oriented in generally the same way, but they are different animals that are different colors, and have other differences that you can see for yourself. Or maybe you can't?
*****
Is our country going to the dogs? More specifically, are today's youth too attached to their pets?

Young adults in particular may be bonding with animals at the expense of vital human relationships.
Like many Americans, I'm a big fan of dogs. As my wife and I prepare to become empty-nesters, I've noticed that we're spending more time obsessing over our family pooch, perhaps because he actually still wants to hang out with us. In recent years, however, our society's relationship with pets appears to have changed in unhealthy ways.

As discussed in a 2017 article published by the Institute for Family Studies, the number of pets in the United States has risen dramatically since 2012, and people are spending a greater portion of their personal income on their animals. The share of dogs and cats covered by pet insurance has also soared in recent years. Americans now spend around $70 billion a year on pet-related products and services.
Pawternity leave? The new way to spell unemployable.
*****

The ONT has good news and it has bad news. First the good news. A Tesla 3 sets a new battery life record. The bad news? It isn't possible for a Tesla 3 owner with a real life.

Hypermiling is a technique used to conserve gas (or in this case, electricity) that involves driving at a low, consistent speed with minimal use of the vehicle's brakes. Colorado residents Sean Mitchell and Erik Strait set out to achieve a record in their Model 3 last week, aiming to hit 675 miles on a single charge. They fell short of that goal, but they still achieved a record for the Model 3.

Their journey into the record books started out at a Supercharger near Denver International Airport. From there, the pair drove in a 1-mile closed loop at speed of 20 to 30 mph, stopping occasionally to use the bathroom and acquire food from friends using a net they held out the window.
It gets better...........
*****
The city of Denver decided that bump stocks are too dangerous for private citizens to own, despite years of private citizens owning them and absolutely nothing happening before Las Vegas. They passed a law within the city banning the ownership of the devices. They were bound and determined to crack down on such dangerous items.

It seems that their plan worked out well.

No bump stocks have been turned over to Denver authorities after the city banned the accessories used in last year's mass shooting in Las Vegas that killed 58 people and injured hundreds.

Denver Police police last month invited city residents to turn in any bump stocks in their possession but Denverite reports that none have been handed over.
*****

Piracy. It isn't just for Somalia anymore.

All roads lead to Rome, but most commerce is conducted via sea lanes. As a recent report shows, those sea lanes remain under threat to varying degrees by non-state actors. The annual Oceans Beyond Piracy report by One Earth Future was released last week with its assessments of global and regional pirate attacks for 2017. Piracy off the Horn of Africa have largely abated compared to the level a decade ago. Attacks in Southeast Asia and the Gulf of Guinea continue to pose challenges. But pay attention to the numbers in Latin America and the Caribbean, specifically the Venezuelan coast. According to the report, incidents in Latin America and the Caribbean rose from 27 in 2016 to 71 in 2017 with a large concentration along the Venezuelan coast. Most of the ships – primarily yachts and tankers – were at anchor.
*****
I guess I will have to forget about the 18 year old cheddar I had over the weekend. Everything you wanted to know about Macaroni & Cheese but were afraid to ask.

Being a judge at a macaroni and cheese competition in San Francisco taught me a lot about American food. The competitors were mostly chefs, and the audience—the online tickets sold out in minutes—was soaking up the chance to be at a "Top Chef" kind of event, but more urban and cool. The judges included a food writer, an award-winning grilled-cheese-maker, and me, a cheesemonger.

We awarded the win to a chef who made mac and cheese with an aged Vermont cheddar. The audience, however, chose another contestant. When he arrived at the winner's circle, he made a stunning announcement: His main ingredient was Velveeta.
*****
The ONT Musical Interlude
*****

Big, bad Chick-fil-a is at it again.
*****

Here, hold my beer while I roast this marshmallow.
*****
I'm a klutz. I've slipped. I've slipped accidentally. I've never slipped and ended up as The ONT's Genius Award Winner.

A man had a 6-inch hand-held shower head removed from his rectum after he "accidentally slipped" in the bathroom.

The 26-year-old, from India, had to detach the PVC pipe connecting the shower head to the wall to get to the hospital.

Upon admission to Ram Manohar Lohia Hospital and Post Graduate Institute of Medical Education and Research in New Delhi, the man denied that he put the shower head there himself.
*****
From foster care kid to Yale graduate. Tonight's Feel Good Story of The Day.

A recent graduate of Yale University says his conservative values helped him to succeed in college, despite a childhood spent in broken homes and foster care.

In a New York Times op-ed titled "Why Being a Foster Care Child Made Me Conservative," Yale graduate Rob Henderson argues that time in foster care made him appreciate conservative values, such as two-parent families and personal responsibility.
If you're reading tonight Mr. Henderson a one year free platinum subscription with &&& privileges for you.
*****

Tonight's ONT has been brought to you by Cheap Inexpensive Meals.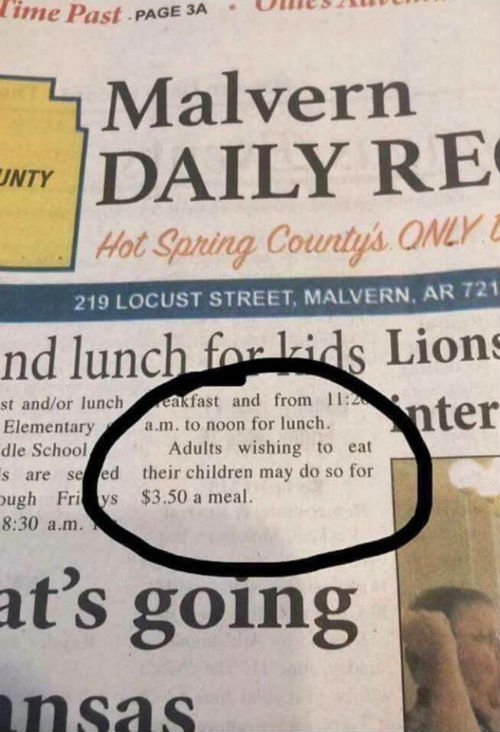 Notice: Posted with permission by AceCorp, LLC. Side effects include but are not limited to skin rash, coughing, sniffling, bodily fluid discharges and a half a dozen other horrible things.

posted by Misanthropic Humanitarian at
10:10 PM
|
Access Comments