« EMT 06/03/18
|
Main
|
For the Love of Cowbell...and Gloating »
June 03, 2018
Sunday Morning Book Thread 06-03-2018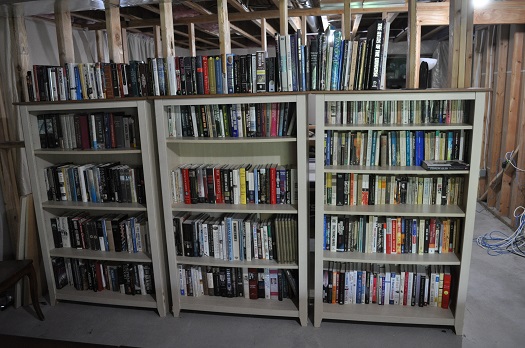 Fritzworth's Basement Library

Good morning to all you 'rons, 'ettes, lurkers, and lurkettes. Oh, and we've got a new category of readers, escaped oafs and oafettes. Welcome once again to the stately, prestigious, internationally acclaimed and high-class Sunday Morning Book Thread, a weekly compendium of reviews, observations, and a continuing conversation on books, reading, and publishing by people who follow words with their fingers and whose lips move as they read. Unlike other AoSHQ comment threads, the Sunday Morning Book Thread is so hoity-toity, pants are required. Even if it's these things, which only proves that just because you wear them tight doesn't mean you look hot.

Pic Note
Fritzworth sent me some great photos of his library, which is distributed throughout his house. The books in this section are mainly history, (including military history), politics, biography, philosophy, etc.

It Pays To Increase Your Word Power®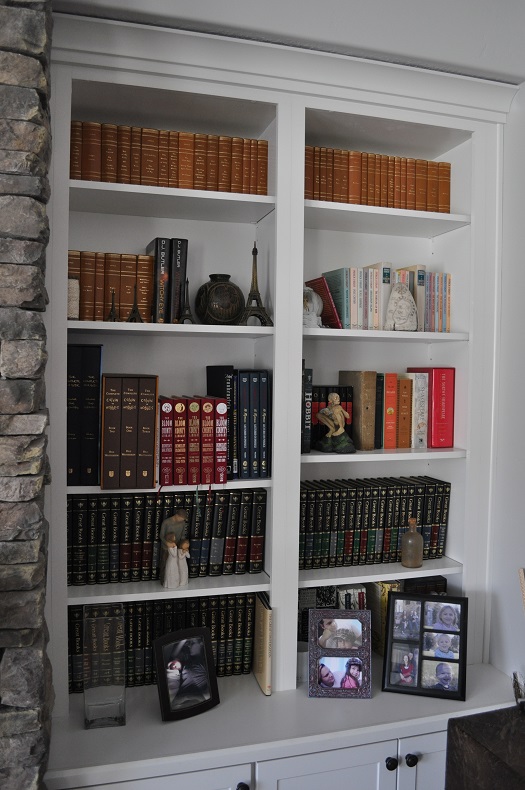 This is one of the bookcases in Fritzworth's family room, which he says consists of
...mostly 'pretty' book sets to please my wife, who's also the one who puts up all the decorative knick-knacks (which I consider a waste of bookshelf space and/or an obstruction to book spines). :)

Rush's Summer Reading
A few days ago, Rush devotea segment to his summer reading list. You can read the transcipt and find out his selections here. This one in particular caught my notice, The Great Revolt: Inside the Populist Coalition Reshaping American Politics by Salena Zito and Brad Todd:
The Great Revolt delves deep into the minds and hearts of the voters the make up this coalition. What emerges is a group of citizens who cannot be described by terms like "angry," "male," "rural," or the often-used "racist." They span job descriptions, income brackets, education levels, and party allegiances...Zito and Todd have traveled on over 27,000 miles of country roads to interview more than 300 Trump voters in 10 swing counties. What they have discovered is that these voters were hiding in plain sight--ignored by both parties, the media, and the political experts all at once, ready to unite into the movement that spawned the greatest upset in recent electoral history. Deeply rooted in the culture of these Midwestern swing states, Zito and Brad Todd reframe the discussion of the "Trump voter" to answer the question: What next?
Does this strike you as odd? Rush picked up on it immediately. From the transcript:
[Salena Zito] sent me a note expressing her frustration that her coworkers at various networks aren't interested in what she's saying, that they're not interested in really reading the book...She really thought that she was gonna help open some eyes of media people who are confused about why Trump won. And they could. They could have a lot of questions answered, and they would help themselves in learning what they're up against. But they will steadfastly refuse to read the book. It would be that helpful to 'em.
So Zito and Todd did the work that the MSM didn't bother to do, i.e. went out and spent time talking with actual Trump voters and tried to find out why they voted for him. I don't recall MSM fops such as Jim Acosta or Brian Stelter doing this remotely like this. 2016 produced such a shocking result that you'd think that CNN, "the most trusted name in news" would think that this is a story they needed to get to the bottom of. But all we get from them are lectures about 'angry white men'. This is not a new tactic in the progressive playbook. I remember the huge Republican gains in the 1994 midterms were descrived by ABC News fop Peter Jennings as America "throwing a temper tantrum." It must give them great comfort to dismiss half of America like this. Saves them from the effort of doing to little outside-the-box thinking.
Zito, by the way, is the author of a now-famous quote that pefectly describes why the MSM have no clue about Trump: The press takes him literally, but not seriously; his supporters take him seriously, but not literally.
El Rushbo also likes The Light Within Me: An Inspirational Memoir by Fox News' Ainsley Earhardt. He says it's "genuinely fascinating":
...this book is actually kind of a pre-memoir memoir. It's filled with quotes from Scripture. It describes her relationship with her family. And it basically explains how she turned out the way she has. Who she is, why it happened, that it wasn't an accident, and her honor and gratefulness for her family and her child, just the general way her life has played out...Her Christian faith is prominent in the sense that it has shaped who she is. She's abundantly talented and everybody that works with her adores her and loves her.
The Kindle version is (a spendy) $14.99.

Moron Recommendation
Moron Mary Poppins' Practically Perfect Piercing e-mailed a recommendation:
For the next book thread, I've been reading Gary Krist's The Mirage Factory: Illusion, Imagination and the Invention of Los Angeles.

It's a history of the birth and growth of Los Angeles from 1900 - 1930, told through the lives of three seminal figures: William Mulholland, the engineer who brought water from the Owens Valley to LA; D.W. Griffith, the legendary silent film director; and Aimee Semple McPherson, the wonder-working revivalist preacher.

Krist switches between his protagonists every two chapters or so, but the story is always moving ahead in time, so as Mulholland realizes LA has an insatiable thirst for water, Griffith is helping to put Hollywood on the map (which, again, brings more thirsty people to the city) and McPherson's religious crusade expands the city's population beyond even Mulholland's calculations.

Even if you know of Mulholland obliquely through the movie Chinatown and have only heard the names "Griffith" and "McPherson," this is popular history at its best. Krist is a wonderfully engaging writer, and each chapter ends with a hook to propel you on. I'm halfway through, in the mid-1920s, and I have to keep putting the book down to make it last, that's how good it is. This Moron gives it two thumbs up.
The Kindle version is $13.99. It is also available in hardcover.

___________
Don't forget the AoSHQ reading group on Goodreads. It's meant to support horde writers and to talk about the great books that come up on the book thread. It's called AoSHQ Moron Horde and the link to it is here: https://www.goodreads.com/group/show/175335-aoshq-moron-horde.
___________
So that's all for this week. As always, book thread tips, suggestions, bribes, rumors, threats, and insults may be sent to OregonMuse, Proprietor, AoSHQ Book Thread, at the book thread e-mail address: aoshqbookthread, followed by the 'at' sign, and then 'G' mail, and then dot cee oh emm.
What have you all been reading this week? Hopefully something good, because, as you all know, life is too short to be reading lousy books.


posted by OregonMuse at
09:00 AM
|
Access Comments