« EMT 5/27/18
|
Main
|
A Sunday Nooner.... »
May 27, 2018
Sunday Morning Book Thread 05-27-2018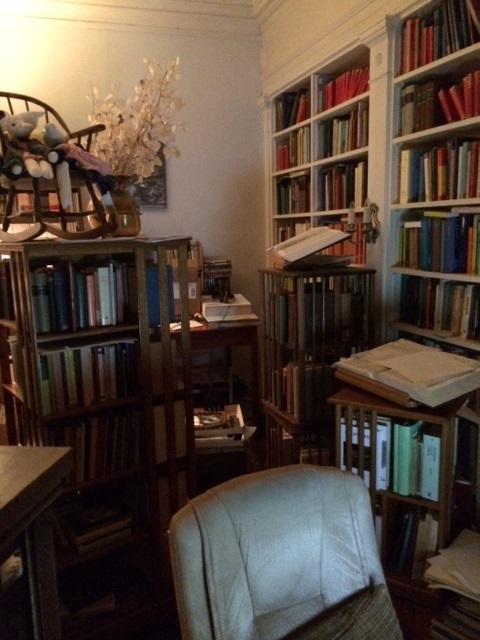 Library of Dr Weevil
(click to embiggen)

Good morning to all you 'rons, 'ettes, lurkers, and lurkettes. Oh, and we've got a new category of readers, escaped oafs and oafettes. Welcome once again to the stately, prestigious, internationally acclaimed and high-class Sunday Morning Book Thread, a weekly compendium of reviews, observations, and a continuing conversation on books, reading, and publishing by people who follow words with their fingers and whose lips move as they read. Unlike other AoSHQ comment threads, the Sunday Morning Book Thread is so hoity-toity, pants are required. Even if it's these art deco knock-offs, which should be taken out and shot.

Pic Note
Dr Weevil writes:
There are thousands more books elsewhere in the room and the rest of the apartment, which looks rather like an ant farm: I have to walk sideways to get between the shelves in many places. Note that revolving bookcases (can you spot all five in this picture?) really help if you want to be able to consult hundreds of volumes without getting out of your seat.
I like the revolving book stands. Also, in the upper left, sitting on the rocking chair on top of the revolving bookcase, you can see a stuffed he-pig and she-pig dressed in red, white, and blue: they were advertised as 'Mr and Mrs America' at the Shenandoah Valley antique store where Dr Weevil bought them.

A Muslim Sex Manual?
The Muslimah Sex Manual: A Halal Guide to Mind Blowing Sex by Umm Muladhat, and no, this is not a parody. I found out about it by being directed by I-forget-what to this article, Based Grandma Writes Sex Manual for Muslim Wives (30 Years of Marriage have Taught her a Thing or Two). Which links to The Definitive Guide to Halal & Haram Sex Acts (Muslims Like to F*** Too), which is quite a bit more detailed about sexual things that Muslims may or may not do.
I almost bought the book just out of curiosity, but balked at the $9.99 price tag for 87 pages. Steven Den Beste had longer blog posts. I'm guessing there's probably not much that's controversial or humorous about it, other than perhaps holding to the quaint notion that couples really ought to wait until marriage to start having sex. Which, come to think of it, is the norm for pretty much every culture in human history except the one we're living in now.

It Pays To Increase Your Word Power®
A POACHER-TURNED-GAMEKEEPER is someone who changes their mind and begins to protect or campaign for something they once attacked.
Usage: A more perfect word to describe the GOPe's attitude toward ObamaCare can scarcely be imagined.

Giant Nerd Books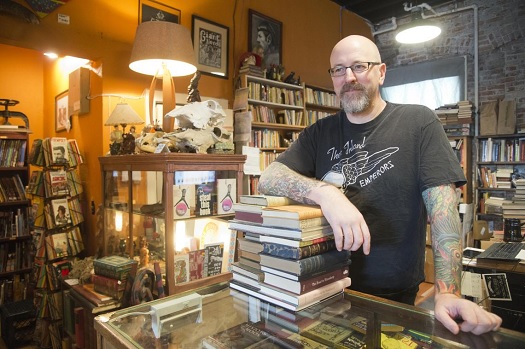 Nathan Huston, Owner, Giant Nerd Books
If you live in or near Spokane, WA, you might want to check out the Giant Nerd Books, which owner Nathan Huston says specializes in used books:
Ten years ago, [Huston] left his day job and launched into the book business full time.

"I got my start selling hot rod books at car shows," he said. "Hot rods and pinup girls – everybody likes those."

Indeed, his shop features an abundant selection of both genres. Tongue firmly in cheek, he said, "I'm promoting literacy in the Lilac City one dirty picture book at a time."
Sounds like a moron-friendly shop. Read the whole thing for info about this bookstore. Unfortunately Giant Nerd Books doesn't have a real web site, only a FaceBook page.

Books By Morons
Andrew VanOrden says he's been a lurker here for years, but with ace calling for plugs/links to works by readers as an alternative to mainstream garbage last week, he thought this would be a good time to plug his apolitical, pulp-fantasy adventure, To Walk a Road of Ruin:
Saga, a vagabond gunfighter from Samarkand, and the rogue scholar Richter have spent their lives in search of fortune and dodging the consequences of their actions. When they accidentally unleash an ancient evil while robbing the wrong tomb, the pair find themselves in more trouble than they can handle. Alongside the aged thief Grail and the reticent knight Ialae, whose ties to the Church may yet set the Saga and Richter at each others throats, they must stay one step ahead of an Inquisition that would see them all in chains and try save their world from the undead horror their rival Kage now serves. Now they must find it in themselves to leave the path of least resistance to walk a road of ruin.
Available on Kindle or paperback.
___________
Moron author William Alan Webb's new novel, Jurassic Jail (Time Wars Book 1), is available for pre-order on Amazon. The release date is set for June 21, 2018. This novel is edited by 'ette author J. Gunnar Grey. William says:
I wrote this for anybody who loves a good spy thriller, murder mystery, Mad Max movie or Jurassic Park. Gunnar tells me it's over-the-top fun, so I'll take her word for it.
The Kindle price is $2.99.

Moron Recommendation
'Ette SandyCheeks recommends Love Does: Discover a Secretly Incredible Life in an Ordinary World by Bob Goff. It's basically his autobiography, and he's led an interesting life:
As a college student he spent 16 days in the Pacific Ocean with five guys and a crate of canned meat. As a father he took his kids on a world tour to eat ice cream with heads of state. He made friends in Uganda, and they liked him so much he became the Ugandan consul. He pursued his wife for three years before she agreed to date him. His grades weren't good enough to get into law school, so he sat on a bench outside the Dean's office for seven days until they finally let him enroll.
He wanted to do things, not talk about them:
The friend's attitude of "being there for people" instead of just talking about it, resonated with Goff, who became a Christian, a lawyer (even though his business cards say "helper") and a man with an "office" at Disneyland's Tom Sawyer Island. It's free! He meets all his appointments there. It's a slim little book and well worth your time.
What stuck with me was Goff's way of looking at Christianity, esp. Bible study. He said as soon as he left one, he had forgotten everything, which made him question the usefulness of group study as opposed to reading on his own.
This struck me, too. Might I suggest an alternative explanation? People learn in different ways, and not all ways work with some people. Some learn best by seeing, some by hearing, some by doing. In a Bible study group, most of the learning is done by hearing, and if that's not Goff's learning style, it doesn't surprise me that he found he wasn't getting much from the group studies he attended.
Not that that detracts from what he's saying. But that biy may be more of a personal thing with him rather than a universal truth.
Also available in paperback.
___________
Moron fastfreefall writes:
A book I highly recommend to all is Robert D. Kaplan's "Earning the Rockies". The cover continues, "how geography shapes America's role in the world". In a nutshell, Kaplan offers a look at ourselves (Americans), past-present-future, through the prism of our geography. It's an easy read, lots of great historical and geographical information as Mr Kaplan treks from New England to California, much of it along pioneer routes. He also offers some interesting perspectives and opinions as to the building of our country's character.

This book resonated with me because my whole career, I've worked with multi-national partners and allies in the Defense world. Especially in the last 8 years, often as the only Amercian mil representative, whether working with Iraqis, or leading mobile training teams to multiple allied countries, or working with my Spanish and NATO associates daily, I've been constantly asked "Why are Americans like this or that?" Mr Kaplan helps put some words to thoughts that have percolated in my mind as I think of a good way to answer without saying that my one is answer is the only answer. The book also resonated with me because Kaplan, like me, thinks our country has been and continues to be a force for good in the world, warts and all.

Finishing this book lead me to a book Kaplan mentions, "The Year of Decision,1846" by Bernard DeVoto. Fascinating read so far.
Earning the Rockies: How Geography Shapes America's Role in the World available on Kindle, paperback, and hardcover.
The Kindle price for The Year of Decision, 1946 is, at the time (Tues.) I'm typing this, 99 cents, but I don't know how longer it will last. 1846 is the year that the Mexican War started, the Mormons went to Utah, and immmigration to the western territories really took off.
___________
Moron fritzworth recommends Witchy Winter by D.J. Butler (the sequel to Witchy Eye), which he describes as "an original and satisfying tour-de-force of fantasy and alternate history." Also:
I thought that "Witchy Eye", its predecessor, was excellent and inventive -- and it is -- but 'Winter' pulls together a staggering amount of sources, background knowledge, and concepts to build an alternate-history world that echoes our own and yet is totally its own thing.
You can read the entire review here. The Amazon blurb calls it a 'brilliant Americana flintlock fantasy novel':
Sarah Calhoun paid a hard price for her entry onto the stage of the Empire's politics, but she survived. Now she rides north into the Ohio and her father's kingdom, Cahokia. To win the Serpent Throne, she'll have to defeat seven other candidates, win over the kingdom's regent, and learn the will of a hidden goddess—while mastering her people's inscrutable ways and watching her own back.

In New Orleans, a new and unorthodox priest arises to plague the chevalier and embody the curse of the murdered Bishop Ukwu. He battles the chevalier's ordinary forces as well as a troop of Old World mamelukes for control of the city and the mouth of the great Mississippi River. Dodging between these rival titans, a crew of Catalan pirates—whose captain was once a close associate of Mad Hannah Penn—grapples with the chevalier over the fate of one of their mates.
It is also available as a hardcover edition.
___________
Don't forget the AoSHQ reading group on Goodreads. It's meant to support horde writers and to talk about the great books that come up on the book thread. It's called AoSHQ Moron Horde and the link to it is here: https://www.goodreads.com/group/show/175335-aoshq-moron-horde.
___________
So that's all for this week. As always, book thread tips, suggestions, bribes, rumors, threats, and insults may be sent to OregonMuse, Proprietor, AoSHQ Book Thread, at the book thread e-mail address: aoshqbookthread, followed by the 'at' sign, and then 'G' mail, and then dot cee oh emm.
What have you all been reading this week? Hopefully something good, because, as you all know, life is too short to be reading lousy books.

posted by OregonMuse at
08:55 AM
|
Access Comments