« Some House Republicans Call for Second Special Counsel, to Investigate How Hillary Was Exonerated, How Mueller Got Appointed, and How the FISA Warrants Were Handled
|
Main
|
The Morning Report 5/23/18 »
May 22, 2018
Tuesday Overnight Open Thread (5/22/18 )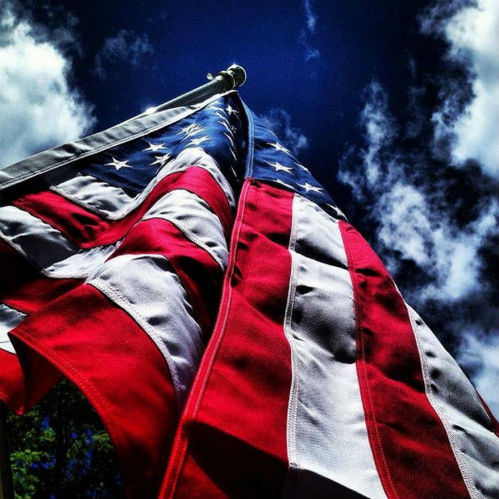 *****
The Quotes of The Day
Quote I

When plunder becomes a way of life for a group of men in a society, over the course of time they create for themselves a legal system that authorizes it and a moral code that glorifies it. Frederic Bastiat

Quote II

Always love your country - but never trust your government! Robert Novak

Quote III

Love is that condition in which the happiness of another person is essential to your own. Robert A. Heinlein
*****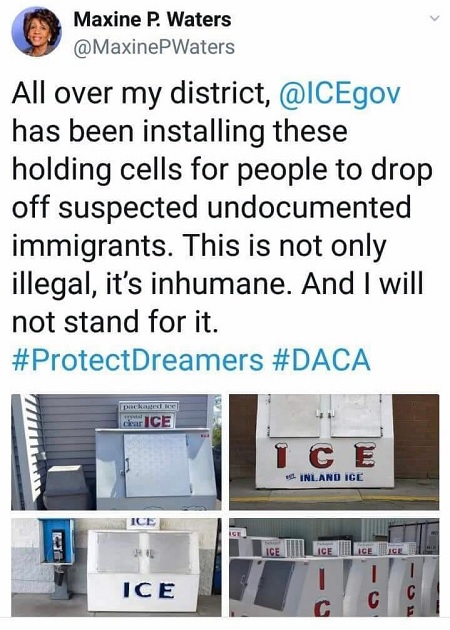 Speaking of Maxine. It appears this upstanding and reputable Congress critter isn't as pure as the wind driven snow.

Citizens for Waters has already paid $42,862 to the congresswoman's daughter, Karen Waters, since the beginning of 2017, FEC files show. The campaign is scheduled to pay the younger Waters another $65,000 for her "professional services" working on a "slate mailer," according to the most recent FEC files.
*****

Who says the US Navy can not make chicken salad out of chicken shit?
What does it look like when the military is told to "make it happen" for political ends, knows it isn't possible, but with a squinted eye and a bit of creative painting makes it look like they're following orders?
*****

What song was The Who's big hit, "My Generation"? Yeah, I hope I die before I get old
Andrea Mitchell.
*****
*****

Has NetFlix jumped the political shark? One subscriber thinks so.

Given that I'm a conservative, one might be inclined to believe my choice to leave Netflix is predicated upon the company's most recent decision to partner with Barack and Michelle Obama's new company, called "Higher Ground Productions," to produce loads of new content. And in a way, I guess that's correct. But this choice by Netflix has not alone led me to this decision. Rather, this was the straw that finally broke the camel's back -- the latest in a series of indicators that the network has become little more than a propaganda arm for radical left-wing political actors.
I'll give it a wait and see look.
*****

The class clown graduates. Wait, he wasn't in the class?.

Local comedian Jaron Myers heard all you had to do to walk across the stage at graduation was hand a piece of paper with your name on it to the person announcing the graduates to the crowd.

So he decided he was going to give it the ol' college try.

The Mount Vernon native, who flunked out of Evangel and has never been enrolled at Missouri State, bought a cap and gown before Friday's graduation ceremonies and walked across the JQH Arena stage.

Well, that certainly is a way to minimize those student loans.
*****
The ONT Musical Interlude
May 22, 1950, Born on this day, Bernie Taupin, English lyricist, poet, and singer and Elton John's long-time song writing partner. Rod Stewart, Cher, The Motels, John Waite, Starship and Alice Cooper have all recorded his songs. In 1967, Taupin answered an advertisement placed in the UK music paper New Musical Express by Liberty Records, a company that was seeking new songwriters, Elton John responded to the advertisement, and the pair were brought together. via thisdayinmusic.com
***
May 22, 1962, Born on this day, Jesse Valenzuela, from American rock band Gin Blossoms, who had the 1994 UK top 30 hit single 'Hey Jealousy', from their first major label album, New Miserable Experience (1992). via thisdayinmuscic.com
*****

Do tax laws influence behavior? Just ask Craig Mitchell of Yoker, Glasgow.

A man took a 300-mile round trip to evade Scotland's new minimum alcohol pricing law.

Craig Mitchell, from Yoker, Glasgow, drove down to Carlisle in the North of England to get his hands on his favourite Hawksridge Cider.


In Scotland, the beverage jumped from £2.15 for a two-litre bottle to £5.75 following the introduction of the controversial legislation.

Now, a 50p minimum price per unit is in place. The move has effectively banned cheap deals on booze in Scotland.
*****
First there was the game, Grand Theft Auto. Next? Grand Theft Shopping Cart. h/t ibguy

A man and his girlfriend have been busted in Florida for joyriding in a motorized shopping cart from Walmart to a local dive bar.

Surveillance video at a Walmart in Largo captured Jeffry Sabiel, 50, and Santa Walters, 32, stealing the shopping cart reserved for handicapped customers, Largo Patch reported.
*****

Not only did he piss off the police, he screwed up munchie hours at this fast food joint. Genius Award Winner.

Deputies were called to the Wendy's on U.S. 1 at approximately 7:18 p.m. Saturday.

Weber was on the roof of the restaurant making threats, according to a police report.

A deputy climbed a ladder on the building to try to make contact with Weber, but he stood over the ladder and raised a large block of wood over the deputy's head, saying he would hit him, according to the report.

The deputy jumped down from the ladder and Weber remained on the rooftop for approximately 4 1/2 hours, the report said.
*****
J.J. Watt Tonight's Feel Good Story of the Day.
*****

Tonight's ONT has been brought to you by New Jersey Sales Practices.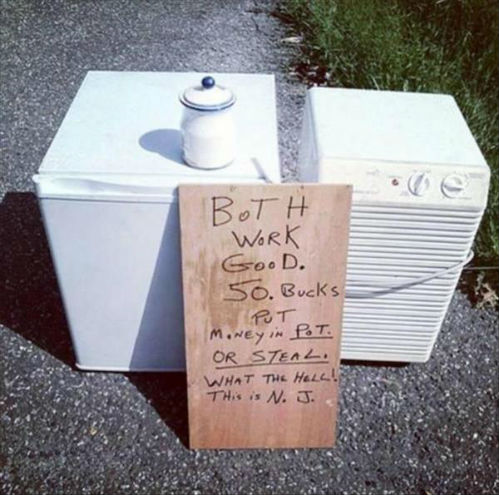 Notice: Posted with permission by AceCorp, LLC. The odds of complete satisfaction? Nil.

posted by Misanthropic Humanitarian at
10:30 PM
|
Access Comments