« Trump: I'm Ordering the DOJ to Investigate Whether Obama Ordered Spying for Political Purposes
|
Main
|
Weekend Gun Thread »
May 20, 2018
Food Thread: Sheep, Organic Chemistry And Marbles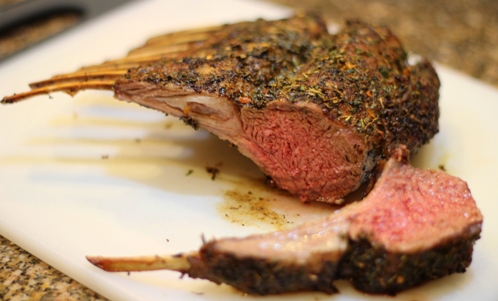 Herb-crusted rack of lamb is one of those foods that I will eat whenever I can, but it is ridiculously expensive in restaurants, and so easy to make at home that I rarely (read: never) order it anymore. I saw it on the menu last night at a French restaurant in Manhattan. It was something like $48, which is just silly. I can go to Costco and buy excellent quality Australian lamb and make enough for six people for $48.
Sear the rack. Coat it with an herb mixture. Roast in a medium oven with a temperature probe set to your preferred doneness.
See? I told you it was easy. Just don't serve it with mint jelly, which is worse than serving French Toast with syrup.
******
This looks interesting, and he isn't charging an obscene amount of money for his whiskey. It's about $50 at discount, which is a reasonable price for an interesting experiment.
20-Year-Old Whiskey in 6 Days: Will This Self-Taught Chemist Upend the Liquor Industry?
Why does a well-aged glass of smokey whiskey taste so good? It's all about the chemistry of sitting in a barrel for decades. "The polymer structures make the wood slowly fall apart," says Bryan Davis, a pioneering distiller who learned the science of liquor production by watching MIT classes on YouTube. "They shed all of these precursor chemicals that turn into different stuff that tastes really good." This time-consuming process is the reason distillers have to charge five figures for a top-shelf bottle.
I am however deeply suspicious of his explanation of the chemistry behind the transformation from raw whiskey to finished product. I think that there are too many variables for him to proclaim with any scientific confidence that he knows what's going on in his reaction vessels. Video lectures does not an organic chemistry expert make!
Any PhDs in organic chemistry out there who can weigh in on this?

******
These kinds of articles are ubiquitous. Most are just click-bait, but one can find a few valuable nuggets. This one has a couple that are good ideas. The tomato-cutting hack is a good one.
20 Cheap Kitchen Hacks That Will Make You Master of Your Domain
But mostly when I see these hacks I think, "Yeah, but there are a bunch of different ways to achieve the same result." I think most people find ways to streamline the few chores in the kitchen that are truly irritating or unpleasant to do, and simply manage the rest as part of the cooking process. Personally, I don't mind cutting grape tomatoes one by one. I rarely have to cut more than a cup or so of them, and unless I am in a big rush, the simple and satisfying process of using the correct tool (a sharp serrated blade) is part of the simple pleasure of cooking.
******
Yeah....no.
Thermal Shock Porterhouse Steak
I really, really enjoy Alton Brown, but sometimes he gets too wrapped up in fine-tuning technique, and loses sight of the fact that changing technique is not always a good thing. Another way to make a porterhouse is to cook it the identical way Brown does in this recipe, only easier: in a cast-iron pan. You know, how cooks have been doing it for years and years, with marvelous results.
******
I may have mentioned once or twice or 800 times that "fat is flavor." And that's why beautifully marbled prime beef is so good, and often prohibitively expensive for non trust-fund folk. It costs lots of money to fatten cattle, and only a small percentage of them turn out to be well-marbled enough to be graded as prime beef. But there are huge variations in that grade, and sometimes we at the retail end of the food chain get beef that is the equal of the best and most expensive stuff that is usually found only at great steakhouses and obscenely expensive boutique butchers.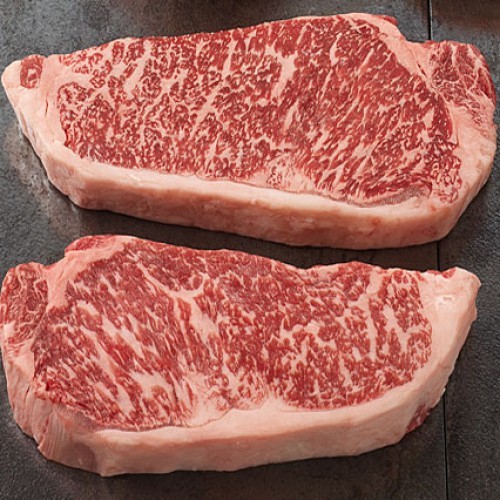 A few weeks ago I wandered past the butcher counter at my local supermarket and discovered an entire short loin of beef that, believe it or not, was even more beautifully marbled than the glorious stuff in the photo! I was a fool, and only got two steaks, which were perhaps the best beef I have ever eaten.
What's my point, besides that I was a idiot for not buying the whole thing? Use your eyes when you are shopping for meat. It is entirely possible that your local market's huge sale on steaks will include a few that are significantly better than the rest. Be particular...be picky...be a bit of a jerk if necessary. Poke through all of the packages. Ask to see the loin underneath the one on display. You will eventually get lucky and find a great steak at a manageable price. And this is true of pork too! For chicken? I have no idea. Is there some visible difference between good and great chicken?
Beuller?

******
The Last Word
is a cocktail, and until this morning I had never heard of it. It seems like it would be quite good, and I love the name...it is apropos for The Horde.
******
I have been revisiting some of my well-used recipes, ones that I have posted here; sometimes more than once! So I will be, for the near future, a bit more selective in what I post as the recipe of the week, and sometimes, like today, skip it.
******
Food and cooking tips, good mustard, Oakland style BBQ sauce, gefilte fish replacements, thick and fluffy pita and Browning Hi Powers:
cbd dot aoshq at gmail dot com
. Recipes for low-carb Pop-Tarts will be deleted with extreme prejudice.
&topic=world_news">

posted by CBD at
04:00 PM
|
Access Comments