« Monday Overnight Open Thread (5/14/18 )
|
Main
|
Mid-Morning Open Thread »
May 15, 2018
The Morning Report 5/15/18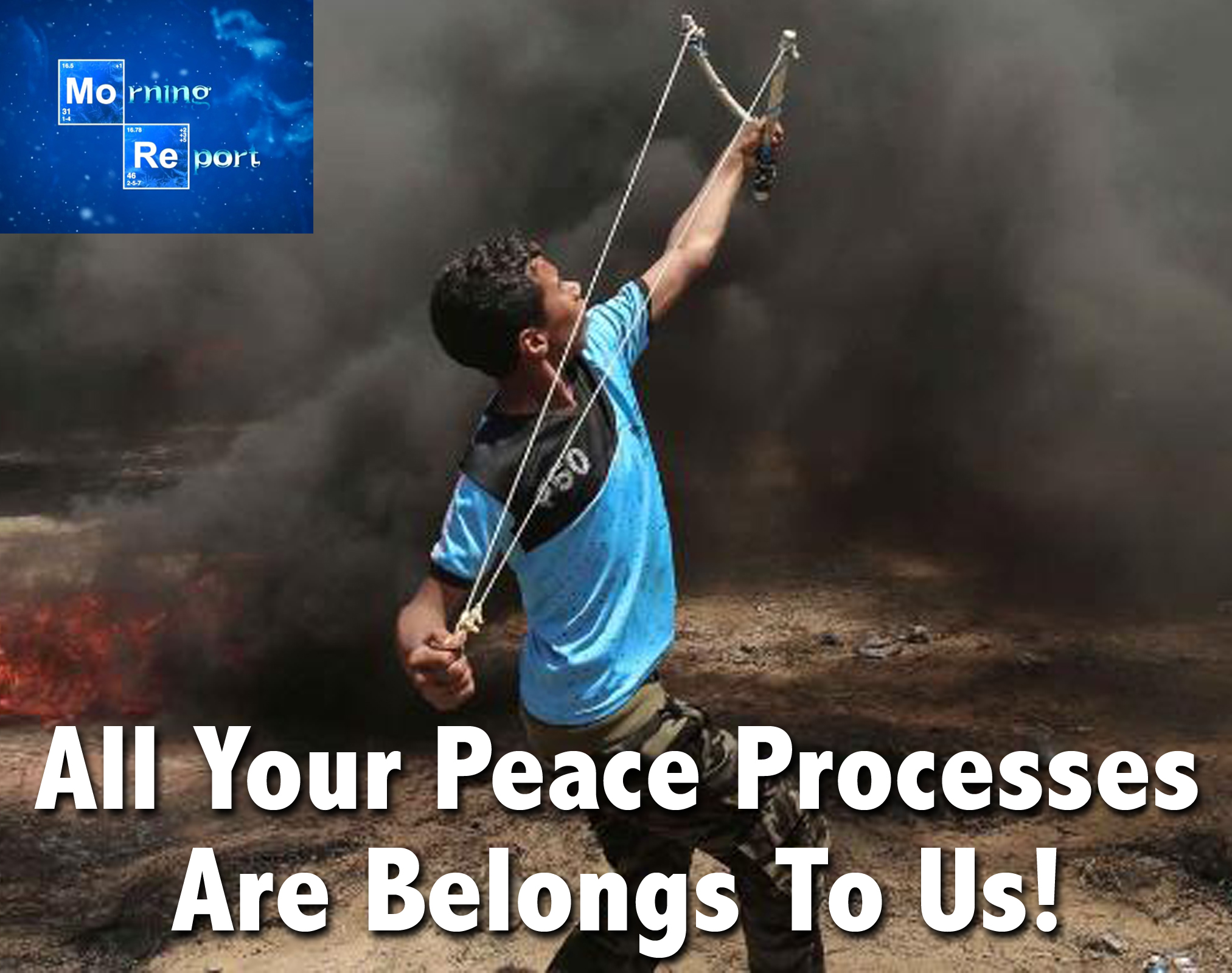 Good morning kids. Tuesday's here and the top story for today is the historic move of our embassy in Israel to Jerusalem, which effectively is an official recognition by us of that city as that country's capital. The Romulus and Remus of Joo-hate around the world - Leftism and Islam - have reacted predictably by spewing hatred and violence at both the President and the state of Israel. So in other words, a day ending in "Y" with the exception that for once we have a President who doesn't give a damn about what the world thinks and does what is both morally right and in the best interests of the nation. Bravo.
Back home, today marks the anniversary of the Robert Mueller-led Witch Hunt and there's still no end in sight, which as time marches on is turning more and more people against it and the Dems who seek PDT's scalp-weasel. John Dellaportas over at The Federalist has quite a good roundup of the Mueller's history of incompetence, shady behavior and the Ivy League elitism that propels him and inept tyrants like him into positions of power. By the way, I had no idea that Mueller was John Kerry's captain on their prep school lacrosse team. Crystal Gale Mangum was unavailable for comment as of press time.
Meanwhile, it turns out that a Russian oligarch that Mueller has been going after is the same one that he courted in an investigation back in 2009. Conflict of interest, Bobby boy? Meanwhile, the Senate GOP is coming up against hard opposition to the release of the transcripts of the wiretaps and interview that railroaded Mike Flynn. Lastly, Rush Limbaugh is about to blow a gasket, as we all are. He spent virtually his entire show spelling out how this entire thing was an elaborate charade and a set-up to nail the President, derail his agenda and destroy anyone associated with him. But I repeat myself. In any case, the transcript is worth bookmarking because it is a nice treatise of the who, where, what and why of the coup attempt.
In other news, Chubby Gillibrand is feeling her oats and is leading an effort to sabotage the President's fairly successful border policies by introducing some phony "accountability" bill that would effectively handcuff ICE agents with red tape. And as California attempts to kill itself, more and more black voters are waking up to the dangers of sanctuary cities and open borders, and ICE has taken the rogue mayor of Oakland to court for her cunning stunt of warning illegal aliens of impending immigration raids. She should be arrested for aiding and abetting a felony before the fact, but what the hell do I know.
The NRA is taking New York State to court for its strong-arming of financial institutions to stay away from gun groups and there are more revelations about the abject incompetence of the Parkland school district in its serial mishandling of the shooter. Hopping back an Amendment, the Cheesecake Factory has responded to reports that some of its employees at one of their restaurants abused a black customer who dared wear a MAGA hat in their presence. And related, we have a few good links about the muzzling of voices of dissent by socialist media. Considering the last story, the one about anti-open borders blacks and Kanye West and you have the recipe for an interesting situation.
That segues nicely into the political scene where PDT's winning streak has got the Democrats stymied. It's too bad he's essentially serving as an independent since the Koch CoC Brothers are steering the GOP towards open borders and prison reform as platform items. Unreal. That said, this President is a disruptor. I could never have imagined any of what we're seen these past 18 months happen, and yet here we are. I think long term (that is I hope) the Trump factor is going to take a sledgehammer also to politics as we have known it, specifically the GOP-e. At least with him there doing what he's doing we have a shot at neutering the FDR wing of the Democrat Socialists. Just a thought.
If we don't do that we could wind up like the people of Illinois. I heard about this yesterday; evidently the Chicago Fed is floating an idea of passing a levy/assessment on every piece of property in the state of 1% for 30 years in order to, get this, bail out unsustainable pensions. To quote Tyler Durden:
Get this, which is part of the Fed's reasoning:

"New taxes wouldn't affect people thinking of moving to Illinois. While they would have to pay higher property taxes, that would be offset by not having to pay as much for their new homes. In addition, current homeowners would not be able to avoid the new tax by selling their homes and moving because home prices should reflect the new tax burden quickly."

In other words, just confiscate wealth from current owners because they will pay, whether they stay or not, through an immediate reduction in home value.
And that scheme only handles 5 of the over 650 that are in the state. I believe the American Revolution was touched off by something similar to this. Couple it with the gun-grabbing and the coup and you have yourself a situation. Or do you? Thank goodness we have severely severe conservative Bruce Rauner to save us.
Anyway, links from around the world, across the nation and up your street. Have a better one and remain blessed.
MUELLER WITCH HUNT