« Hillary Clinton Might Or Might Not Now Be Wearing a Back Brace But Also Definitely Is
|
Main
|
The Morning Report 5/8/18 »
May 07, 2018
Monday Overnight Open Thread (5/7/18 )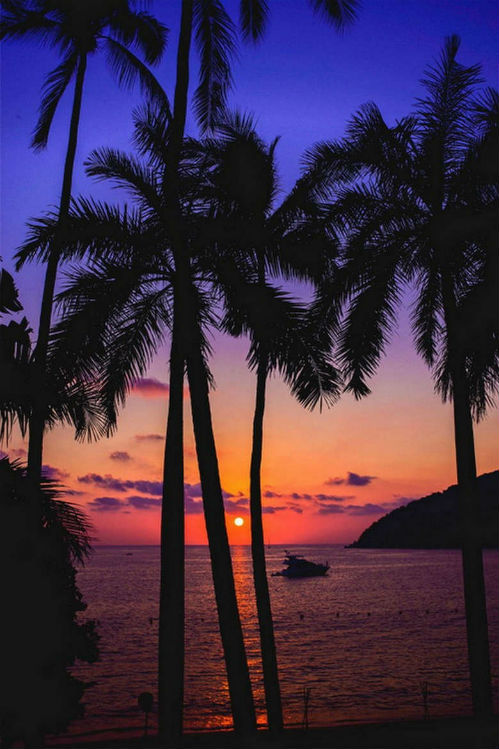 (The ONT just like livin' in paradise)

Ahhh Teh 80s.
*****
The Quotes of The Day
Quote I

Nothing in education is so astonishing as the amount of ignorance it accumulates in the form of inert facts. Henry Adams

Quote II

Some writers have so confounded society with government, as to leave little or no distinction between them; whereas they are not only different, but have different origins. Society is produced by our wants, and government by our wickedness; the former promotes our happiness POSITIVELY by uniting our affections, the latter NEGATIVELY by restraining our vices. The one encourages intercourse, the other creates distinctions. The first a patron, the last a punisher. Thomas Paine

Quote III

He that lives upon Hope will die fasting. Benjamin Franklin

Quote IV

Now none of this is to insult any of these peoples. It's to insult leftists. Or more precisely, it's to tell leftists they can pound sand, every one of them. No matter where you're from, no matter what you look like, your culture is not your culture. Your culture is just there and I can appropriate it any time I want for any reason I see fit. Know why? I'm a free American man, I don't care what you think and I can do whatever I like. And I like scratching my butt itches with the Prince of Yan. Andrew Klavan
*****
47 years of marriage is a long time, Three parties f*ck up the anniversary of this happy couple.


A Phoenix couple will be filing a claim with the City of Phoenix after learning their home insurance won't cover the damage to their home from a SWAT standoff recently.

Homeowners Beverly and Ed Doll said their home near 27th Avenue and Bethany Home Road is "unlivable."

Last month, on April 17, carjacking suspect Jairo Contreras led police on a wild chase, broke into the couple's home and hid in the attic, and fell through the ceiling.

It's the same home where police K9 Bane died in the line of duty.
I wouldn't have scheduled a dental appointment that day, but's that's just me.
*****

Good fences make good neighbors. Hoses and guns don't.

According to Sheriff Joe Lopinto, the shooting followed an argument between Martin and a neighbor after Martin shot the neighbor's passing vehicle with a water hose. When the neighbor rolled down his window and began arguing with Martin, Martin allegedly sprayed water into the vehicle. The neighbor then got out of the vehicle and shot Martin once in the torso. Martin fled to the driveway of his home where he collapsed and died.

Sheriff Lopinto says they have a suspect in custody. JPSO has identified the suspect as 78-year-old Wayne Higgins.

Something tells me this wasn't their first confrontation. Their last. But not their first.
*****
Hollywood Lefties are hypocrites. Nothing new there.

Actress Alyssa Milano attended an anti-NRA protest in Dallas yesterday. Milano, a child actress known for her work in series TV, tweetet her opposition to the NRA, suggesting people vote for candidates who received no NRA money.

How very noble of her. There's only one problem with her advocacy; she attended the event flanked by armed bodyguards.
*****
Bill Whittle takes a peak at the Kanye West controversy.

Bill Whittle asserts that there is no middle ground on Kanye West: you either love him or loathe him. I think the middle ground may by "don't know who he is."

In any event, I listened and learned to Bill Whittle explicating the deep meaning of the Kanye kerfuffle in "Kanye West: Racist" (video below). At right around 3:06 Bill reveals a bombshell that would have prompted me to do one of those Danny Thomas spit-takes if I had a mouthful of coffee (which is close to Bill's reaction). I thought you might want to laugh and learn along with Bill, as I did.
*****
This is interesting. The National Institutes of Health (NIH) has launched a million person genetic study. Why anyone would willingly give away their genetic makeup to a federal bureaucracy is beyond me.

After more than three years of planning and piloting, the federal research organization is finally rolling out the massive precision health initiative President Obama first announced in 2015. Now renamed All of Us, the ambitious project aims to compile detailed health data from a representative sample of one million Americans so scientists can better understand the mechanisms of disease and move more quickly toward personalized treatments. Starting May 6, anyone over the age of 18 living in the US can enroll in this Grandest of Experiments and donate their data to the greater good.
*****

Well, well. London is beginning to resemble the Wild, Wild West.

Three people were shot on the streets of London in daylight yesterday and a man was stabbed to death in Luton as the Bank Holiday weekend was marred by violence.

Two teenagers, 13 and 15, were injured in separate attacks that occurred within seconds of each other on a busy high street in Harrow at lunchtime. One was hit in the head.

Doesn't the U.K have awesome gun and silverware control laws on the book?
*****
Missing plutonium, At least they didn't blame the dog.

Dr. Cornelis Van der Schyf, vice president for research at the university, blamed partially completed paperwork from 15 years ago as the school tried to dispose of the plutonium.

"Unfortunately, because there was a lack of sufficient historical records to demonstrate the disposal pathway employed in 2003, the source in question had to be listed as missing," he said in a statement to The Associated Press. "The radioactive source in question poses no direct health issue or risk to public safety."
******
The ONT Musical Interlude
May 7, 1966, The Mamas & the Papas started a three week run at No.1 on the US singles chart with 'Monday Monday', it made No.3 in the UK. The group was reported, as saying they all hated the song except for its writer John Phillips. The Mamas & the Papas won a Grammy Award for Best Pop Performance by a Duo or Group with Vocal for this song. via thisdayinmusic.com
***
May 7, 1972, The Rolling Stones released the second album on their own label, Exile On Main Street, featuring two hit singles, 'Tumbling Dice' and 'Happy'. In 2003, the album was ranked No. 7 on Rolling Stone magazine's list of the 500 greatest albums of all time, the highest of any Stones album on the list. via thisdayinmusic.com

Good album, better than Sticky Fingers?
*****

Where was she when Milo Yiannopoulos was scheduled to speak at UC-Berkeley?

It's sweet to be agreeable—but what a vibrant, healthy society really needs is principled troublemakers.

Those who dare to say "no" when it appears that everyone else is in agreement are rare and brave—and they make the world a better place, according to University of California, Berkeley psychology professor Charlan Nemeth. Her new book, In Defense of Troublemakers: The Power of Dissent in Life and Business, shows how everyone benefits when someone presents a thoughtful contrarian view.

Nemeth's research in social psychology and cognition has shown that disagreement improves group thinking. "It's a benefit regardless of whether or not [dissenters] hold the truth," she argues. "Most people are afraid and they don't speak up. Companies have that problem all the time. And the research really shows us that that even if it's wrong, the fact that the majority or the consensus is challenged actually stimulates thinking."
*****
Instead of devising a way to produce the cars he has promised, Elon Musk wants to get into the candy business.

When you're a billionaire making a fortune off rockets, large-scale tunnel borers, and solar energy, how do you come up with the next world-changing business? Simple: you try to prove another billionaire wrong when they throw shade at you.

Or, at least, that's the route Elon Musk is taking.

Following an odd quarterly earnings call last week during which he dismissed some analysts' questions, the Tesla CEO shot down the idea of moats – a way for a company to protect itself from its competition. That drew criticism from investor Warren Buffett, who's currently the third richest person on the planet.

And he wants to take on Warren Buffet to boot? Pass the candy popcorn.
*****

Road rage, it doesn't help you in any aspect of your life unless you want to be Genius Award Winner.

A man was seriously hurt during a North Carolina road rage incident on Friday when he left his SUV and waved a gun at a dump truck driver on the road behind him. The driver then ran his dump truck into the man and knocked him unconscious to the ground, police said.

The drivers stopped their vehicles on N.C. 273 (Mountain Island Highway) in Mount Holly at about 11:30 a.m., police said. That's where witnesses found the SUV driver on the road.

When the man left his SUV, the dump truck "moved forward, striking the SUV and the driver of the SUV," Mount Holly Police Chief Don Roper said in a statement. Police took a handgun from the scene, according to the chief.
*****

Observant and going the extra mile is Tonight's Feel Good Story of The Day.

An Air Force rookie is being credited for saving the life of another airman – but the rescue did not take place while on deployment; it took place on social media.

Senior Airman Charles Woomer from the Fairchild Office of Special Investigations in Washington was browsing the Air Force page on Reddit last Friday when he noticed something concerning.

Amidst the innocuous posts and discussions, there was a comment from another user who was asking how his life insurance policy would pay off for his family if "something" were to happen to him before he separated from the military.
*****

Tonight's ONT has been brought to you by Spirit Animals.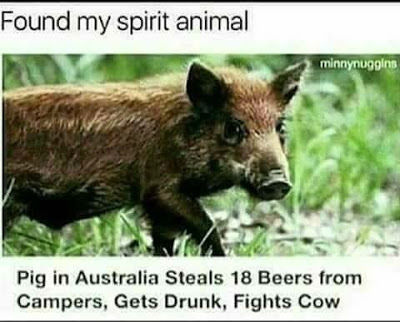 Notice: Posted with permission by AceCorp, LLC. Down payments are non-refundable.

posted by Misanthropic Humanitarian at
10:10 PM
|
Access Comments