« Wednesday Overnight Open Thread (5/2/18 )
|
Main
|
Mid-Morning Open Thread »
May 03, 2018
The Morning Report 5/3/18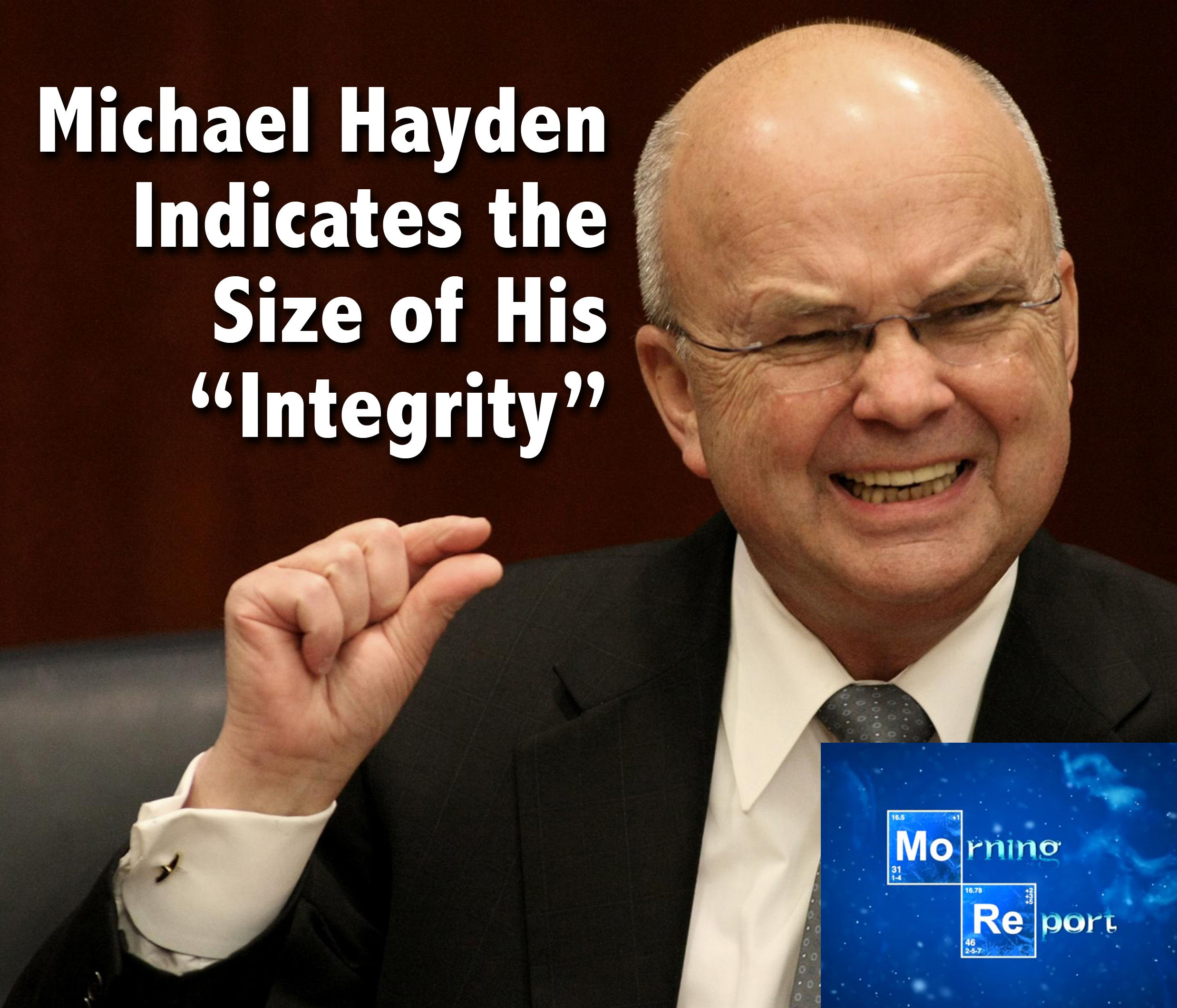 Good morning kids. The Mueller Witch Hunt dominates this morning but for the lead, I have chosen a not unrelated essay by Michael Ledeen, in which he rips former CIA chief Michael Hayden's anti-Trump op-ed screed in Slim's Slimes. With all that has been revealed about the DoJ, FBI, NSA and CIA vis a vis its role in fabricating a pretext to engineer a soft coup against a sitting President - one that continues albeit on another tack since the intelligence aspect of it has utterly collapsed - Hayden has the unmitigated temerity to take to the pages of arguably the worst example of anti-American bilge to call the President either a liar or demented for being "post-truth" whatever the hell that means.
Putting this aside for a moment, the mission of the CIA et al is to protect this nation from real-world security threats both abroad and at home. Instead, it has abrogated that duty in order to preserve, protect and defend itself and an elitist mindset that has minimally ill-served this nation's interests, especially during the period of 2009-2016. Stop and ponder for a moment the fact that John Brennan, Obama's head of the CIA, is a Muslim convert and admitted to voting for Gus Hall, a bust-out Bolshevik who ran for President under the Communist Party ticket with Angela Davis as her running mate. The mind just boggles.
The recent revelations by Israel about Iran's secret nuclear program, which show that the Iranians have been violating their public promises, are the latest in a long series of American intelligence failures. Surely General Hayden knows all this, and much more than I do. For him to hold up the intelligence community as a model of the search for truth is ludicrous...
Not that General Hayden is wrong to warn us the perils of "post truth" claims; he's quite right about that. But an intelligence professional should apply these important standards across the board...
So by all means pursue the truth as best you can, but pursue it thoroughly. General Hayden doesn't do that. He blames error on Trump, which is silly; error has long abounded, and will continue forever. And our intelligence desperately needs serious remedial attention. Pretending otherwise, blaming it on one president or another, just delays the reckoning.
Many years ago, Daniel Patrick Moynihan called for the abolition of CIA. He thought we needed to reconstruct the whole thing. He was right then (the early sixties, as I recall) and the advice applies with greater force today.
Amen. And that leads us directly into the insane farce that the President, his administration and ultimately we the people have to deal with smack dab in the middle of a Middle East that could explode at any minute, a delicate situation with North Korea and an increasingly belligerent China and Russia. Well, so be it. That said, Rudy Giuliani was on Hannity last night and it turns out that Michael Cohen was reimbursed for paying off Stormy Daniels but with his personal money, not campaign funds. And mercifully both Rudy and new Trump lawyer Emmett Flood are saying that no way will the President sit down with Mueller. And PDT is on the warpath with the DoJ slow-walking/stonewalling release of documents. Meanwhile backbencher ankle-biting stooge Steve Cohen is threatening any and all Trump allies that they too will get the same treatment as Dr. Ronny Jackson did. Finally, Mark Levin has had enough and yelled at Congress to do its duty to rein in Mueller. Considering that too many in Congress want the exact opposite of that, I think that that ain't gonna happen.
On to other things, specifically the Amnesty front. Unfortunately it looks as if quite a few of the asylum seekers are going to be getting just that. Feh. Looks like Daniel Greenfield's warning about them may fall on deaf ears. In any case a gaggle of illegal aliens and assorted homegrown criminals and degenerates took to the streets of Grand Rapids to, get this, "demand drivers licenses" and other rights. Would've been nice if ICE agents could've been on hand to give them their "rights" and a hickory shampoo, but mostly a hickory shampoo.
Well, Facefarce has tapped former Senator Jon Kyl to look into allegations of anti-conservative censorship at the socialist media outlet (I feel much better, don't you?) and the Southern Poverty Law Center has amassed a half billion war chest to fight racism and hate speech muzzle political opponents to the counter-American Revolution. Now that's a racket that needs to be looked into; I have a feeling that a lot of that money came from the Budapestilence.
On the gun front, students around the country staged a walkout in support of the Second Amendment while Dick's Sporting Goods officially wants to destroy itself as we have learned they hired three gun control lobbyists last month.
Somewhat slow news day on the political scene; Cuck and Palsi are spewing inanities, the bastard out'a Chappaqua has yet another excuse to blame for her electoral wipeout and it's a doozy, and the Senate Republicans have added their names to a House letter nominating PDT for a Nobel Peace Prize. Considering its past recipients, I take the Groucho approach of not wanting to be in a club that would have me as a member. But considering the global political climate, I don't think PDT would even be considered, even if Whoa, Fat! keeps his promises and peace does indeed break out in Korea.
In environmentalism news, the latest insanity out of Hawaii is an effort to ban sunscreen because its ingredients kill coral reefs. To even attempt to explain how ludicrous this crackpot theory is would be a waste of pixels and time. Aside from Elon Musk's sham of a company about to collapse there is a very sobering piece about coal and how the Chi-Coms are pushing the phony environmentalism angle to destroy us.
From hither and yon, Iowa's effort to ban abortions could have the rippling effect of potentially overturning Roe vs. Wade, a stoned out black Harvard student is the latest Gentle Giant to inflame the race baiters, far too many Americans are falling for the Marxist "guaranteed job" lie (despite the contradictory poll that youths are turning away from Dems because of the economy) and finally, the girl who went to the prom in a Chinese cocktail dress (the cultural appropriation horror!), has told her critics to die in a fire, but in the nicest possible way. Sum Ting Wong there. Or Sum Ting White.
Anyway, links from around the world, across the nation and up your street. Have a better one and remain blessed.
IN THE LEAD