« New York Times Publishes Lists of Mueller's Questions for Trump, Presumably Leaked by Member of Office of the Special Counsel
|
Main
|
Not Quite Overnight Open Thread »
May 01, 2018
Oh My: National Review Finally Asks, "Does Hillary Clinton Drink Too Much Alcohol? And Did the Media Cover This Up?"
For about a year, John Ekdahl was on a lonely one-man beat covering this story. He pushed out a lot of pictures showing Hillary drinking and sometimes even looking glassy-eyed and, um, "happy."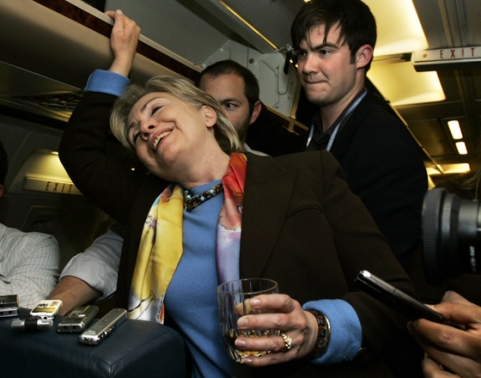 It's always scotch o'clock somewhere in the world
Hillary Clinton logged 150,000 miles of flying, half of which were logged on an airplane. The others were logged on her couch.
Ekdahl noted that during her campaign coverage, the NYT's Amy Chozick said something like "She can really drink." Chozick said this almost like it was a good thing, like it was Hillary showing she had a personality and could hang with the boys, but a lot of people associated with John Ekdahl's Institute for Leading Thought-Leadership raised their eyebrows at this estimation of Hillary's alcohol tolerance.
Tolerance? Or appreciation?
Well, Google it. The internet is full of three sorts of pictures of Hillary Clinton:
1. Hillary nodding;
2. Hillary falling;
and
For years, people have ignored John Ekdahl's seminal investigations into this area. (By "seminal," I don't mean "Leading and influential;" I mean he's A Gay who likes semen.)
But now Kyle Smith picks up this underreported story and asks
"Is Hillary Clinton alcohol use excessive?"
By the way: Kyle Smith's hook for this is Amy Chozick's book, which mentions and unpublished piece about Clinton's booziness.
But seriously, Ekdahl highlighted one quote from Chozick -- "Hillary can really drink," or something like that --two or so years ago.
Update: The research team at the Ekdahl Institute for Leading Thought Leadership found the quote:
"She likes to drink," Amy Chozick, a New York Times reporter who covers Clinton, said to ABC earlier this year. "We were on the campaign trail in 2008 and the press thought she was just taking shots to pander to voters in Pennsylvania. Um, no." -- From the Washington Post, noting the "Hillary Drunk" meme; also from the leaked Jon Podesta emails
And then there was this quote:
"I think you should call her and sober her up some," wrote Clinton campaign Communications Director Jennifer Palmieri in an email to campaign chair John Podesta on Aug. 8, 2015, at about 4:30 p.m. on a Saturday -- a remark that was interpreted as being about Clinton.
That's also from the Washington Post, which treated this "meme" like swamp-fever conspiracy theorizing.
Despite a reporter covering her letting us know she likes to drink, and despite an email from Palmieri instructing the staff to "sober her up."
No one in the media asked the obvious follow-up questions or treated this as anything more than a silly internet conspiracy theory meme.
Combine that quote, and all the pictures of Hillary enjoying a cocktail or five (see below) with what didn't get reported, and you have a genuine scandal -- only partly about Hillary's level of alcohol consumption.
Mostly, it's about what the press knew but decided to hide from the public.
I know I'm writing this in a humorous way, but this is actually a question I've had for two years, and I've never seen the media touch it.
One intriguing aspect of Amy Chozick's reporting in Chasing Hillary is that Chozick wrote a story for the New York Times that never ran that celebrated Clinton's convivial spirit (or, if you like, her boozing).

...

Chozick's unpublished color piece on Clinton's drinking was meant to illustrate that Clinton was not the starchy, purse-lipped frump of popular perception but a freewheeling good-time gal. Why couldn't the story have run during the campaign rather than after it?

That seems obvious. The factual details were such that they might have made readers question the Times's spin that Clinton's drinking habits reflected well on her. The attentive reader will wonder whether Clinton has a drinking problem. Chozick says that Clinton would have been "the booziest president since FDR" and "enjoys a cocktail -- or three --more than most previous presidents."

Chozick isn't saying that Clinton has three cocktails but that she has three cocktails more than a man. So: five cocktails, then? Five cocktails for a woman is generally said to have the same effect as ten cocktails on a man. Would you want a man who regularly put away ten cocktails to be president?

It is fair to ask of the nation's press corps how much information about Clinton's drinking they withheld from the public.

...

[I]T is fair to ask whether the nation came close to electing a president who regularly drinks to excess, and it is fair to ask of the nation's press corps how much information about Clinton's drinking they withheld from the public. Given that, according to Chozick, virtually everyone embedded with the Clinton campaign was a woman who was excited about the prospect of her winning, it's also fair to ask of the major media's assignment editors whether the reporters they put on the Clinton beat were even close to being objective observers.
Update: An Commenter writes:
136 Hmmm...wonder if this has anything to do with press reporting on what a 'champion napper' she was.

TruthRevolt did a compilation of all the times the press reported positively on Hillary's ability to nap, with an aide bragging that she was a "champion napper" like this was an accomplishment.
I don't remember that at all. However, this Harper's Bazaar puff piece does mention Hillary's impressive abilities as a "champion napper."
There must be days, though, when Clinton doesn't want to get out of bed. "Oh, God, yes," she says. "The mornings are okay, but by the end of the day, I'm sometimes so tired that I just go home, put my feet up, read magazines, watch TV, try to take my mind out of where I've been all day."

Thankfully, Clinton is a diligent organizer of her own time. She has a personal trainer who "comes and tortures me" at her Washington residence at 6:00 A.M. up to three times a week. "Not that it shows," she chuckles, "but it does energize me." She is also a champion napper. Reines notes that in her cabin on her Special Air Mission plane, Clinton can sleep through both takeoff and landing. "I often sleep through both, yeah," she says. How? "Because I'm so tired! I think I'm chronically exhausted." Unsurprisingly, she's big on caffeine. "When I'm in meetings, fending off jet lag, and people come with the trays of coffee and tea, I think, Oh, my gosh, I'll stay awake for another hour."
She's in all ways taarrred.
Also, John Ekdahl (a notorious sodomite) wants to remind you of this spectacle, which happened, he thinks, at a South African event.

posted by Ace of Spades at
07:11 PM
|
Access Comments