« Wednesday Overnight Open Thread (4/25/18 )
|
Main
|
Mid-Morning Open Thread »
April 26, 2018
The Morning Report 4/26/18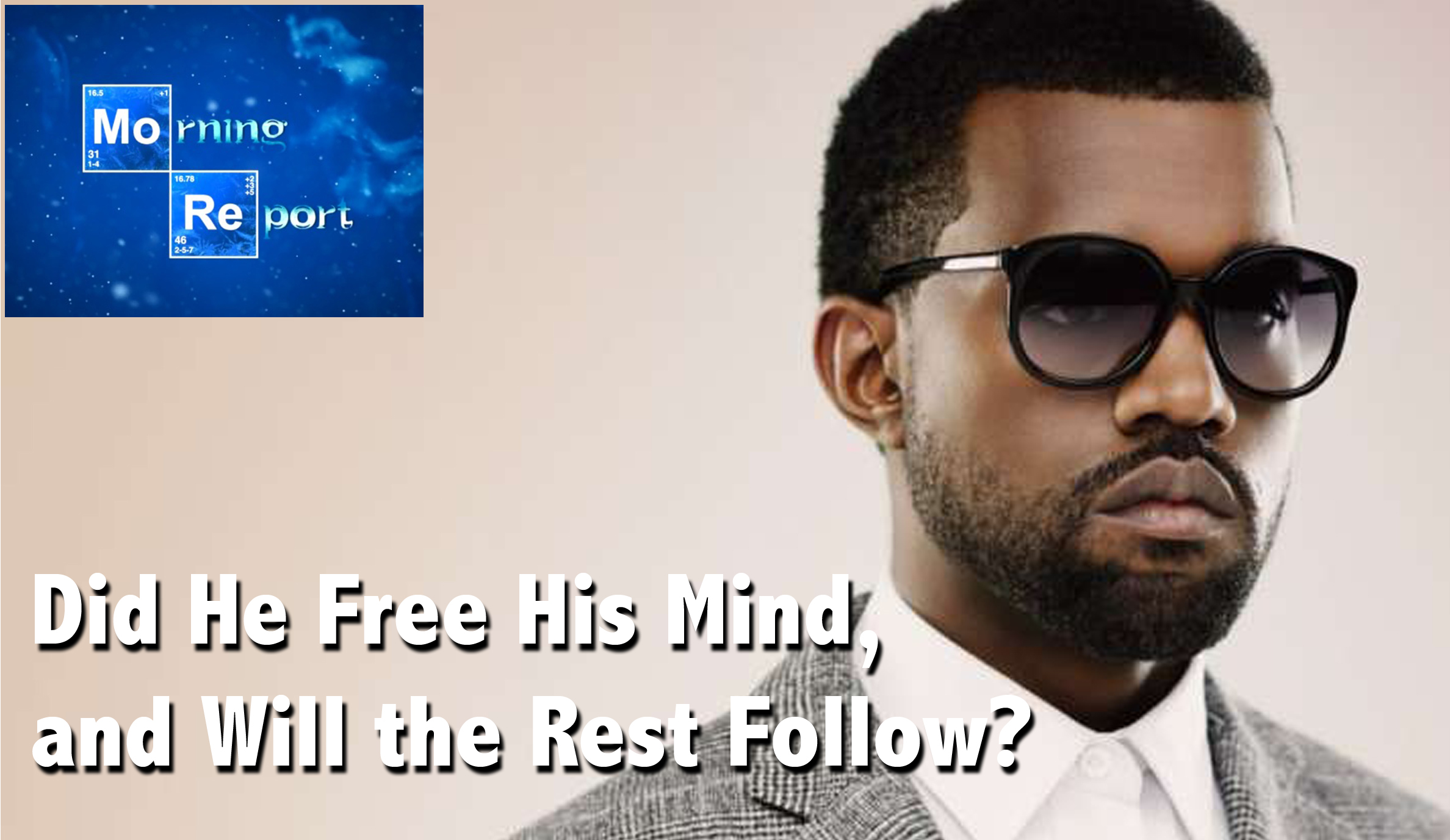 Good morning kids. Lots to talk about this Thursday so let's get down to cases. First up, I want to address the situation with Kanye West. While some are poo-pooing it perhaps as a stunt I see it as something significant. For an entertainer in this day and age to risk his livelihood by openly going against not just the anti-Trump narrative but the broader Democrat-Left-Media Complex's 100-year anti-American narrative can be dangerous. And not just to one's career (see: Scalise, Steve, Paul, Rand, et al). If you look at page one of today's Slim's Slimes, up front and center is a photo of the monument to the victims of lynching. The photo and its position on the nation's paper of record (so-called) does not necessarily bother me, mostly because lynching was an abhorrent fact of life in the South up until 50 odd years ago, and that it was perpetrated exclusively by Democrats (a fact conveniently "whitewashed" in the media). But really; was it absolutely necessary for the Times to put this on page one of a weekday edition? In a sane world, considering what else is going on that is of crucial import, the editor would have been fired. But considering what the Times is, and what the "times" are it makes perfect sense. And it makes my head explode. It's intentional exploitation of this sad part of our history, and the complete distortion of its causes and perpetrators that constitutes the incessant agitprop brainwashing drumbeat, all day and every day, that America is irredeemably racist and that blacks will always be victims. And that brings me back to Mr. West.
As has been reported - in the real news blogosphere, not the Democrat-Media-Propaganda Complex - black and latino unemployment since Donald Trump has been inaugurated is at an all time low. But, as I have illustrated, you'd never know it and in fact would think black folk are still "strange fruit" to quote the late, great Billie Holiday. And as I said, if Kanye West donned a MAGA hat to praise PDT and also blast Obama as some sort of publicity stunt, I'd fire my PR manager (especially since Kanye has had financial troubles and nowhere near as well to do as the former crack dealer and sibling shooter).
But if he, and now a rapper who goes by the name of Chance, honestly is having some sort of come-to-Jesus moment about what we all know are the real reasons why Black America is dying (Democrats, Socialism), then perhaps this is a harbinger of something stirring at the grassroots level. But let's assume it isn't. Even if it is only Kanye West, the thing to realize is that he's no Clarence Thomas or Ben Carson insofar as they're considered Uncle Toms, sellouts, "house ni88ers," not authentic or down for the "shtruggle." And because he's not, he's dangerous - a black man who ordinary black youth and the younger generation as a whole respect and relate to. The question is, will this influence be enough to overcome the strong leftist anti-Trump poison and general anti-American indoctrination that the aforementioned have been brainwashed with? Even if it causes the most hardcore skull-full-of-mush to pause just for a moment to question his beliefs, it's a victory. I think and hope against hope that this really is a harbinger. And if so, now you understand why Amnesty is game, set and match for the Democrat-Left.
Now to move on, and speaking of Amnesty and immigration, we have the rogue jurist who ordered the President to reinstate DACA, the SCOTUS oral arguments about the President's travel ban where by all accounts it doesn't look good for the Left (Chief Justice Itzatax notwithstanding) and Elena Kagan is a jerk, Andrew "Cui-Bono" Cuomo is defying Federal law and ordering ICE agents not to do their duty in the Empire State, and the horde of illegal migrants is now at the border in Tijuana.
On the international front, Emmanuel Macron sent some mixed signals with his speech to Congress. One the one hand, he quoted President Reagan's Time for Choosing Speech about being not more than one generation away from losing our freedom and yet he still hawked the global warming schtick and is begging for the US not the scrap the Iran Nuke Sellout. The President for his part threw him a bone about renegotiating the deal, but the odds are he's going to do the right thing and kill it next month. While the Chi-Coms are Chi-comming, as Nicaragua goes the way of Venezuela, it seems that commie thug tyrant Daniel Ortega has a lamppost and noose with his name on it, please G-d. Hey, since America is irredeemably racist and imperialist, who are we to deprive Latin America of their best and brightest? We owe it to them as an act of contrition and compassion to send all the DREAMers there so they can Make Latin America Great Again. Winning.
In politics, Rush and Leo Goldstein (no relation to Emanuel) over at the American Thinker bemoan what the Deep State and the so-called "resistance" is doing to our nation and society. And speaking of that and Cuomo above, several blue states are banding together to defy the FCC and just impose net neutering at home. All of a sudden, Federalism/states' rights is hip. Another indication that the freak flags are flying with the Democrats, I guess. One candidate running for Congress in Pennsylvania is openly calling for gun bans and slamming the NRA in his ads. Considering his district is a result of the court-imposed rejiggering (racist?) of the electoral districts, is this dumb or not? But meanwhile as everyone on the Left wants ix-nay on the impeachment-way, Max-Scene "Polluted" Waters is doubling down and evidently some at the top of the party are not exactly thrilled with Bernardo Sandersnista's "arbeit fur alles" plan. Trouble in socialist paradise, I guess, so pass the popcorn.
Circling back to guns, the inept and now thuggish Browbeat County Sheriff's Department issued a statement about it's third-degree interrogation of Kyle Kashuv, which the thoughtful and decent young man has ripped to shreds.
From hither and yon, several thoughtful and frightening links about Britain's state-sanctioned infanticide and what it means for us, what California's decree banning homosexual reversion treatment means and lastly, the story of an NYPD cop who, after warning his local Starbucks not to give free food to the homeless, gets assaulted at the same location by a vagrant bitching about his free croissant. Meanwhile, Cuomo is running against Dick-Less Nixon while Bill DeBolshevik rapes Manhattan. From where I sit, national divorce is looking better and better every damn day.
Anyway, links from around the world, across the nation and up your street. Have a better one and remain blessed.


posted by at
07:05 AM
|
Access Comments