« EMT 04/29/18
|
Main
|
"The Banality Of Evil:"
When The Process Is More Important Than Life »
April 29, 2018
Sunday Morning Book Thread 04-29-2018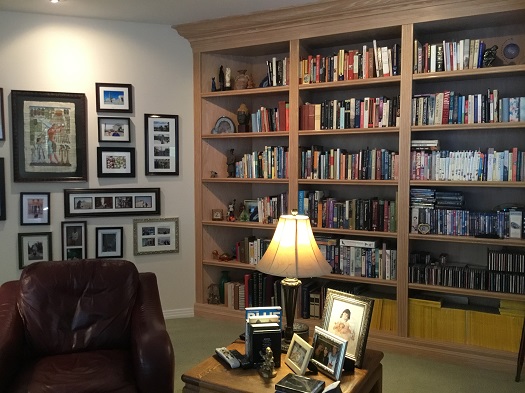 Library of Cicero

Good morning to all you 'rons, 'ettes, lurkers, and lurkettes. Oh, and we've got a new category of readers, escaped oafs and oafettes. Welcome once again to the stately, prestigious, internationally acclaimed and high-class Sunday Morning Book Thread, a weekly compendium of reviews, observations, and a continuing conversation on books, reading, and publishing by people who follow words with their fingers and whose lips move as they read. Unlike other AoSHQ comment threads, the Sunday Morning Book Thread is so hoity-toity, pants are required. Even if it's these pants which are ugly no matter what color they are.

Pic Note
I like this library. It's got a nice "homey" feel to it. Long-time moron Cicero writes:
Look Upon the Ciceronian Library, East Wing, Ye Moron, and Despair. Yeah, it's no Library at Alexandria, but then again, my books aren't all big piles of ashes.

The Cicero collection is mostly history and science, focused on Plantagenet and Tudor England, the Roman Republic (cicero, right? duh!) and Empire, Nazi Germany and WWII, Europe from Charlemagne forward, a dab of Shakespeare, a little Chinese history, a crapload of travel books and guides, some private piloting books, cosmology and physics for the lay idiot, the War of Northern Aggression and sailing & seamanship. There may even be a fiction book or two in there somewhere. CD's too -- remember them? The rest is just a hodgepodge that would cause the Decimals to frag poor Dewey if he ever tried to organize them.
You can click on it for an embiggened view.

It Pays To Increase Your Word Power®
NIGNAY is a 17th century word for a pointless or trivial object.
Usage: Last week, the left has started the process of writing off Kanye West as a nignay.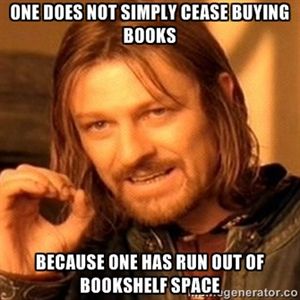 Pants Note
So today's pants pic came from one of those vapid women's magazines and it is unironically titled Why Hillary Is My Fashion Icon:
Hillary Clinton is my fashion icon. She is my Chanel, my New York Fashion Week, my WWD, my Dolly Parton in a coat of many colors. I love her pantsuits. I love all of them, especially the black Oscar de la Renta ones with their sharp jacket lines. But more importantly than the pantsuits themselves, I love what they mean. Hillary has divined Buddha-level truths that are revealed in how she dresses, and I want everyone to worship at the altar of her glorious pantsuit world order.
The article is actually an excerpt from the book Love Her, Love Her Not: The Hillary Paradox by Joanne Bamberger, a collection of essays about Her Thighness, specifically from the first essay, Worshipping the Semiotic Brilliance of Hillary's Pantsuits. I guess this is also meant unironically, but these days, it's hard to tell. Ten years ago, or even five, I would've said the author was putting us on. But not now. I blame Trump.
This book was published when the 2016 election season was just getting started. There is an air of optimism about it, like little kids on the evening of Christmas Eve jumping up and down with excitement, hardly able to sleep. We're about to get our first woman president! Oh boy! Oops, I mean, oh, girl! I just can't wait! All our dreams are about to come true!
AHAHAHAHAHAHAHA!!!

Waco
Mrs. Muse and I finished watching Paramount TV's 6-part miniseries, Waco, which we very much recommend. It is taut, well-acted, and intense. We give it extra style points for spending time going over the debacle at Ruby Ridge, suggesting it was a precursor for Waco.
Waco's credits say it is based on two books, the first, Stalling for Time: My Life as an FBI Hostage Negotiator by Gary Noesner:
In Stalling for Time, the FBI's chief hostage negotiator takes readers on a harrowing tour through many of the most famous hostage crises in the history of the modern FBI, including the siege at Waco, the Montana Freemen standoff, and the D.C. sniper attacks. Having helped develop the FBI's nonviolent communication techniques for achieving peaceful outcomes in tense situations, Gary Noesner offers a candid, fascinating look back at his years as an innovator in the ranks of the Bureau and a pioneer on the front lines.
Noesner was one of the miniseries' main characters.
The other book that was used as a basis for the miniseries is Waco: A Survivor's Story by David Thibodeau:
In this compelling account--now with an updated epilogue that revisits remaining survivors--Thibodeau explores why so many people came to believe that Koresh was divinely inspired. We meet the men, women, and children of Mt. Carmel. We get inside the day-to-day life of the community. We also understand Thibodeau's brutally honest assessment of the United States government's actions. The result is a memoir that reads like a thriller, with each page taking us closer to the eventual inferno.
This one is available for $2.99. Don't know if this is a special sale or if it's the normal price.

Moron Recommendations
From last week:
62 Encountered a fantastic children's book, Goldilocks and the Three Dinosaurs. Extremely silly and suitable for Morons of all ages--but let's face it, for all our birth certificates say we are 29 our mental age is around three. Featuring "a Father Dinosaur, a Mother Dinosaur, and a third dinosaur visiting from Norway." So already it has triggered half a faculty's worth of SJWs right there. Also, the moral is "if you find yourself in the wrong story, LEAVE." Useful wisdom for life, I say.

Posted by: Sabrina Chase at April 22, 2018 09:29 AM (L59/U)
Goldilocks and the Three Dinosaurs: As Retold by Mo Willem is available for $12 hardcover. Age range: 4-8 years. Looks like it might make a good gift for your grandkids.
___________
190 A while back someone recommended "The White Nile" and "The Blue Nile" by Alan Moorehead. Just started them recently and I'm enjoying them. They cover that period of discovery, wonder and hardship of the 1800s that inspired stories by H. Rider Haggard, Jules Verne and others.

Posted by: JTB at April 22, 2018 10:57 AM (V+03K)
The Blue Nile and The White Nile are available in paperback for about $10. No e-book versions available.
From the blurb for The White Nile:
Relive all the thrills and adventure of Alan Moorehead's classic bestseller The White Nile -- the daring exploration of the Nile River in the second half of the nineteenth century, which was at that time the most mysterious and impenetrable region on earth. Capturing in breathtaking prose the larger-than-life personalities of such notable figures as Stanley, Livingstone, Burton and many others, The White Nile remains a seminal work in tales of discovery and escapade, filled with incredible historical detail and compelling stories of heroism and drama.
I thought these books might be old enough to be available on Gutenberg for free, but alas no, they're not. So you'll have to pay for them.
___________
Books By Morons
I found out recently that movie thread moron TheJamesMadison is an author, and tells me he has been "scribbling away writing novels with the hope of publishing them for over a decade." Unable to secure a literary agent, he has decided to go the independent publishing route.
TJM has got a number of books lined up and read to go. He will be releasing one collection of short stories once a month for the next few months. Please visit his website or his Amazon author page to see them all.

The first is called A Light in the Darkness. There are five stories that center around the idea of finding some ray of hope or bit of knowledge in a dark world:


From Ancient Britain to the Amazon jungle to pre-history, follow five extraordinary tales as men and women find those little glimmers of light that comfort them in worlds that seem too large and too terrifying to truly comprehend. In this collection of short stories from David Vining, experience the adventure, wonder, and freedom that comes with discovering the keys to one's own freedom.
The next four deal with
science fiction
,
mutiny
,
the American Civil War
, and
historical fantasy
.
___________
'Ette Sgt. Mom has just published the sixth Luna City Chronicle. One Half Dozen of Luna City is available for pre-order on Kindle now. The print version should be up on her Amazon author page in a day or so.
The blurb on the back cover says:
Welcome to Luna City, Karnes County, Texas … Population 2,456, give or take … Business at the Luna Café & Coffee is looking up for fugitive former celebrity chef Richard Astor-Hall. The owners – elderly schoolteacher Miss Letty, and the irascible Doc Wyler have approved hiring another cook and expanding hours at the Café. Joe Vaughn, chief of the tiny Luna City Police Department, is coping with the demands of parenthood … and both he and local ace reporter Kate Heisel are deep into untangling the mystery of a very old skeleton unearthed in construction of a brand-new facility at Mills Farm, the upscale resort just down the road.
___________

Don't forget the AoSHQ reading group on Goodreads. It's meant to support horde writers and to talk about the great books that come up on the book thread. It's called AoSHQ Moron Horde and the link to it is here: https://www.goodreads.com/group/show/175335-aoshq-moron-horde.
___________
So that's all for this week. As always, book thread tips, suggestions, bribes, rumors, threats, and insults may be sent to OregonMuse, Proprietor, AoSHQ Book Thread, at the book thread e-mail address: aoshqbookthread, followed by the 'at' sign, and then 'G' mail, and then dot cee oh emm.
What have you all been reading this week? Hopefully something good, because, as you all know, life is too short to be reading lousy books.

posted by OregonMuse at
09:00 AM
|
Access Comments