« Monday Overnight Open Thread (4/16/18 )
|
Main
|
Mid-Morning Open Thread »
April 17, 2018
The Morning Report 4/17/18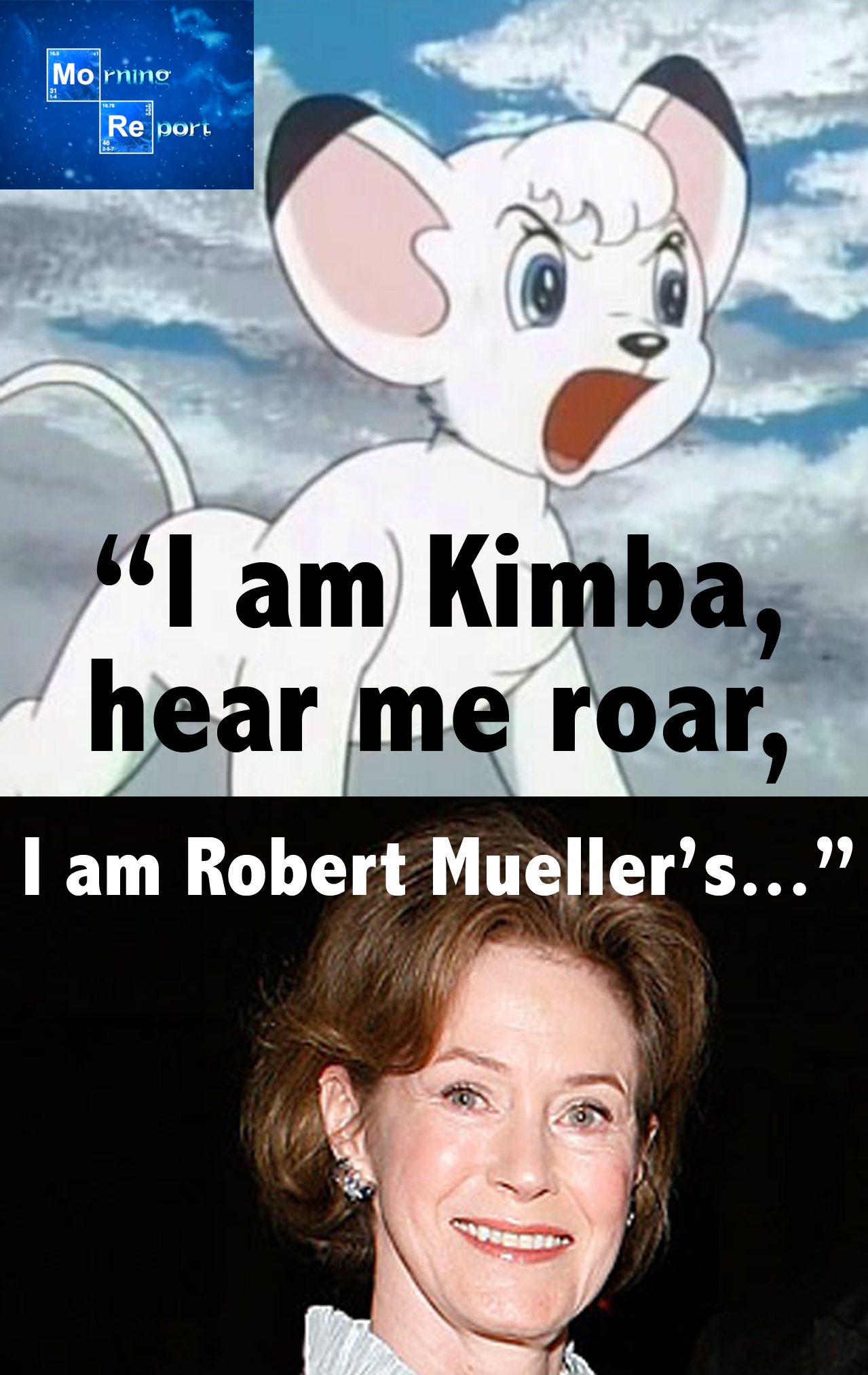 Good morning kids. The big story this Tuesday is the outing of Sean Hannity as Trump personal attorney Michael Cohen's unnamed client. This revelation has caused the collective hydra/Cerberus head(s) of the Democrat-Left-Media Complex to explode, with the concomitant smearing of Hannity as a liar, conflicted, etc. etc. with the execrable Gerry Connelly calling for him to be fired. Meanwhile, the "judge" overseeing this case is none other than Kimba Wood. Yes the Kimba Wood who was a Bill Clinton appointee - and promoted by Hillary at the time - as attorney general whose nomination was derailed because she had an illegal alien maid, the Kimba Wood who sentenced Michael Milken to 10 years in prison but granted him parole after barely two, the Kimba Wood who officiated the wedding of convicted felon and Nazi collaborator George Soros, the Kimba Wood who is a lifelong Democrat. Yup. No conflict there at all. Not a smidgen of corruption.
But let's slam on the brakes here for a moment, step back and remember that Sean Hannity, Michael Cohen, Stormy Daniels and the attendant flea circus surrounding her and all of this has absolutely ZERO to do with what Robert Mueller was charged with investigating way back in early 2017. To wit, the President's alleged collusion with the Russians to somehow steal the 2016 presidential election. Hence, my renaming of the title of this category.
The Democrat-Left-Media Complex and the Deep-State insurrectionists disgust me. You know what, let Mueller stay where he is and keep doing what he's doing. In the end, he will wind up as disgraced and discredited as James Comey. The President's approval rating is at or around 51%, other polls reflect my and our sentiments about Mueller and this sham witch hunt, Democrats are tanking in the generic ballots, despite the GOP-e's best efforts to intentionally sabotage their chances in November and throw the election so as to enable PDT to be impeached. If this is what we have to endure, then so be it.
Meanwhile, when it comes to actual criminality, Hillary Clinton remains unpunished vis a vis her e-mail scandal (see the link about the Awans, too) and Uranium 1 to name but a few, as Jim Jordan is still screaming about how the DoJ continues to stonewall Congress in getting to the bottom of the aforementioned.
Moving right along, the President is signaling his desire to get what American troops there are on the ground in Syria out with his call to Arab states to send troops to pick up the slack. One of them, Qatar, I'm not so sanguine about given the recent revelations about their supporting terrorism as well as the spread of sharia, stealth and otherwise, to the US. But given the longstanding enmity between the Saudis and the UAE to Iran, as well the new Saudi prince's open hostility towards the mullahs across the Gulf, this will be a test I think of his resolve, both if he does indeed send troops and their effectiveness in that rats nest. Even so, it does beg the question what is the end-game/ideal outcome in Syria, not just for us but overall, and how is that goal achievable? Stay tuned.
Closer to home, teachers union prexy Randy Weingarten was overheard on the Acela plotting to have her minions go on strike in Puerto Rico. That said, the preschool to postgrad propaganda mill that is academia in America must be utterly crushed if we are ever to really turn this country around. And speaking of Puerto Rico, convicted felon and Nazi collaborator George Soros plunked down some serious money in Florida, hoping to gin up voter turnout of the hurricane-displaced Puerto Ricans come this November. Deport, confiscate and salt the earth where he stood. In any case, Rush weighs in on an extended riff about the so-called Democrat "blue wave," and along with all the other troubles I mentioned above, the Women's Marchers' embrace of extremists of all stripes (most notably Sarsour the Hamas Louse and a website that's a cover for sex trafficking ring) is going to weigh down Democrat candidates like a collapsing bollard at a memorial service.
On the second amendment front, Laura Ingraham not only survived Camera Hogg's attempt at tortious interference, but her viewership has actually risen. Meanwhile, Daniel Greenfield highlights the banking sector's attempt to short circuit gun manufacturers by denying them credit. The most recent example being Bank of America who also tried this one neat trick on the coal industry. Nice to know that they took billions of dollars in bailout money from gun owners and electricity users back in 2008. I warned about this a few months ago; the major venture capital firms such as Deutsche Bank, Royal Bank of Scotland, Black Rock and several others are now populated by adult versions of Camera Hogg on their boards of directors and they will attempt to do what politicians and even the rigged courts couldn't do. This is dangerous. It also illustrates perfectly the poisoned fruit from the tree of the academic propaganda mills. Mercifully, institutions like Wells Fargo as reported yesterday are bucking the trend. But all it takes is a Lois Lerner and a James Comey still embedded in the bureaucracy to put the rhetorical gun to their heads. Just like Janet Reno did to the banks when she enforced the Community Reinvestment act and lit the fuse to the 2008 financial meltdown. Speaking of which, Fannie & Freddie are still alive, well and funded by Congress. And yet, Paul Ryno and peak widow's peak. Feh.
Lastly, tens of thousands of New Yorkers have blasted the state parole board for granting parole to convicted cop killer Herman Bell, who aided and abetted in the heinous 1971 "Black Liberation Army" ambush of NYPD officers Waverly Jones and Joseph Piagentini. Meanwhile, infamous cop killer Joanne Chesimard received a $15,000 check from the state of North Carolina for some real estate deal. RUFKM? Every penny that she could conceivably get should go to the widow of NJ State Trooper Werner Foerster. It would be nice if the SEALs could go into Cuba and repatriate her back to the States. Nicer if she assume room temperature.
Anyway, links from around the world, across the nation and up your street. Have a better one and remain blessed.


posted by at
07:08 AM
|
Access Comments