« Food Thread: Unlabeled Containers...What's In Your Wallet Freezer?
|
Main
|
Sunday Overnight Open Thread (4/15/18 ) »
April 15, 2018
Weekend Gun Thread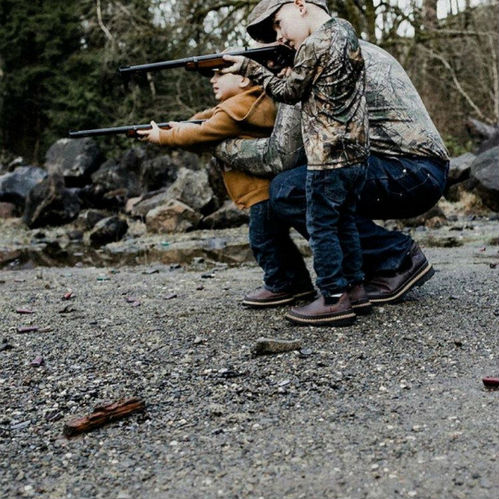 ***

We need more of this.

We are taught that sports are good for youth. Teamwork, dedication, sportsmanship are just some of the topics taught. Sure there is Friday night football and Saturday night basketball. But shooting teams take a back seat. Team shooting teaches discipline not violence.

However, allow me to just point out what most of you already know: shooting does require a lot of time and discipline to master. Yeah, you can learn the mechanics of it pretty quickly, but it takes a lot of work to become really good at it, and then that skill has to be maintained as shooting is a perishable skill. These kids work as hard as any other athlete. Their work is just different.

Further, let's also note that these are usually not the kids you have to worry about. Yes, much has been made of the Parkland killer being part of his school's rifle team, but he's the exception, not the rule. Also, had the school and police done their job, he would likely have been barred from participating anyway.
***

Shotguns are fun. And the Keltec KSG-25 looks like a hoot.

***
A Moron by the name of Greg contacted me and submitted the following photos and this explanation.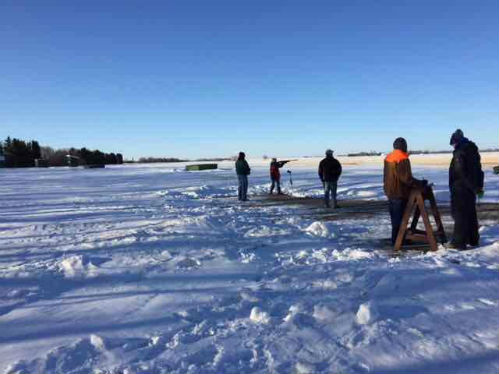 ***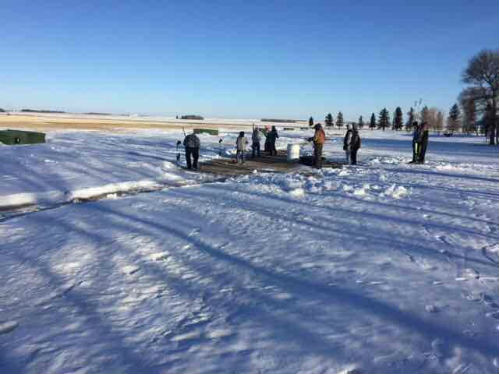 Some of our High School students that are members of their School Trapshooting league practicing their 2nd amendment rights and learning how to properly handle firearms.

Oh, and after asking the girls that were shooting, ( no, I didn't ask the boys..) none of the girls shooting are interested in dating pajama boy Twerpenfuhrer David "no chin" Hogg.

It was a tad crisp that afternoon - 15 above and a 15 mph breeze but the kids didn't mind.

I sure wish We could have had trap in high school too. But I was lucky enough to grow up in a pro hunting/2nd Amendment environment in ND so I'm thankful for that.

The participating schools in western ND are planning a tournament in June at our club which should be a couple hundred kids anyway. I'm sure it's a "go" and I'll send in some pictures from it.

The North Dakota state HS tournament is also in June and I'm not sure how many will make it to the state shoot, but there are over 1400 kids signed up this spring across the state to shoot.

Greg

We need to get more kids into the great outdoors.
***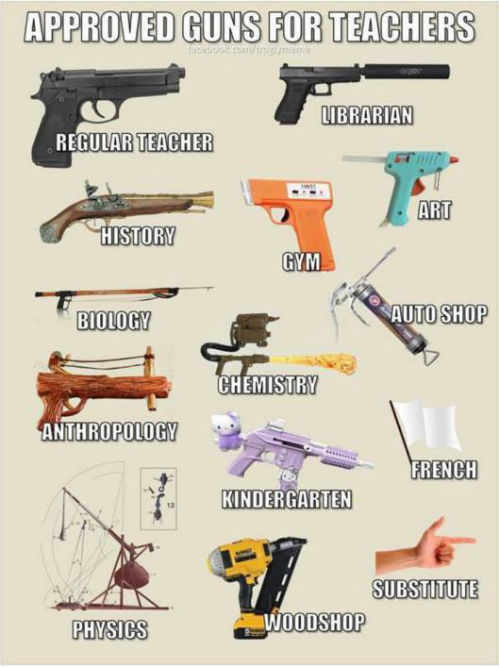 ***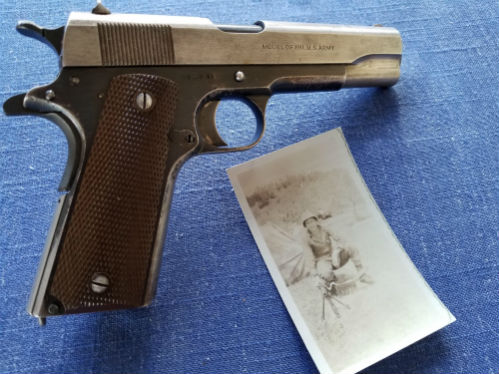 ...Shot for the first time since the war on Saturday.

Hi I'm "Defenestratus" on AoSHQ. I post from time to time but mostly i'm a lurker. I figured I'd write in about my grandfather's service 1911 from WW2 that I just had the honor of inheriting.

Back in February, my Grandfather turned 95 years old. As is the case with men of his age, he's starting to lose control of his faculties, and the ravages of Alzheimer's loosen his grip on reality a bit more every day. Even though physically he's solid as a rock, enduring three open-skull brain surgeries in the space of a year, Pops decided it was time to pass it down to me.

My Grandfather served in WW2 in the Northern Africa and Italian front. He was a Browning .50cal gunner in the 6th Armored Infantry, 1st Armored division. His company was one that helped break the stalemate at Anzio.

It may just be my love of my grandfather talking, but he's a genuine American Badass. During the war, he slept in piles of horse dung to stay warm. He spent half a day buried underneath the shelled rubble of a house he was using as a machine gunner's nest during the battle for Monte Cassino. He decked a superior officer after he woke up from surgery because the jackass took his ice cream from him. He probably killed dozens of Nazis (Real ones, not like the ones we have today who live in their mothers' basements and post on internet forums all day) but - being a machine gunner, he said all of those rounds "were to whom it may concern" - the only one he *knows* he killed was with this 1911.

After the battle of Anzio, while his company was on route to Rome, his unit encountered a German AA gun on a small ridge across a field. When Pops' unit saw the Germans, the Germans saw them. The men of my grandfathers squad charged the emplacement as the Germans were turning the gun on them.... as they closed on the position, the AA gun opened up. My Pops' ammo carrier was decapitated - Pops says he still has nightmares to this day - remembering him still running for 20 or so feet afterwards. Once they reached the emplacement, the Nazis started dropping "potato mashers" on my Pops' squad - our boys returning the favor... after a moment of calm... with his Browning worthless since its ammo was laying in a field somewhere, Pops pulled out his 1911. As he went around the emplacement the Germans were running away, and as he was about to start firing, the officer or squad leader jumped down from the ledge and Pops shot him. Bullet hit him in the back of the head - and I can tell, hearing Pops tell the story that he still feels guilt over it. Said the kid looked like he was 19, and had a soul book in his jacket - but also a pistol in his hand.

About a month ago, after talking it through with Pops, he agreed to let me have the 1911 so I can display it, along with his bronze star in my office. I ended up driving through New Jersey, New York, Connecticut and Massachusetts with this thing locked up in the back of my car - if I had gotten caught in any one of them with this family heirloom - nigh the reason I'm on this earth today, I would be writing this rather lengthy email from jail.

This past Saturday I had it looked at by a professional and after his seal of approval that it was safe - I couldn't help but put some rounds through it. It had not being shot since the war, and the mags still contained the ammo he was issued during the occupation (I used new cartridges). The thing shot like a dream. It's an original 1911 made in the spring of 1918 and will be a treasured item in my family for generations.
***

Cobalt Kinetics Introduces scary looking pew-pew California compliant rifle.

Though the rifles sport a California approved design, Cobalt Kinetics says the series is much more than a state compliant long gun. Cobalt engineers aimed to make what the company calls a "more traditionally proportioned rifle." The rifles' stock geometry is closer to that of traditional hunting rifles but remains fully adjustable for length of pull and drop at the buttplate. The grip's shape and angle is created to be both comfortable and place the hand slightly above and behind the trigger.
***

Women's studies. Queer studies. No future in those fields. Want a good job? Go into the firearms industry.
***

A couple of weeks ago we had an introductory article about handgun caliber size chart. This week, Rifle caliber guide.
***

Spare .38 Special, police silhouette targets and loose change always appreciated here at petmorons at gmail.

posted by Misanthropic Humanitarian at
07:31 PM
|
Access Comments