« Mid-Morning Open Thread
|
Main
|
Paul Ryan Announces He's Leaving Congress »
April 11, 2018
The Morning Rant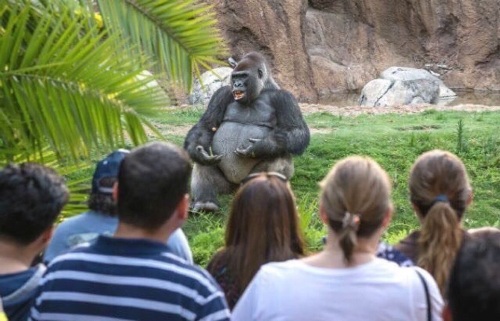 "So in 1960, the British comedy stage revue Beyond the Fringe made a little bit of history by breaking England's longstanding social taboo of not making fun of the royal family, and other authority figures. This they did with great enthusiasm, and, in that day, was quite politically incorrect. It was something that you just didn't do. BtF was followed by the TV news satire show, That Was The Week That Was, which was part of what is now called the satire boom. It seems to me that right now, Great Britain needs a new satire boom. It has gotten so stiff and ossified with social conventions that no one dares transgress, it's like it's the 1950s again. Where are all the smart, clever British comedians daring enough to point out the obvious absurdities of knife confiscation and assigning hundreds of police officers to monitor social media while muslim rape gangs flourish in many major cities? I mean, come on, that's some comedy gold right there. There's a huge surplus of low-hanging fruit, enough for a dozen comedians. Britain needs a new Beyond the Fringe and a new TW3 and a new Monty Python to laugh at the naked emperors of today's British society, to point out that New Scotland Yard is being run by nincompoops, the mayor of London, Sadiq Khan, is an incompetent horse's ass, to royally pants that upper class twit Piers Morgan, and make England great again."
This is Insane:

Let me repeat that: "Our thoughts remain with the families whose lives have been devastated by these events." In other words, here at the New NEW Scotland Yard, we care more about the feelings of burglars and thugs than we do about the well-being of our law-abiding citizens. So remember, if you catch someone breaking into your home, you'll be liable for arrest if you try to protect yourself. And if you complain about it on social media, you'll be guilty of a hate crime.


No, This Is Not A Parody:


Oher Banned Weapons: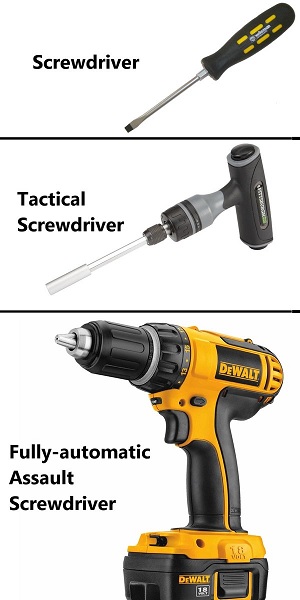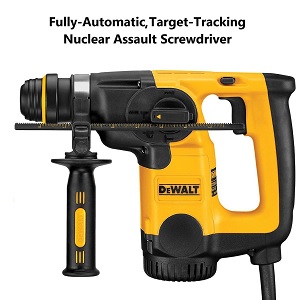 Finally, Here's Something Good:


AoSHQ Weekly Prayer List
For submission guidelines and other relevant info, please contact FenelonSpoke, who is managing the prayer list. You can contact her at
fenelon direction 18 circle 'a' gmail dot com
(All one word, no spaces)
-----------
never enough caffiene- (3/10/18 ) Please add my stepdaughter Amy and grandkids Emma and Ryan to the list. They are dealing with the changes in their lives from an impending divorce. Emma has been deeply effected due to ongoing severe anxiety issues.

thathalfrican- (3/10/18 ) Mother's Passing. Prayers for the Family.

Sharkman- (3/11/18 ) Little Danica Jane, my buddy's two-year old niece who is about to have her second brain surgery in the last few months to try to stop an incredibly aggressive brain tumor.
https://tinyurl.com/Heal-Danica-Jane Poor little thing has had 3 months of chemo and radiation after her first surgery in November of 17.

chavez the hugo- (3/12/18 ) Wife's Cousin was killed on his Harley. Wife's Mother is also slowly going blind.

GGE of the Moron Horde- (3/21/18 ) I've already mentioned my niece on the ONT, she's 5 months old now and has infant leukemia. She's gone through the first round of chemo and it looks like she's in remission, however she still has to do the second round of chemo and a bone marrow transplant before she can be called fully cured.

-And now for the second person. My mother was diagnosed with breast cancer on Friday. I know it's a highly treatable and survivable form of cancer, it looks like it was caught early and she's in otherwise excellent health.

Every little bit helps. Thanks.

Dennis- (3/21/18 ) 79 Y.O. Dad fell again and couldn't walk for several days (too many beers) after a trip to the ER. Now back in hospital again with low oxygen levels and some pneumonia. Too many years smoking. So pray for my mother who has to put up with her stubborn husband and that hopefully she will be able to care for him when he gets home.

joeindc44- (3/21/18 ) My father is undergoing a severe COPD episode, including pneumonia and and lung embolism, after breaking his hip. He could use some prayer time so that he stays strong and pulls through this.

Detroit Pete- (3/21/18 ) How can I add my wife Sandy to the prayer list? She has pancreatic cancer.

ChuckR- (3/22/18 ) My business partner's wife has had a recurrence of bone cancer and on 3/22 is having surgery on both hips. She is a wonderful person, kind and caring. Prayers please for her recovery.

ibguy- (4/2/18 ) My Baby Sister Joyce has an inoperable glioblastoma (brain tumor). Although we've been remarkably blessed by an extra year with her, it appears that her fight for life has taken a downturn. Would appreciate Horde prayers that she continue to do as well as possible physically and cognitively, and that HaShem helps her find a path toward healing. Thank you!
-----------
Please contact FenelonSpoke through email, as she cannot be around for many of the posts in threads. Feel free to copy and paste emails to her for Prayer Requests.
Please remember the Prayer of St. Francis:
http://www.prayerguide.org.uk/stfrancis.htm

posted by OregonMuse at
11:19 AM
|
Access Comments