« Underemployed Twitter Personality Bill Kristol: I Can't Wait Until Michele Obama Runs for President and Wins
|
Main
|
The Morning Report 4/4/18 »
April 03, 2018
Tuesday Overnight Open Thread (4/3/18 )
(Relaxin' on The ONT beach)
*****
Quotes of The Day
Quote I

Gender inequalities] often manifest themselves as spatial divisions with men and women having different patterns of spatial activity, behaviour, and experiences of place. Dartmouth College Guide
Quote II

The headlines are naturally dominated by the escalation of tensions and conflicts, or high-level political events.

But the truth is that the most systemic threat to humankind remains climate change and I believe it is my duty to remind it to the whole of the international community.

And indeed, information released in recent days by the World Meteorological Organization, the World Bank and the International Energy Agency shows the relentless pace of climate change.

This tsunami of data should create a storm of concern.

The world reached several dire milestones in 2017.

The economic costs of climate-related disasters hit a record: $320 billion.

Energy-related carbon dioxide emissions rose 1.4 per cent, to 32.5 gigatonnes -- a historic high.

In 2017, the hurricane season in the Caribbean was the costliest ever, un-doing decades of development in an instant. António Guterres. U.N. Secretary General

Un-doing decades of development? Don't f*ck with Mother Nature.

Quote III

In other words, criminals can get guns. What stops them is constant enforcement not of their acquiring the gun, but having it in public. In other words, go after the perps, not the guns, and by the fact of your constant interdiction of their efforts to do bad stuff, their behavior will change.Brett Stevens
*****
Nova Scotia man Nick Burchill has been banned from the Empress Hotel in Victoria, B.C for the last 17 years. Why? Well, he finally got the courage to explain the hilariously unfortunate circumstances that led to his ban in a recent Facebook post that has gone viral on Facebook.

It all started back in 2001, thanks to some 'Brother's Pepperoni,' a local delicacy from Nick's hometown of Halifax. His Navy buddies on the other side of the country wanted to get their hands on some, so Nick brought over an entire suitcase, as you do. As an Australian living abroad I can definitely sympathize with this, many a suitcase of Vegemite has found its way over to me by hook or by crook.
*****
So what does David Pigg Hogg and Barack Hussein Obama have in common? Besides being smarmy little f*cking weasels? Our little Hogg is a great gun salesman.

Last month saw the most gun-related background checks run by the Federal Bureau of Investigation of any March on record, documents released by the agency on Tuesday show.

With 2,767,699 checks conducted by the FBI's National Instant Criminal Background Check System (NICS) in March 2018, the month beats the previous record of 2,523,265 set in March 2016 by 244,434 checks. That represents a 9.68 percent increase
*****
The Baltimore-based Annie E. Casey Foundation, a major contributor to the troubled criminal youth problems we see today in our country.

Did you know that the same reckless juvenile delinquency policies that effectively green-lighted high school spree-killer Nikolas Cruz's descent into infamy are now in effect all across America?

No organization has done more to keep juvenile offenders across the nation on the streets instead of behind bars than the Baltimore-based Annie E. Casey Foundation, which was created in 1948 by UPS founder James E. Casey and his siblings in honor of their mother.

The Casey Foundation now brags that its Juvenile Detention Alternatives Initiative (JDAI) "has grown to become the most widely replicated juvenile justice reform initiative in the United States, reaching youth in more than 300 local jurisdictions across 39 states and the District of Columbia." Approximately 10 million young people aged 10 to 17 live in these communities.
*****

We will boycott you unless it suits us. A funny thing happened on the way to the NCAA Men's Basketball Tournament, San Diego State traveled to Kansas.

California's politicians love to portray themselves as far more advanced, principled, and wise than the lesser mortals who inhabit states not fully under the control of progressive Democrats. With about one eighth of the nation's population, and a much greater share of both wealthy and impoverished residents, the solons in the legislature repeatedly pass laws intended to use the state's power to force other Americans to follow their lead.

A case in point: travel bans on using state funds to travel to other states that fail to embrace the progressive agenda. Legislatively proclaim that marriage is what it has always been – a union between a man and a woman – and your state probably will lose visitors from California traveling on the state dime.

One state on California's list of reprobates that cannot be visited by people relying on state funds for their travel is Kansas.
*****

This is one lucky motorcyclist. Using up lives as if he were a cat.
*****

Is the collection of DNA material upon arrest without a conviction the right thing to do? According to the State of California it is.

For years civil libertarians hoped to end California's practice of taking DNA from people arrested on suspicion of a felony and storing that genetic information in an offender database — regardless of whether the suspects were later acquitted or had their charges dropped.

That fight for more protective rules in the government's DNA collection suffered a major setback Monday when the California Supreme Court let stand a provision of a 2004 voter initiative that said any adult arrested or charged with a felony must give up his or her DNA.
*****

A problem with a governmental agency and the money it spends. Shocking and surprising.

The National Institutes of Health is facing mounting criticism and questions amid a series of reports outlining what appears to be an all-too-cozy relationship with the alcohol industry.

Central to the concerns are how the federal research agency schmoozed industry executives into donating tens of millions of dollars for a study assessing the potential health benefits of daily drinking. Researchers and NIH officials pitched the study by strongly suggesting that it would end up endorsing moderate drinking as part of a healthy lifestyle, documents and interviews showed.

Amid that wooing, other researchers claimed for the first time Monday that they were scolded by agency officials for collecting data that appeared critical of the alcohol industry. They also suggest that the agency spiked a similarly critical research proposal, despite that it was highly ranked by scientific peers who evaluate proposals for funding purposes.
*****

Not all creatures out after dark are up to no good. Cool trail cam photos and videos.
*****
The ONT Musical Interlude
April 3, 1943, Born on this day, Richard Manuel, Canadian composer, singer, and multi-instrumentalist, best known as a pianist, lead singer, and occasional drummer of the Band. He joined Ronnie Hawkins's backing group, the Hawks when he was 18. The Band had the 1969 US No.25 single 'Up On Cripple Creek', and the 1970 UK No.16 single 'Rag Mama Rag'. Manuel committed suicide on March 1986 after a gig at the Cheek to Cheek Lounge in Winter Park, Florida. via thisdayinmusic.com
***
April 3, 1975, Steve Miller was charged with setting fire to the clothes of a friend, Benita Diorio. When police arrived at Miller's house, Diorio was putting out the flames, Miller then got into a fight with some of the policemen and was charged with resisting arrest. via thisdayinmusic.com
*****

A memo to Laura Ingraham and other conservatives. Don't ever beg. Just don't do it.

In an episode of the seminal 1980s TV show Hill Street Blues, Detective Buntz (a pre–NYPD Blue Dennis Franz) and a fellow detective, Rodriguez, are taken hostage by a sadistic serial killer. Bound and helpless, Buntz, who has a history with the killer, explains to his panicked colleague that the guy won't kill them unless they beg for their lives. The scumbag likes to hear people beg for mercy. He gets off on it. "He wants you to beg; don't give him that. Don't beg him or you're dead," Buntz whispers to Rodriguez. But after hours of torment, Rodriguez caves. He begs for his life, and is promptly shot point-blank. Buntz, on the other hand, never wavers, and the killer, frustrated and unable to find the satisfaction he craves, becomes careless. Buntz is able to free himself, and the murderer winds up tossed headfirst out a window.
*****
Bike chaser Ambulance chaser is tonight's Genius Award Winner.

A man who sued a young girl and her grandparents after he was injured when he jogged into the back wheel of her bike has lost his case in B.C. Supreme Court.

In a recently released judgment, Justice S. Dev Dley determined that the girl was not liable for the accident that took place on a residential street in Kamloops, B.C., in August 2014, when she was 10 years old.

The jogger, Rosario Perilli, also included the girl's grandparents, Wendy and Patrick Marlow, in the lawsuit on the basis that they didn't properly teach her to ride a bike safely. The judgment also clears them of liability
*****
This was a case of "Dammit, rules are meant to be broken." Tonight's Feel Good Story of The Day.

Peter Robson had the chance to see his beloved border collie, Shep, at Ninewells Hospital after nurses granted special permission to do so. Shep, bought as a puppy eight years ago, had provided companionship and comfort for the 70-year-old grandfather after the death of his wife.
Robson passed away shortly after the visit.
*****

Tonight's ONT has been brought to you by Bacon Love.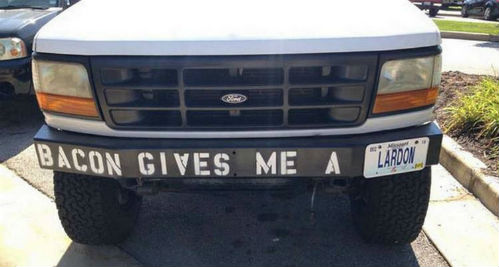 Notice: Posted with permission by AceCorp, LLC. Sales tax exempt.

posted by Misanthropic Humanitarian at
10:01 PM
|
Access Comments