« Tuesday Overnight Open Thread (3/20/18 )
|
Main
|
Mid-Morning Open Thread »
March 21, 2018
The Morning Report 3/21/18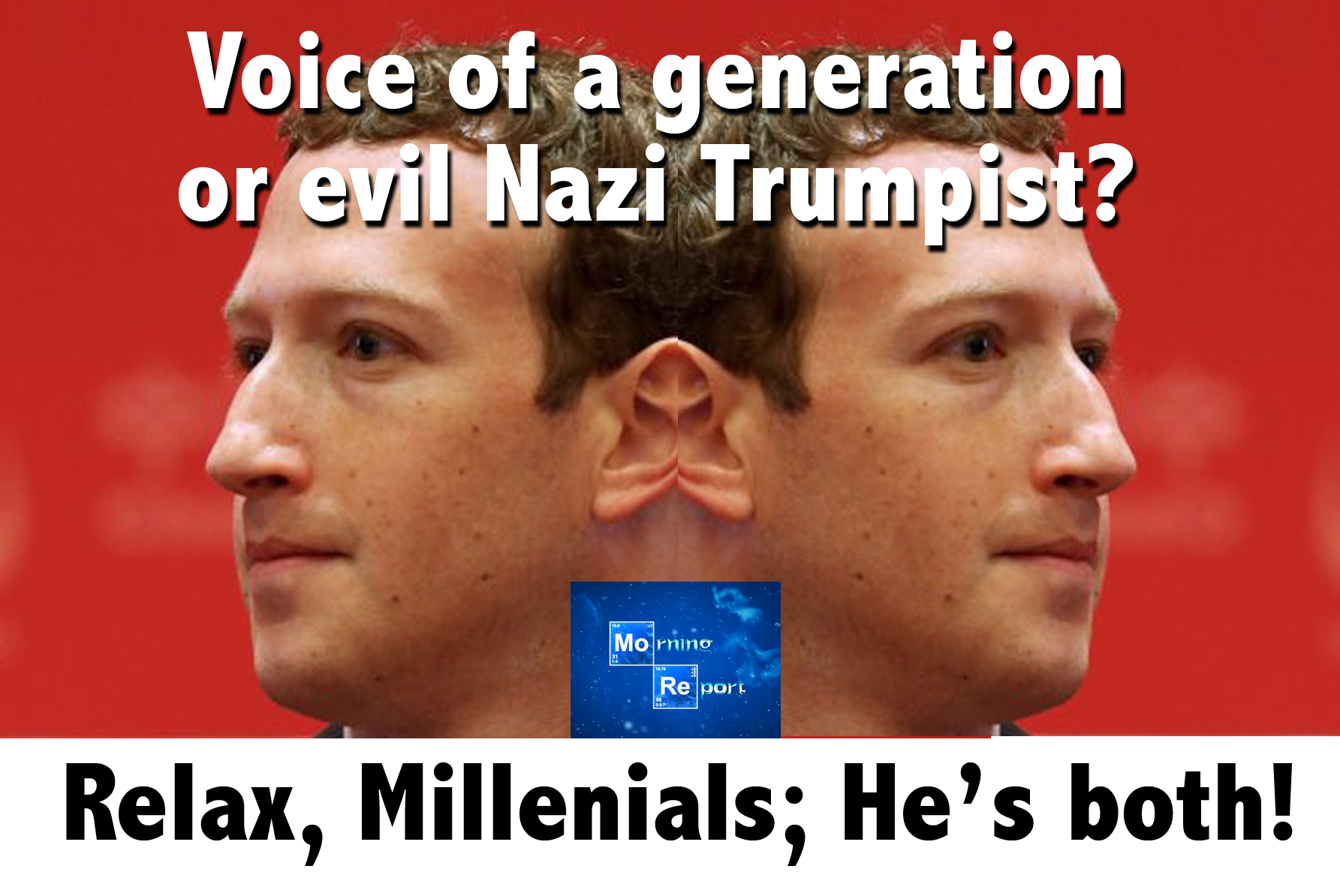 Good morning kids. There's no better time than the first day of spring to have a snowstorm that could dump 15" of Gore flakes onto my head. Speaking of which, check the Red-Green section for hot-cold links, but I digress.
First up, we have muh-muh-Mueller collusionzzz, specifically the absolutely insane reaction to Facebook, Cambridge Analytics and the calls for Mark Zuckerberg to be burned at the stake. So Team Trump was able to use the very same data and systems available to Team Trotsky four years earlier and suddenly, Facebook needs to be burned to the ground, the ashes scattered and the earth salted where it stood. Social media for me is at best, an utter waste of time and at worst a very effective means with which to spread socialist poison, since the medium was invented by and essentially controlled by people who are of that bent. Believe me, I'm no special pleader for Mark Zuckerberg and his fellow travelers considering they have been working at an ever-quickening pace to silence and/or banish conservative, pro-America, pro-Judeo-Christian voices from their platforms. It is deliciously schadenbonery to see the Red Guard eat one of its more prominent idols, now fallen. But, what I would much rather see is Facebook, Google and all the rest targeted with anti-trust laws since they are a de facto oligopoly. In fact, what better way than to use the Left's own anti-corporatist rhetoric with which to argue for the defanging of these very dangerous beasts? Heh.
Back to Mueller, I had completely forgotten that he was at the heart of the investigation of the anthrax attacks in the immediate aftermath of 9/11/01 which is now looking at best like an amateur hour pooch-screwing and at worst a cover-up, and something I did not know; that Mueller was working in Boston during the time Whitey Bulger was being shielded by the FBI while he, Bulger, was whacking people left and right. But Robert Mueller is a total professional, a straight shooter, completely apolitical and impartial and sworn to uphold the law and do what's right, no matter the outcome. Yeah, sure. He stinks on ice, and as Rush Limbaugh puts it so well, he's part of the coverup of the real crimes of you-know-who.
Three Parkland students were arrested yesterday, two who were evidently armed and one who made internet threats while, get this, the Broward deputy on duty was sleeping on the job. Compare and contrast with the Maryland deputy who no doubt saved lives by taking down the shooter who actually appears to have the same physique as Camera Hogg. And then there's Code PINK-O who is having a collective vagina diatribe, demanding the banning or JROTC in schools. Mostly because it was the three JROTC students gunned down at Parkland who showed real heroism and courage.
On the political front, phony Republican Bruce Rauner easily beat a primary challenge from the right while pro-life Democrat Dan Lipinski barely survived one from the hard left in Illinois. The Mississippi governor is going to appoint an ex-Democrat RINO to fill Thad Cochran's vacated seat instead of conservative Chris McDaniel. Allegedly it's because "muh principlez"; he thinks McDaniel pulling out of his challenge to Roger Wicker was selfish, or something. In reality, it's to sabotage any and all people whom Mitch McCocksickle cannot control. In New York, Alan Dershowitz is slamming the inexperienced lesbian for being an Israel-hater. She's going to get wiped out by the Democrat party machine but unfortunately her hard-left positions will force Cuomo to go even further in that direction than he already is. I gotta get the hell out of here. Then again, maybe she'll run third party and split the vote. Here's hoping.
On the domestic front, the 5th Circuit has struck down an Obama regulation controlling retiree savings plans and from all accounts it was a brutal day for the Marxists at the SCOTUS, who ripped them to shreds over their demanding pregnancy crisis clinics be forced to provide abortion information. Laura Ingraham had a polite but pointed debate with Steve Scales over the spending bill, which includes a hideous Obamacare "stability" bailout (kill the f**king thing already!) and a good piece about real welfare reform.
In Amnesty news, the ICE chief is saying that the criminal aliens tipped off by Oakland mayor Libby Schaaf went on to commit more crimes (*Claude Rains "shocked!" face*) while Border Patrol agents are now refusing to hand over illegal aliens to California law enforcement over the very real concerns that they will be released due to the Sanctuary City laws. It really is time to send a message and arrest Libby Schaaf and even Moonbeam. California is going to bring down the republic unless something is done. And the longer it goes the messier and more difficult it will be to bring them to heel.
Anyway, links from around the world, across the nation and up your street. Have a better one and remain blessed.


MUELLER INVESTIGATION, DOSSIER, COLLUSION

BREAKING/DEVELOPING
AUSTIN SERIAL BOMBER KILLS HIMSELF WITH BOMB AS POLICE APPROACH

posted by at
07:27 AM
|
Access Comments