« Overnight Open Thread (03-18-2018 )
|
Main
|
Mid-Morning Open Thread »
March 19, 2018
The Morning Report 3/19/18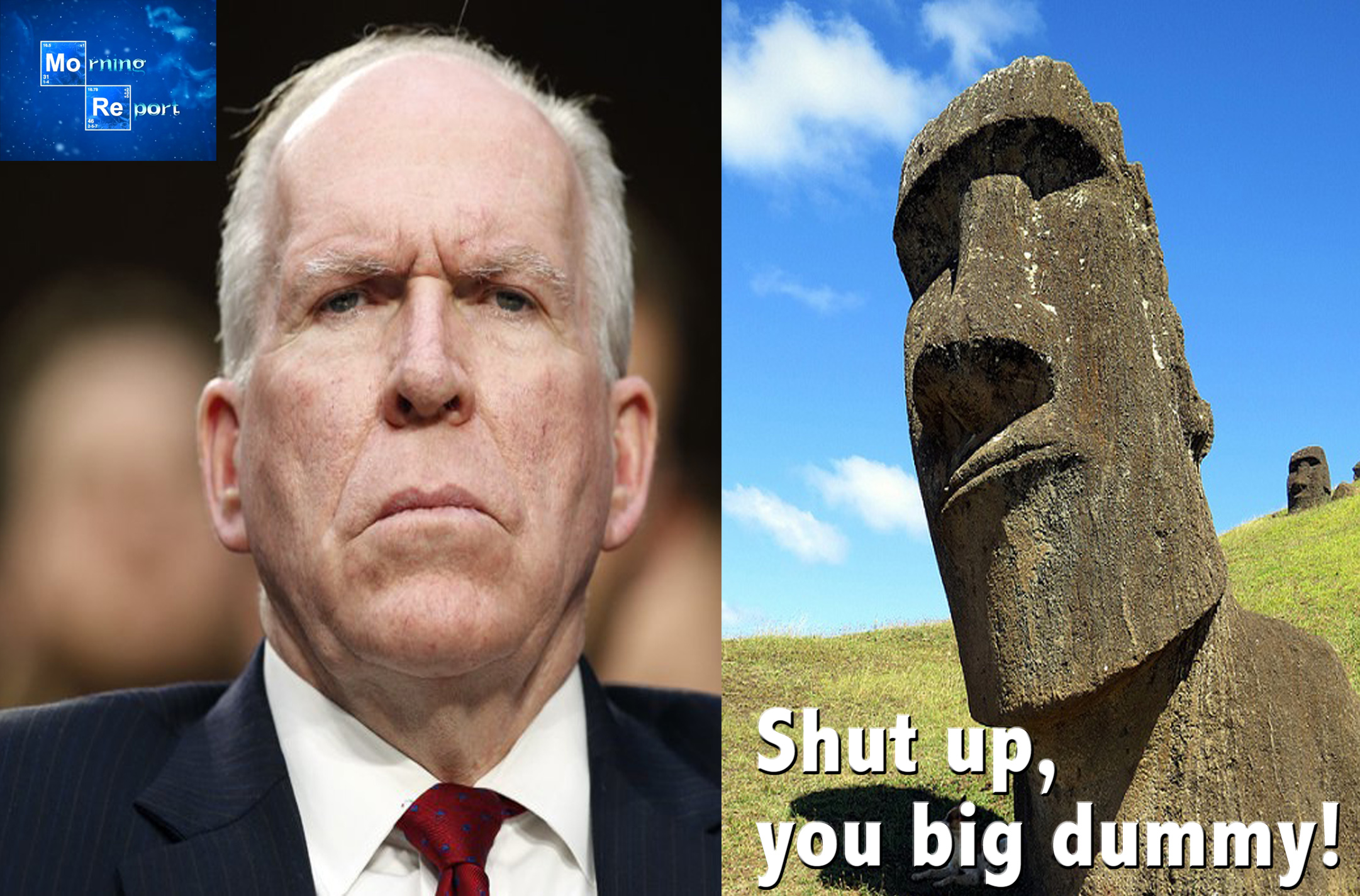 Good morning kids. Another week has begun and the aftermath of the firing of Andrew McCabe has made the Dem-Left-Media complex go completely off the rails. What's truly frightening now are national figures who are threatening the President, some very thinly veiled and some outright. First there's John Brennan, who as we all suspect is up to his goitery neck in the conspiracy to overthrow PDT, then Samantha Power-Grabber and finally, and most gob-smackingly ironic is a Long Island back-bencher Congressman Tom Suozzi who had this to say:
Rep. Tom Suozzi made the remark to constituents at a town hall last week, saying that folks opposed to Trump might resort to the "Second Amendment."

"It's really a matter of putting public pressure on the president," Suozzi said in a newly released video of the March 12 talk in Huntington. "This is where the Second Amendment comes in quite frankly, because you know, what if the president was to ignore the courts? What would you do? What would we do?"

A listener then blurts out, "What's the second amendment?"

The left-leaning Democrat says "The second amendment is the right to bear arms."

The spectators laughed - some nervously. Republicans were not amused.
Am I mistaken or is a sitting member of Congress openly inciting armed revolution to take down the President? This same piece of excrement, by the way, was a strident supporter of last week's Children's Crusade against the NRA. Between what's going on in California as well as on the campuses and in the classrooms, John Brennan, James Comey and their mouthpieces in the agitprop media are playing with fire. For real.
Meanwhile as the Democrat-Left is a red-nether hair's width from calling for armed insurrection against the President and really all of us (see the links about censorship on and off campus vis a vis guns, Islam and everything under the sun), we find that Al "the thin man" Sharpton is going to join forces with Black Lives Matter and the New Black Panther Party to hold a mass rally in support of Louis Farrakhan. And some dumbass, unreconstructed, mouth breathing dolt in DC is claiming Joo-bankers are causing climate change to destroy urban areas.
Here's a question I would like to put to Conor Lamb and every other candidate who is going to run as a Democrat with a pro-Trump agenda: will you now unequivocally condemn Keith Ellison, Tom Perez and anyone in your party who supports all of this? Sadly, aside from us, there is no media and no one in the opposition party (because there is no opposition party really) to raise this question, early and often.
Anyway, links from around the world, across the nation and up your street. Have a better one and remain blessed.
IN THE LEAD, DEVELOPING

Explosion In Austin Injures Two; Police Now Warn of Trip Wire

MUELLER INVESTIGATION, DOSSIER, COLLUSION

Constitutional Crisis, Anyone? Schiff-for-brains Says Congress Should Reinstate Mueller if Fired by PDT

Meet Hillary Clinton's Other Shadowy, More Powerful Opposition Research Firm

POLITICS, 2018 MIDTERMS
Democrats Have a Blueprint to Devastate GOP, But Here's Why They'll Screw it Up

INTERNATIONAL, FOREIGN POLICY
Thou Shalt Innovate: How Israeli Ingenuity Repairs the World

FLORIDA SHOOTING, SECOND AMENDMENT
Student Assaulted for Pro-Second Amendment Views, Then Suspended for Defending Himself

IMMIGRATION, AMNESTY
IRS Documented 1.3 Million Identity Thefts by Illegal Aliens; Can't Say it Referred Any for Prosecution

If Finland is the Happiest Country in the World, Why is Everyone Coming Here?

DOMESTIC POLICY, ECONOMY
White House: 79 Cloture Votes Used Against Trump Nominees Compared to 17 Used Against the Past 4 Administrations Combined

Idjit Injun Furious About Lack of Congressional Oversight of CFPB... Which Is How She Herself Structured It in the First Place

States of Siege

ISLAM, TERRORISM, SHARIA
Campus Cops Crack Down on Questions About Islam

RED-GREENS, CLIMATE CHANGE, ETC.
The "Overheated" Costs of Climate Change

CULTURE WARS, HITHER and YON
Waco, the Untold Story

posted by at
07:54 AM
|
Access Comments