« Make Romance Great Again
|
Main
|
Saturday Evening Movie Thread (Sunday Edition) [Hosted By: TheJamesMadison] »
March 11, 2018
Food Thread: Proportions: It's What's For Dinner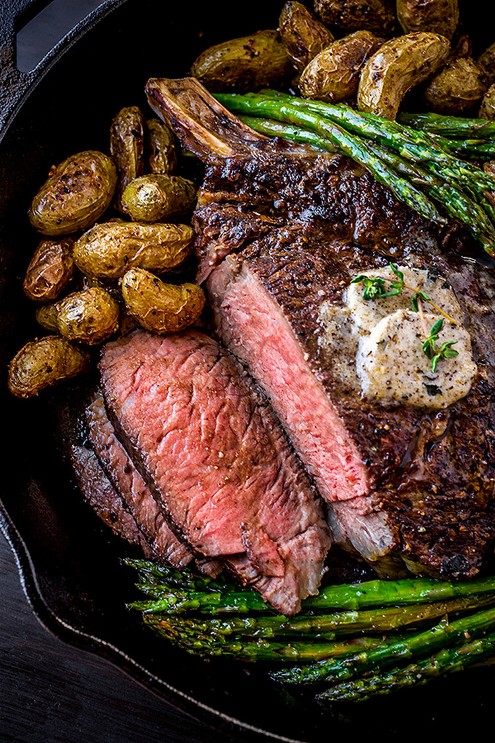 Rib steak with roasted potatoes and asparagus. That looks like an herb butter happily melting on the steak, and the asparagus look nicely cooked. I would quibble with the temperature of the beef; I think it should be a bit less well done, but all in all I would be very happy with this meal.
Steak is to Potatoes, as Fish is to? As Lamb is to? As Pork is to? As Tofu is to?
Or is it that steak and potatoes is perfect, and there are no other combinations that make such wonderful sense?
******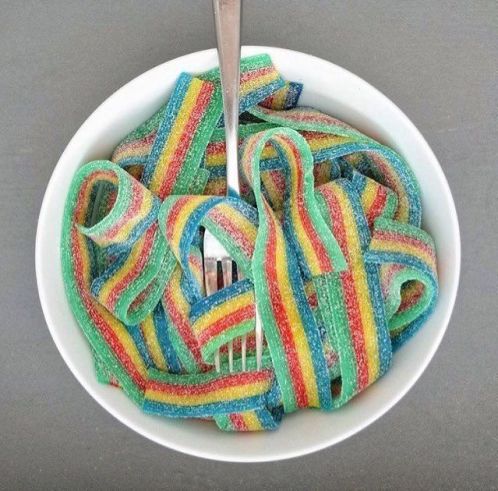 Remember these? I am a sucker for sugar candy, especially if it is sour or spicy. As I recall these aren't all that good, but the photo is marvelous, so why not...although I think it needs a little bit more garlic and oil. And maybe a sprinkle of Parmigiano-Reggiano.

******
Ina Garten's
Zucchini Pancakes
are really good. Shut up.
******
I got an interesting e-mail from commenter "SkinnerVic," and the follow-up wandered into territory that fascinates me: the concept of balance in food proportions. Here he is discussing hot dogs and the various toppings and condiments that elevate them to sometimes dizzying heights. And I am not being hyperbolic. I think hot dogs and sausages are marvelous foods when executed well. But simply piling it high and deep with chili and onions and French Fries and relish masks the wondrous flavor of a good dog!
After your excellent grilled meat post a couple of Sunday's back, I thought better to weave it into our current Sabbath day eating meme -- Gourmet Dogs. We've been working a different type of more sophisticated hotdog each Sunday as they are a usual clan pleaser. Prior dog winners include a Californian Dog (Bacon wrapped, with Avocado, sautéed onions, and a spicy mayo) to our rendition of the Porky Dog (inspired by - Number one reviewed eatery on Kauai, Kalua Pork Dog). All dogs require a fully buttered, then toasted bun on the flatiron.

I decided to combined the Korean Kalbi recipe with the hotdog. The basics of making it work for our crowd (as I have some smaller mouths) is that there should be a range of flavor and texture, all of which have to be a clean bite – nothing too hard or stringy requiring a gnaw. The marinade we used on the Galbi, was cooked down (to clean/purify and thicken) which makes a great condiment sauce. To offset the sweet/savory of the meat, we did a quick pickled veg recipe with a sub of cucumber for cabbage. It provides an acid and crunch for sure.

It rated well and is now in the "would make for company" category (which is a step up from "would make again" pew).
I love the point that he is cooking for "smaller mouths!" What a great way to approach the proportions of a dish.
******
This recipe disturbs me on many levels. Hell, even the name is faintly nauseating. Admit it,
Pressure Cooker Macaroni and Cheese
sounds...wrong! But Mike Vrobel, the guy who writes this blog, really knows how to cook. So I am going to try it, or at least the sauce part. I can make the macaroni in a regular pot.
******
Regular commenter "ibguy" has an interesting question about braising brisket....
He is planning to serve it for the second night of Pesach (Passover for you Goyim) and presumably because of space constraints he will be cooking it on the grill. Eight pound brisket, Covered roasting pan, using a classic cola braising liquid. The question is: For how long and at what temperature should he cook it?
Although....my question is: Why not just smoke it? Nothing wrong with smoked brisket for Pesach!

******
Here is a nice simple pasta dish with a bit of a twist. I rarely cook with vermouth, but I made this and it sort of works! One caveat: be careful not to overcook the shrimp. I would cook them on a more gentle setting.
Capellini with Shrimp and Creamy Tomato Sauce
• 3 tablespoons olive oil
• 1 lb peeled large shrimp
• 3 large garlic cloves, forced through a garlic press
• 1/4 teaspoon dried oregano
• 1/2 cup sweet (red) vermouth
• 1 (14- to 15-oz) can diced tomatoes, drained
• 3/4 cup heavy cream
• 1/2 teaspoon fresh lemon juice
• 1/2 lb capellini (angel-hair pasta)
Heat oil in a 12-inch heavy skillet over medium-high heat until it shimmers, then cook shrimp and garlic with oregano, 1/2 teaspoon salt, and 1/4 teaspoon pepper, turning once, until golden, about 2 minutes total. Stir in vermouth and tomatoes, scraping up any brown bits from bottom of skillet. Add cream and briskly simmer until sauce has thickened slightly, about 1 minute. Stir in lemon juice.
Meanwhile, cook capellini in a pasta pot of boiling salted water (3 tablespoons salt for 6 quarts water) until al dente. Reserve 1 cup pasta-cooking water, then drain pasta.
Serve immediately, topped with shrimp and sauce. Thin with some of reserved water if necessary.

******
Food and cooking tips, fresh halibut filets, perfect Eggs Benedict, smoked bratwurst on a buttered bun and other goodies with impressive girth:
cbd dot aoshq at gmail dot com
&topic=world_news">

posted by CBD at
04:00 PM
|
Access Comments