« Pot Calling Kettle Black
|
Main
|
Weekend Gun Thread »
March 04, 2018
Food Thread: Minimalism Can Be A Very Good Thing In Cooking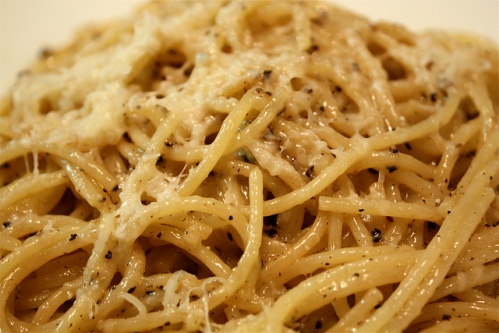 I often rant and rave about the joys of Italian cooking, mostly because when it is done right, it is the perfect confluence of ingredients and technique, without descending into the madness that is French cooking, with its ridiculously complicated recipes and muddled layer upon layer of ingredients.
Recently I mentioned how wonderful a simple dish of pasta, oil and garlic can be, and in that vein there is a competitor for top dog: "Cacio e Pepe," or cheese and pepper. Yup, it's that simple. And why do I mention it today? Because I had a grand version of it last night at a new (for me) place in NYC. It was fantastic! Intensely peppery, with a hint of creaminess and tang from the cheese. I suspect that the chef (newly returned from several months in Italy) added a splash of cream, or possibly butter, but it was still a marvelously simple and satisfying meal even if she didn't slavishly follow the tradition.
Here is a basic version, but there are dozens of slight variations on the dish, so just choose one that makes you happy. Cheese and Pepper Pasta (Cacio e Pepe) Oh, most recipes call for spaghetti, but the version I had last night used a flat pasta, and it worked beautifully. It was also fresh, so that made it a bit different too.
******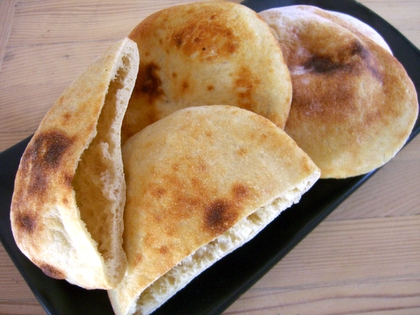 I really like pita, and I am lucky enough to live in an area with a fair number of ethnic bakeries, so I can get pretty good stuff. But I haven't found a reliable source for my favorite style of pita, which is thicker and puffier but isn't subservient to the formation of the pocket. The only one I can find is horribly inconsistent. The bakery packs it before it has cooled, so more often than not it is moldy before I get it home. Yeah, I'm now fighting "Big Pita."
I am resigned to baking my own, which isn't nearly as awful as it sounds, since it's a pretty simple bread. I have made it before, and it's easy. But I made the traditional one with the pocket, so I will start by modifying a recipe that looks like it makes a more substantial version. This recipe is from a food blog I just found called "Half-Baked Harvest." Traditional Greek Pita Bread
And...her "Million Dollar Spaghetti" looks like loads of fun!

******
I got this link from a Moron, probably out of the comments. But I failed to note which of you provided the link, so I apologize for the necessarily anonymous hat tip!
How Monks Revolutionized Beer and Evangelization
If the history of monks and beer begins with St. Benedict, it continues today in his hometown of Norcia, Italy, where a group of American monks practice "brew evangelization."

The eighteen monks of the Monastery of St. Benedict opened a brewery last year and have found that brewing beer not only allows them to be financially self-sufficient, it also helps them "preach the Gospel without preaching the Gospel,"...
******
Here is one of the few unalloyed good things about Twitter. It can be a site for goofy, funny, irreverent lunacy.
Pics of Pizza, with a twist.
******
Oh good! A public service message. Here is a vision test for the Moron Horde (not the Moronette Horde). See if you can
find the cheeseburger.
******
Why am I thinking of Salsa in early March? Two reasons; I overbought fresh tortilla chips, and I just finished a very disappointing commercial salsa made by a pretty good company. I realize that there really aren't any good ones on the market.
This recipe is for the grill, but anyone with a gas stove or even a broiler can get close.
One suggestion; if your tomatoes are watery, chop them and salt them, mix with a few pinches of Kosher salt, then let them drain for an hour or so before adding to the mixture.

CORN & TOMATO SALSA
• 1 red pepper
• 2 mild green chiles
• 2 Jalapeno chiles
• 2 large tomatoes
• 2 ears yellow corn
• 1 medium yellow onion (Vidalia, or a similar sweet onion is best)
• 2 small garlic cloves
• ½ cup chopped cilantro
• 1 lime (juiced)
Roughly mince onion and place in medium bowl with cilantro, crushed garlic and lime juice.
Slice peppers and chiles once lengthwise and remove stems, veins and seeds. For hotter salsa leave seeds and veins in Jalapenos.
Grill peppers, chiles, tomatoes and corn over medium-high fire until they are slightly charred and softened.
Finely mince Jalapenos and roughly mince red pepper and chiles. Add to bowl.
Cut corn from cob and add to bowl.
Core tomatoes, slice in half, and remove seeds and connective tissue.
Roughly chop tomatoes and add to bowl.
Add salt and black pepper to taste.
Mix thoroughly and refrigerate for a few hours.

******
Food and cooking tips, flourless chocolate cake, Oakland style BBQ sauce, crispy roasted potatoes and other goodies with impressive girth:
cbd dot aoshq at gmail dot com
&topic=world_news">

posted by CBD at
04:00 PM
|
Access Comments