« Yesteryear
|
Main
|
Weekend Gun Thread »
February 25, 2018
Food Thread: Grilled Meat: Food Just Doesn't Get Much Better Than That!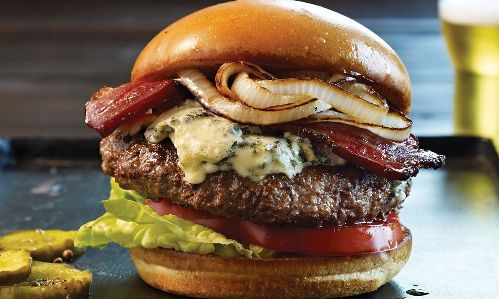 From the world headquarters of the Deplorables Global Initiative, Inc. (Bluebell's kitchen table) comes some rather good news!

Would you mind putting a note in the food thread this Sunday letting everyone know that we mailed off our first donation checks this week? We sent $2,500 each (along with a complimentary cookbook) to Marine Toys for Tots and Fisher House. We sent the contributions in honor of "The Horde at AoSHQ." Not to worry; we also sent a letter to each place explaining about the Horde and the cookbook.

Here are some numbers from Weasel, if you would like to use any of these. I know it's not strictly necessary but Weasel feels very strongly (and I agree) that we have an obligation to be very transparent about how the money is being handled.

2,250 paperbacks and eBooks sold to date. Sales continue at a rate of one or two per day.
$8,400 in royalties earned to-date (payment of royalties are deferred up to 60 days)
$1,700 total cost to produce
$5,000 in donations made

Additional donations will be made quarterly as royalties are received while maintaining a small reserve to meet operating costs (annual corporate filing fees, postage & mailing, etc...)
The cookbook was immensely amusing, and it turned out pretty damned well. But sending nice fat checks to two worthy causes makes it a more tangible success. Congratulations to all of the many Morons and Moronettes who contributed their time and bought lots of books!
******
Today's snack at Chez DIldo? Pâté on tortilla chips. I am nothing if not multicultural!
What's your weirdest snack?

******
Yoko Ono Singing...
******
In my younger and more vulnerable days, I used to hang around with a lot of Koreans, and had the pleasure of eating lots and lots of great authentic Korean food. One friend would occasionally give me her mom's kimchi, which was wickedly spicy but incredibly good. One of the fixtures of these meals was that ridiculously simple and fantastically good grilled meat that seems to be ubiquitous.

Korean Kalbi And Bulgogi: Marinated And Quick Grilled Beef
is AmazingRibs version of it, and it looks good! But I don't recall ever having a bad plate of it, so maybe I am biased.
******
So, here's a recipe that I wouldn't make in a million years; mint simply does not belong with meat. Yeah, you WASPs and your mint jelly with lamb are just weird, and I will brook no argument about that! Anyway, orange and mint with pork tenderloin just doesn't do it for me, but the technique is solid, and the idea of a salsa to go with the seared pork is a really yummy sounding one. So while I won't use this recipe, I will absolutely make something derived from it.
Pork tenderloin with caramelised garlic and orange salsa
And isn't that a lot of the fun of cooking? Personalizing your food so it is exactly what you want!
******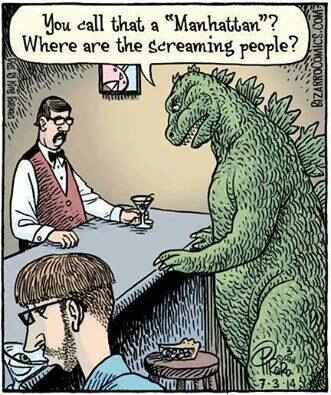 Or, in the case of the crappy Manhattan I ordered last night at a new local restaurant...where's the sweet component?
Folks, this isn't rocket surgery. It's cocktail making.
Booze + Sour or Bitter + sweet = cocktail.
See? That wasn't too hard!
A Manhattan is made from Rye whiskey, Red Vermouth, bitters (I like Angostura + Regan Orange) and a sweet. I prefer using maple syrup, but simple syrup, or a muddled sugar cube if you are a purist, is fine. Garnish it with a good cocktail cherry or a twist, and you will be all set. Nothing complicated about this recipe. It's a great cocktail if executed well, and a thoroughly crappy one if it isn't.
Oh, it is stirred in ice then served straight up. Not shaken, and not served on the rocks, unless you are a savage.


3 1/2 ounces good Rye Whiskey

1 ounce good red Vermouth

2 dashes Angostura Bitters

1 bar spoon (1/8 ounce) maple syrup
******
This looks interesting, although I haven't made it so I can't vouch for it.
Pasta e Ceci
Ingredients


2 ounces pancetta, cut into 1/2-inch pieces

1 small carrot, peeled and cut into 1/2-inch pieces

1 small celery rib, cut into 1/2-inch pieces

4 garlic cloves, peeled

1 onion, halved and cut into 1-inch pieces

1 (14-ounce) can whole peeled tomatoes, drained

¼ cup extra-virgin olive oil, plus extra for serving

1 anchovy fillet, rinsed, patted dry, and minced

¼ teaspoon red pepper flakes

2 teaspoons minced fresh rosemary

2 (15-ounce) cans chickpeas (do not drain)

2 cups water

Salt and pepper

8 ounces (1 1/2 cups) ditalini

1 tablespoon lemon juice

1 tablespoon minced fresh parsley

1 ounce Parmesan cheese, grated (1/2 cup)
Another short pasta, such as orzo, can be substituted for the ditalini, but make sure to substitute by weight and not by volume.
1. Process pancetta in food processor until ground to paste, about 30 seconds, scraping down sides of bowl as needed. Add carrot, celery, and garlic and pulse until finely chopped, 8 to 10 pulses. Add onion and pulse until onion is cut into 1/8- to 1/4-inch pieces, 8 to 10 pulses. Transfer pancetta mixture to large Dutch oven. Pulse tomatoes in now-empty food processor until coarsely chopped, 8 to 10 pulses. Set aside.
2. Add oil to pancetta mixture in Dutch oven and cook over medium heat, stirring frequently, until fond begins to form on bottom of pot, about 5 minutes. Add anchovy, pepper flakes, and rosemary and cook until fragrant, about 1 minute. Stir in tomatoes, chickpeas and their liquid, water, and 1 teaspoon salt and bring to boil, scraping up any browned bits. Reduce heat to medium-low and simmer for 10 minutes. Add pasta and cook, stirring frequently, until tender, 10 to 12 minutes. Stir in lemon juice and parsley and season with salt and pepper to taste. Serve, passing Parmesan and extra oil separately.

******
Food and cooking tips, flourless chocolate cake, Oakland style BBQ sauce, crispy roasted potatoes and other goodies with impressive girth:
cbd dot aoshq at gmail dot com
&topic=world_news">
posted by CBD at
04:00 PM
|
Access Comments