« Saturday Evening Movie Thread 02-24-2018 [Hosted By: TheJamesMadison]
|
Main
|
EMT 02/25/18 »
February 24, 2018
Saturday Overnight Open Thread (2/24/18 )
(Born To Be ONT)
*****
Is your humble abode safe? I mean really safe? Everyday items that can kill the hell out of you.
Lutherans hardest hit as Jello is on the list.
*****

More Valu-Rite research indicates that alcohol plays a much bigger role in causing dementia.

Narrowing in on the over 1 million patients newly diagnosed with dementia during that time, the researchers found that heavy alcohol use was a substantial risk factor for every common type of dementia, particularly early-onset cases caught before the age of 65. More than half of the 57,000 patients diagnosed with early-onset dementia—57 percent—showed signs of alcohol-related brain damage or were diagnosed with an alcohol use disorder at the same time.

All told, they estimated that people with diagnosed alcohol problems were more than three times likely to develop any kind of dementia earlier, and over twice as likely to develop forms of dementia not typically associated with alcohol, such as Alzheimer's.
*****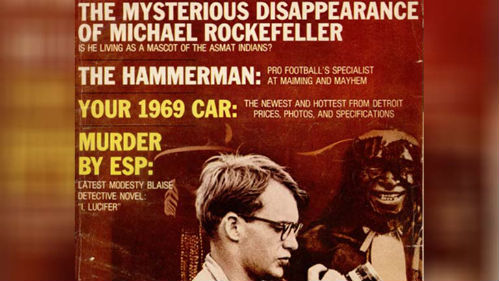 The mysterious disappearance of Michael Rockefeller.

Whether he drowned or was butchered by cannibals he didn't go out with a smile on his face like his old man.
*****

Faith and veganism throw in some meat and a microwave and things don't work out well.

A YouTube star who claimed online that her vegan lifestyle cured her cancer, has died of cancer.

YouTube vlogger Mari Lopez, who touted her beliefs that raw veganism, juicing and faith in God cured her stage four breast cancer, succumbed to her illness in December after it spread to her liver, blood, and lungs.

Lopez, one half of the vlogging duo Mari & Liz, gained notoriety after she and her niece Liz Johnson claimed that faith in God and a vegan lifestyle was curing her cancer.
*****
Our world is too technologically advanced. How you ask? Smart dildo. And we aren't talking Charlie Brown's Dildo either.

You have never experienced this level of comfort before: adult webcam platform CamSoda has engineered a hi-tech dildo that will not only help you achieve robust orgasms, but will also hit up Domino's and order a pizza for you after you've cum.

Unlike your dumb dildo, the so-called RubGrub has been equipped with an internet-connected button, which users can press to place a delivery for a pizza after a heated rubbing session.
*****
When you think of Canadian Prime Minister Justin Trudeau what comes to mind? For your humble and unopinionated Cob Douches gotta douche.

Bhaavna Arora, a bestselling Indian author, also chimed in, accusing Trudeau of wearing 'fancy dress' and saying she found it 'fake and annoying'.

Shekhar Gupta, founder of Indian newspaper ThePrint also mocked the Canadian Prime Minister, accusing him of 'running a week-long "election campaign" in India in fancy dress.'
*****

Celine Dion + Metallica = ?
*****

Are you Morons a little low on cash? The ONT's recommendation? Stop at an art shop, pick up some canvas and shop at a grocery store and buy some condiments.

However, another piece of "art," appropriately titled Untitled, was bought for $46,437,500. As you can see, it resembles what would probably happen if a 2-year-old toddler was left on its own with a bottle of ketchup.
*****
Is she a successful entrepreneur? No. Is she a Genius Award Winner? Yes.

Neatherlin, 32, was arrested March 15 after police found seven children younger than 5 drugged and unattended at her Little Giggles Daycare in Bend while she was at a tanning salon.
I foresee a future without tanning for about 25 years.
*****

Tonight's ONT has been brought to you by Safer Spaces with Snowflakes.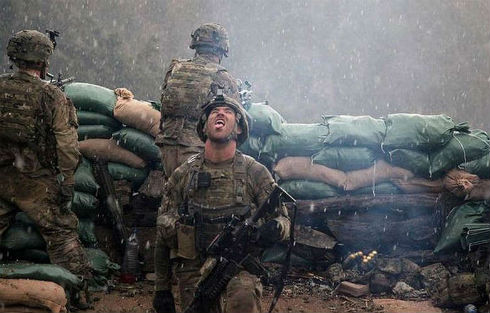 Notice: Posted with permission by AceCorp, LLC. Thankful for soldiers who protect The ONT's 1st Amendment rights.

posted by Misanthropic Humanitarian at
09:28 PM
|
Access Comments