« Saturday Gardening Thread: Looking Forward, Looking Back [KT]
|
Main
|
Mini Chess Thread 02-24-2018 »
February 24, 2018
Ace of Spades Pet Thread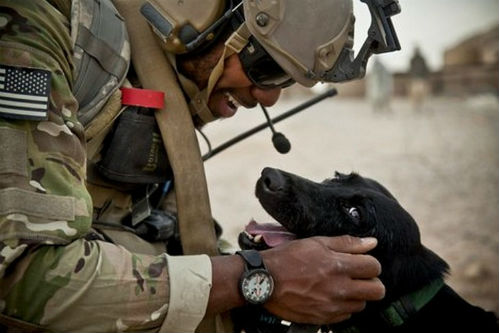 Good afternoon, welcome to the almost world famous AoSHQ Pet Thread. Hope you like today's above the fold photo. Sometimes a honest photo hits the spot.
Sit back and enjoy the world of animals.

***
A Little of This. A Little of That.

Thinking about a puppy? Looking for that next dog?
Comical dog breed guide should help you out on your next endeavor.

Updated news on the tainted dog food with euthanasia drugs.

Sometimes the best intentions result in the worst outcome.
***
Meet the PetMorons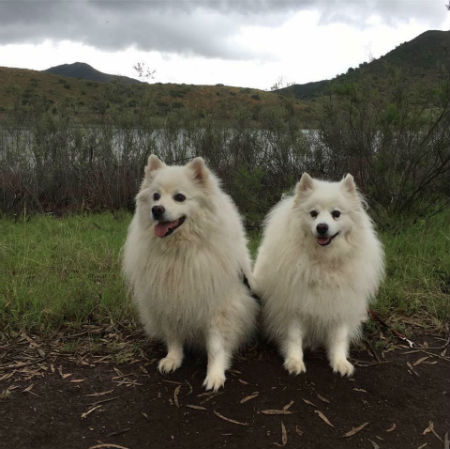 Hi Mis H!

I'm a lurker, but a regular reader, and particularly enjoy the pet, food, and gardening threads. This is Yasha and Bear, two standard American Eskimo dogs, brother and sister. They're twelve now. Eskies were bred from German Spitz dogs (Pomeranians were also German Spitz, but bred down in size) and one breeder, around the 1900s, bred white ones for the circus. White dogs, white ponies, the origin of "dog and pony show". After WWI, it was unpopular to be "German" anything, so the white line was named after that breeder's kennel, and they became American Eskimos (and never set foot in Alaska!) They're bright, love to do tricks, and shed hair like crazy.

Thank you for an enjoyable thread!

Joanie
Great looking dogs Joanie. And thanks for the history lesson. Know we know where that old saying came from.
***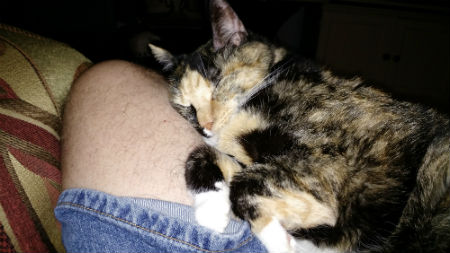 I'm a long time lurker and never poster. I just want to drop you a photo of one of our cats. She is 15 now and starting to suffer from health problems that may be terminal. It was sudden and I had promised myself sometime back that I would send a photo in while she was still with us. Here she is doing what she does best, sleeping on my lap. Love the pet thread. Love the website, my all time favorite hands down.

Thanks,
Nick
Nick, thanks for coming out of the lurker shadows and sharing your cat's photo with us. Hopefully her condition is improving.
***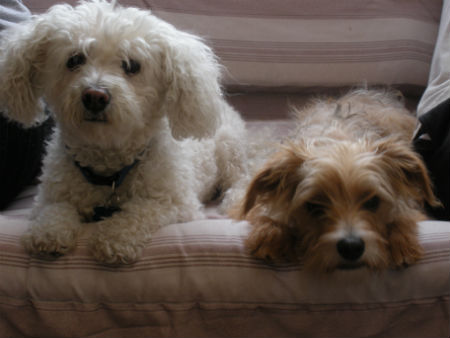 Daily Lurker Kathy here. This is our Beautiful Missy (bichon) and our puppy Frankie (yorkie-poodle). Our Missy was getting older, and with the Boy going off to college in the fall, thought we'd get her a companion. So Frankie came along by chance. Well Missy, at 12, was not very amused at his puppiness, but when we came home at the end of the day, she would be curled up next to his crate. We jokingly called Frankie the Insurance Dog, since Missy was getting on in years. Well, this picture was at Easter, and by September, Our Beautiful Missy was gone, thyroid cancer. Frankie is now 8, and we love him dearly, but he's like a dopey little boy compared to our Princess. While Missy loved my husband best, Frankie adores me most, which was very helpful to me in dealing with the empty nest. A home must be very lonely without a Dog to come home to.
Kathy, a lovely photo of the puppehs. Sorry you have lost Missy but happy to know you have her companion Frankie to keep company. A home without a dog is pretty damn quiet.
***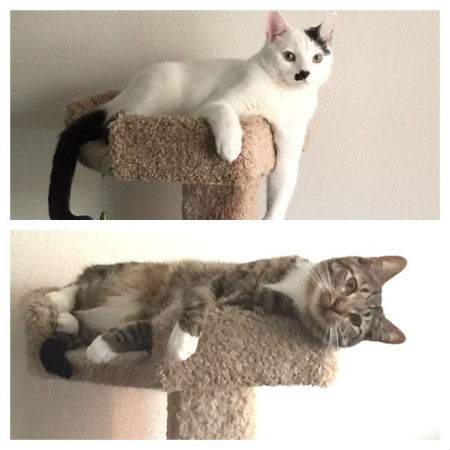 My Archie, also known as The Dude in the Cheap Orange Coat, is a big believer in catch and release. He catches outside and releases, completely unharmed, inside. Mostly chipmunks. But once a bat. And this time of year he's quite fond of finding water roaches. He likes the way they perk up and start running when he brings them in and they warm up a little. DeAnn
Quite the interesting cat you have there. A chipmunk in the house must be a challenge. Thanks for sending in Archie's photo.
***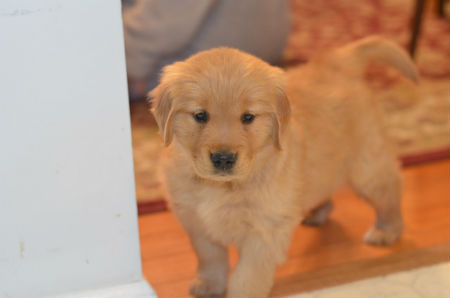 Been a lurker since '06, always the highlights of my day. This is Daenerys (Targaryen) my new Golden Retriever at 8 weeks exploring her forever house.
The little girl is filling the pawprints left by my previous golden Marilyn (Monroe) who left us at age 3 from spindle-cell cancer. Little Dany follows daddy everywhere and is well on her way to being my second love. The love of a golden,I truly believe, is unmatched. All the best to the other pet morons out there. - Joe
Sorry to hear that you had to get this cute puppy by losing a young dog Joe. Loosing a pet sucks, especially a young one. Dany looks like she will give you a run for your money. Thank you for submitting her photo.
***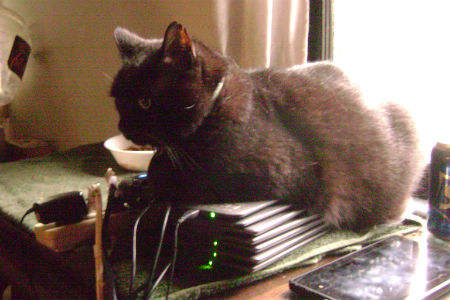 Our cat Koushka likes to claim new things around the house. So when my husband
re-flashed a bunch of demo Kindles into working Kindles for Christmas
presents, and set them in a stack to charge...Koushka decided they were the
new Pride Rock. Ever since then one of his nicknames has been Lord of the
Kindles. After all, no Christmas present is complete without cat hair.

- Safewrite
Hair on things? Wouldn't know anything about that. :) Thanks for the submission looks like Koushka has a difficult life there.
***
I recently made a video to guilt a friend of mine into allowing my magnificent, spoiled Basset "Barley Hound" into his house.

It worked-Jason

What kind of friend would need this video to allow that cutie into his house? You and Barley Hound are invited to stop by anytime you want. Thanks for sharing this video.
***

Another week, another wonderful group of pets. Thank you so much for sharing them with us here at The Pet Thread.
Do you have a photo or a YouTube video of your pet you would like to share? You can reach us at petmorons at gmail dot com.
Have a great week!!


posted by Misanthropic Humanitarian at
03:00 PM
|
Access Comments