« It's About Playing Catch & Throwing Strikes
[Hosted by: Slapweasel]
|
Main
|
Weekend Gun Thread »
February 18, 2018
Food Thread: If At First You Don't Succeed, Fry, Fry Again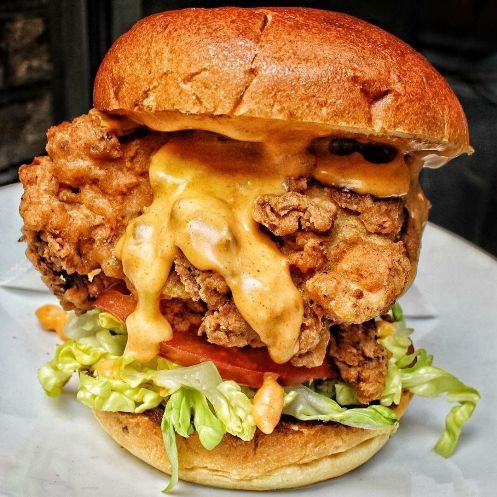 I love the crunchiness of fried foods in sandwiches, but they are rarely executed well...the crust quickly softens from the moisture of the rest of the ingredients and from the fried food itself.
That is not to say that I won't eat them. Somebody has to do quality checks!
Oyster Po'Boys may be my favorite fried food sandwich, although at the risk of incurring the wrath of much of new Orleans, I think that there are better bread choices to be had. I think a loaf with a crispier crust and less interior would let the oysters shine!
******
Laundry day at Infidel's house....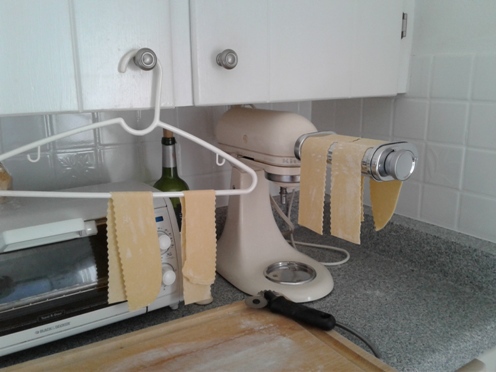 Ravioli is one of those foods that makes me smile. Making it is a bit of a chore, but if you have access to a pasta shop that will sell you sheets of fresh dough then it is much easier. I have a mold that works fairly well, but I like my ravioli on the large size, so when I make it (that is a rare occasion) I usually do it free-form.
One of the nice things about ravioli is that they can be filled with almost anything that goes with pasta. Meat, cheese, mushrooms, pancetta, peas...whatever works. As I write this it occurs to me that a carbonara filling would be fantastic!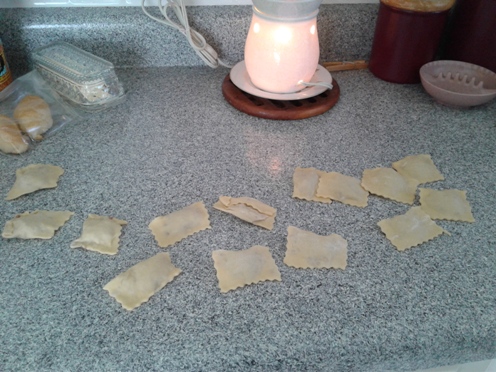 Infidel's look pretty good for a first attempt. Certainly better than mine!

******
Here is an Alton Brown recipe for
Chicken Parmesan Meatballs
. There is nothing particularly special about this, but what I like is that he serves it in the pan. Too many chefs get wrapped up in complexity (and complexity means lots of dishes to wash after dinner). Most of us just want something good for dinner that won't take four hours and twelve cooking vessels, and this is it.
******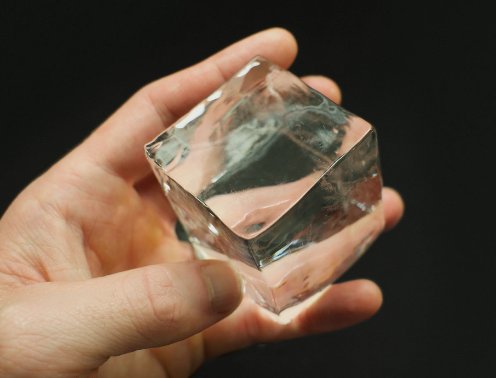 I am on a quest for clear ice cubes for my cocktails. I have a 2" silicone tray with which I experiment all of the time. I came close once, but that took about one week for six ice cubes. Very slow freezing so that the dissolved gases can escape seems to be the best way to do it, but since ice is less dense than water, it freezes on the top of the mold first, trapping the gasses in the water.
Yes, I am a bit compulsive.

******
This recipe is from Epicurious, and I made it a long time ago, but haven't found great pork shanks to do it again. I have complained about that huge hole in my life, but maybe the Moronosphere will have better luck.
Sigh...
One of the things I like about pork shanks (and pork in general) is that they stand up to a lot of flavor. Rosemary and sage are not the shrinking violets of the herb family, and cooked prosciutto is intensely flavored.
Braised and Roasted Pork Shanks with Prosciutto and Porcini Mushrooms
• 1 ounce dried porcini mushrooms
• 1 cup boiling water
• 4 whole fresh pork shanks with rind (each 1 1/4 to 1 1/2 pounds)
• 4 tablespoons olive oil, divided
• 1 large onion, chopped
• 1 cup chopped carrots
• 1 cup chopped leek (white and pale green parts only)
• 1/2 cup chopped celery
• 2 ounces prosciutto, chopped
• 6 garlic cloves, chopped
• 1 cup dry white wine
• 1 cup low-salt chicken broth
• 3 teaspoons chopped fresh sage, divided
• 2 teaspoons chopped fresh rosemary, divided
• Chopped fresh Italian parsley
Place porcini mushrooms in small bowl. Pour 1 cup boiling water over and let stand until mushrooms soften, at least 30 minutes. Drain and chop mushrooms; reserve soaking liquid.
Preheat oven to 325F. Sprinkle pork with salt and pepper. Heat 3 tablespoons oil in heavy large wide pot over medium-high heat. Add pork, in batches if necessary, and sauté until brown on all sides, about 15 minutes. Transfer pork to rimmed baking sheet.
Spoon off and discard all but 2 tablespoons fat from pot. Reduce heat to medium. Add onion, carrots, leek, celery, and prosciutto. Cover and cook until vegetables are soft and beginning to color, stirring occasionally, about 10 minutes. Mix in garlic and chopped porcini. Add wine and bring to boil, scraping up any browned bits. Add broth and reserved mushroom soaking liquid, leaving any sediment in bowl. Mix in 1 teaspoon sage and 1 teaspoon rosemary. Return pork and any accumulated juices to pot, arranging in single layer.
Bring pork mixture to boil, cover pot, and place in oven. Braise pork until very tender, turning over every 30 minutes, about 1 hour 30 minutes. [Do ahead Can be made 2 days ahead. Cool slightly. Refrigerate uncovered until cold, then cover and keep refrigerated. Simmer until just warm before continuing.]
Preheat oven to 425F. Transfer pork to rimmed baking sheet. Brush with remaining 1 tablespoon oil; sprinkle with remaining 2 teaspoons sage, 1 teaspoon rosemary, and black pepper. Roast pork until browned, about 20 minutes.
Meanwhile, tilt pan and spoon any fat from surface of sauce. Boil until sauce coats spoon lightly, about 7 minutes. Season with salt and pepper.
Spoon sauce onto large shallow platter or divide among 4 shallow bowls. Top sauce with pork, sprinkle with parsley, and serve.

******
Food and cooking tips, flourless chocolate cake, Perfectly marbled prime NY strips, crispy roasted potatoes and other goodies with impressive girth:
cbd dot aoshq at gmail dot com
&topic=world_news">

posted by CBD at
04:00 PM
|
Access Comments