« EMT 2/18/18
|
Main
|
Is It Time For The Supreme Court To Reaffirm Our Rights Against The Power Of The State? »
February 18, 2018
Sunday Morning Book Thread 02-18-2018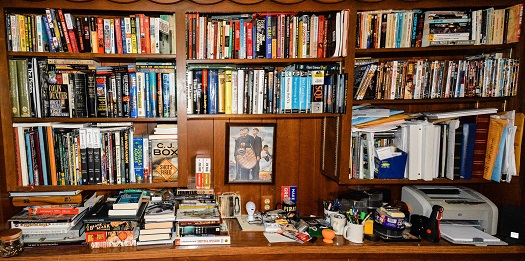 Good morning to all you 'rons, 'ettes, lurkers, and lurkettes. Welcome once again to the stately, prestigious, internationally acclaimed and high-class Sunday Morning Book Thread, a weekly compendium of reviews, observations, and a continuing conversation on books, reading, and publishing by people who follow words with their fingers and whose lips move as they read. Unlike other AoSHQ comment threads, the Sunday Morning Book Thread is so hoity-toity, pants are required. Even if it's these pants, from George Takei's collection of pants he considers too gay.

Pic Note
A moron named 'zogger', whom I think mostly lurks, sent me this pic of his library, which you can click on to see a larger version of. Appears to be many interesting items and books here for your perusal. He says:
So here is where I keep most of my books. I have a maybe 30 more books in boxes. I used to have over 500 but I did some weeding out when I retired a few years ago. Also, I am moving toward ebooks this year.

You can see some of the technical books from my past life as a software developer. Also many chess books as I have tried over the years to get better…a losing cause I am afraid.

One shelf on the far right has part of my video collection. Plus a lot of junk on the desk top.


It Pays To Increase Your Word Power®
BARYPHONY is difficulty in speaking.
Usage: Um..ah, let me be, uh, clear, and, uh, as I've, ah, always said, er...



None Dare Call It Censorship:

Yes, well, whenever I see a woman reading a book, I leave her the hell alone, because, after all, she's a grown woman, and the fact that she's reading means she's intelligent. Which means she is fully able to make her own reading choices without a chorus of censorious scolds yammering at her about what she should and shouldn't be reading.
(fortunately, the idiot who tweeted this is getting hammered in the comments)
(h/t Chris Taylor)


Starving Artist Will Illustrate Books For Food
The daughter of the pastor of my church just graduated cum laude with her degree in Art. She is now a free-lance artist and is looking for work. Perhaps one of more of you moron authors needs a book illustrator. If so, perhaps you should contact her, or at least pay a visit to her website to see samples of her work.

Is Your Country A Sh*thole?
If so, perhaps you should be reading How the West Won: The Neglected Story of the Triumph of Modernity by Rodney Stark. It contains plenty of information you can use to turn your sh*thole country into a country that is better than a sh*thole.
How the West Won demonstrates the primacy of uniquely Western ideas—among them the belief in free will, the commitment to the pursuit of knowledge, the notion that the universe functions according to rational rules that can be discovered, and the emphasis on human freedom and secure property rights.
Progressives always hate this. They think the reason that sh*thole countries are sh*tholes is because the West turned them into sh*tholes. Not so:
Stark also debunks absurd fabrications that have flourished in the past few decades: that the Greeks stole their culture from Africa; that the West's "discoveries" were copied from the Chinese and Muslims; that Europe became rich by plundering the non-Western world. At the same time, he reveals the woeful inadequacy of recent attempts to attribute the rise of the West to purely material causes—favorable climates, abundant natural resources, guns and steel.
Progressives believe that peace, prosperity and plenty are mankind's birthright, that they spring up naturally and every sh*thole country would have all three if it weren't for other countries stealing it from them. This is just the "Minorities would be doing great if it weren't for The Man hassling them and keeping them down" argument writ large. Progressives seriously believe this. But it's not true. The country my ancestors came from used to be a sh*thole, too, back a thousand years ago or so. But it got better, thanks to the principles discussed in Stark's book, and I am eternally grateful.
The Protestant work ethic is not a naturally-occurring, universal value.
(An ONT a few weeks back linked to this article, that describes the author's experiences in Senegal when he was in the Peace Corps. Where he was going to be working was described to him beforehand as "a fecalized environment". In other words it was, quite Literally, a sh*thole. Which, thanks to certain aspects of the prevailing culture, was not likely to change.)

Moron Recommendations
Moron 'cool breeze' recommended Jerome K. Jerome's Three Men on the Bummel (a follow-up to his classic Three Men On a Boat (To Say Nothing of the Dog)). Here is how the GoodReads blurb describes these books:
Conceived as a fairly serious guide to amateur boating on the Thames in 1889, Jerome K. Jerome's best-known novel ended up as a hilarious account of the misadventures of three friends and a dog as they attempt to relax and enjoy themselves amid unreliable weather forecasts, imaginary illnesses, repellent cooking, and an unopenable can of pineapple chunks.Three Men in a Boat was a terrific success for its author, and a surprisingly accurate portrayal of the age. George, Harris, and J., the narrator, were entertaining representatives of the new middle class, seeking to escape the dreary world of offices and desks during weekend trips out into the countryside. Jerome's heroes proved so popular that he brought them back for an equally picaresque bicycle tour of Germany, an adventure recorded in Three Men on the Bummel. The new Introduction by Jeremy Lewis describes the social context of the two books and the remarkable life of their author.
Jerome is a keen observer of human nature, and cool breeze sent me some quotes that ring true even today, oveer a century later. Like this one:
"Of all games in the world, the one most universally and eternally popular is the game of school. You collect six children and put them on a doorstep, while you walk up and down with the book and cane. Only one thing mars it: the tendency of one and all of other six children to clamour for their turn with the book and cane. The reason, I am sure, that journalism is so popular a calling, in spite of its many drawbacks, is this: each journalist feels he is the boy walking up and down with the cane. The Government, the Classes, and the Masses, Society, Art, and Literature, are the other children sitting on the doorstep."
So journalists had a puffed-up, inflated of themselves even back them. Why does this not surprise me? The links to Jerome's books, by the way, are to gutenberg.org, so you can pick up e-copies for free.

___________

Books By Morons
Moron author Vince Milam has a new one out. According to the e-mail he sent me:
The second Case Lee novel - The New Guinea Job - has just been released. The first in the Case Lee series - The Suriname Job - sold so well Amazon Publishing (Kindle Press) picked it up, as they have for The New Guinea Job.

And, yes, our hero Case still lives on the Ace of Spades - an old wooden cruiser plying the waters of the Intracoastal Waterway. And, yes, he often refers to himself as a moron. Coincidence? Perhaps.
Heh. Here's how the blurb for the new one begins:
When a mysterious client asks former Delta Force operator Case Lee to investigate a massive New Guinea gold discovery, the job quickly unravels into an incredible world of spies, terrorists, and tribal headhunters. Case—with a sense he's being played—walks away from the entire mess. Until life-threatening events pull him back in. This time, he's not taking any prisoners.
Both The New Guinea Job and The Suriname Job are available on Kindle for $3.99.
___________
Meanwhile, another moron author, Jeb Kinnison, has published Nephilim, which he describes as a "Mormon Gothic YA romance-adventure":
Mt. Hermon, Utah, is the ideal small town—until forces of darkness from deep beneath the mountain lead its people astray. Sara just moved to town with her divorced mother from a wealthy Long Island suburb; her Jewish roots don't protect her when a relentless angel comes calling. Jared has lived there all his life, and his addiction to online games and porn has his grades tumbling and his Mormon family worried. Together, Jared and Sara fight the battle of their lives against spirits from the Underworld.
A YA romance package built on a foundation of Mormon history and theology. $2.99 on Kindle.
Kinnison is also the author of the 'Substrate War' series (Red Queen, Nemo's World, and Shrivers) and also the non-fictional Death by HR: How Affirmative Action Cripples Organizations.

___________
Don't forget the AoSHQ reading group on Goodreads. It's meant to support horde writers and to talk about the great books that come up on the book thread. It's called AoSHQ Moron Horde and the link to it is here: https://www.goodreads.com/group/show/175335-aoshq-moron-horde.
___________
So that's all for this week. As always, book thread tips, suggestions, bribes, rumors, threats, and insults may be sent to OregonMuse, Proprietor, AoSHQ Book Thread, at the book thread e-mail address: aoshqbookthread, followed by the 'at' sign, and then 'G' mail, and then dot cee oh emm.
What have you all been reading this week? Hopefully something good, because, as you all know, life is too short to be reading lousy books.

posted by OregonMuse at
08:20 AM
|
Access Comments