« Saturday Gardening Thread: Graft [KT]
|
Main
|
Mini Chess Thread 02-17-2018 »
February 17, 2018
Ace of Spades Pet Thread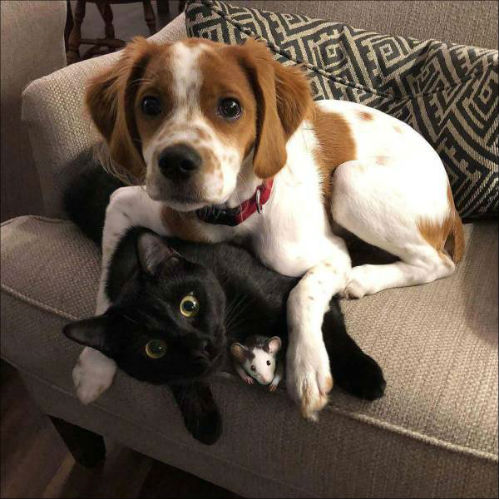 What?
***

Good afternoon and welcome to the almost famous AoSHQ Pet Thread. Kick back and take a break from all the world and enjoy some quality animal time.
*****
A Little of This. A Little of That.

FDA opens up dog food investigation.
Does this woman have a big heart? Or is she just nuts?
Not quite Dean Wormer's office.
Now we know that Kansas isn't going to the dogs.

No sharing. Moron h/t
***
Meet The PetMorons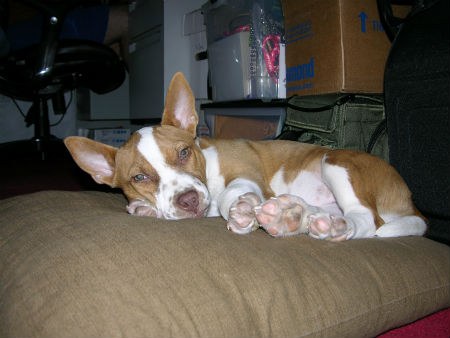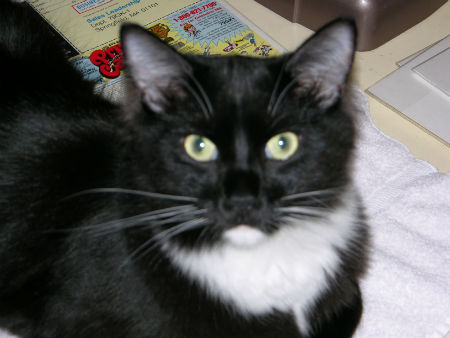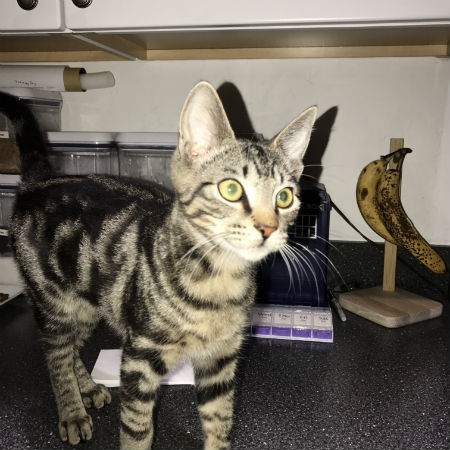 Tonka is a 4 year-old Corgi mix with the best ears. A rescue that warms my heart. She swears that I keep hiding Daddy from her. It's pure happiness every time she sees him.
Zeke is a formerly of our backyard feral colony who adopted us as a baby. A Maine Coon who got stuck in the tree, and I rescued from said tree. Hubby says that you never see cat skeletons in trees. The rest of the argument gets sillier whenever MY son misbehaves. He is harness-trained for walkies in the yard where he still visits his momma cat and niece. He will also walk into the vet on lead, but he much prefers walking out.

Avi is our newest addition and another rescue. A champion cuddler who will nip a chin or cheek without warning. He practices Kung Fu with sister dog but big brother really isn't that into him.
Jillybeans68
Nope. Never seen a kitteh skelton in a tree. They look like charming pets! Thanks for sharing Jillybeans.
***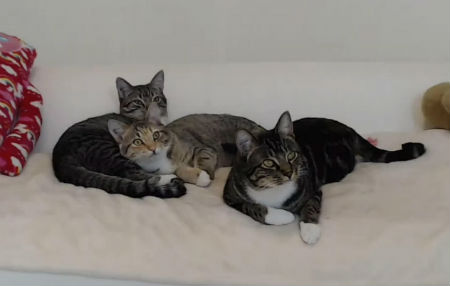 Hello Fellow PetMoron :)

I've been faithfully following your pet thread the past few years; lurking, viewing and otherwise enjoying the many posts and the stories behind the pics. I love it!

I would like to make a submission, though it's not of my pets and I do hope you would consider this a worthy posting when the time comes. I'm hoping it meets the criteria and if not, I ask for your kind consideration to make an exception as it's a very heartwarming request.

The following pic is of three kitties, Birchie, Pele and Elliot. They are three remaining kitties up for adoption at TinyKittens.com located in Langley BC, Canada. They were rescued from the BC Wildfires that ravaged western Canada last year during the early summer months.

These three kitties are from separate feral colonies so they are not siblings or litter mates. But, if you were to watch their livestream and/or Facebook and Youtube videos of them, you would think they true soulmates.

They have been wonderfully socialized and would easily accept a human companion. They are bonded so tightly that Tinkykittens is adopting these three as a trio. A mighty big undertaking for anyone interested, but they would be a truly rewarding addition to anyone looking for feline companionship.

You can view their livestream here: https://www.youtube.com/watch?v=gLAlml6CUFY

If the link doesn't work, just type in BC Wildfire Kittens and they should show up.

Here is a video link to a facebook video that showcases them and their adoption profile:
https://www.facebook.com/tinykittens/videos/1784859658255557/

Maybe there is a Moron or Moronette or family in the Pacific NW nearby that may be interested? I hope so :) Thank you for considering this, they would love to go to a home :)

Thank you very much

Cheers from Decrepit Maryland :)

Frank T.

You are a fine Moron Frank T.
***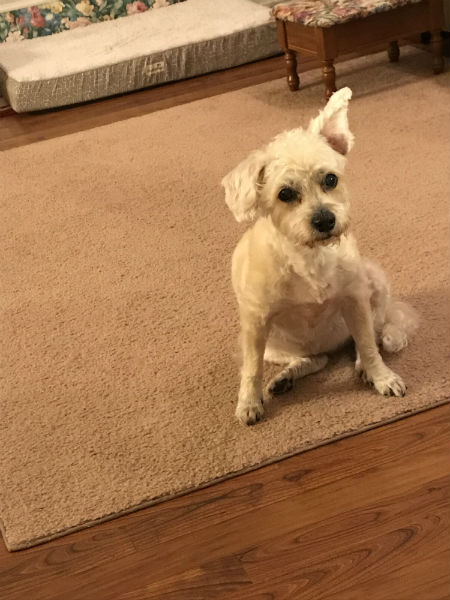 Hi,

Longtime lurker here. Attached is a picture of our Sidney. She's half Llasa and half Schnauzer and the smartest dog I've ever met. Fifteen pounds, 14 years old. Never behaves badly or runs from me. December 23rd 2017, she escaped the fence at a relative's house in NC(we live in Summerville SC). Long story short she was missing for 5 days in temps that went as low as 14 at night. We searched and searched! The FB(spit!) post/ad about her being missing was viewed 16k which was huge considering the tiny town. People we didn't even know helped us search. Finally had to give up and head back home. 5 hours after getting home the phone rings and a man says he has my dog. He is an MP in the Army based in another state and was coming home for a visit during the holidays. He had caught her and wrapped her in his dress uniform jacket. He had no clue about the FB or her being missing. He just stopped and picked her up about 11pm when he saw her standing in the middle of the road. Thanks to the ID tag on her collar (still on luckily), he could contact us. It was truly a Christmas miracle for us! He refused a reward. I AM making sure his CO is informed of his kindness! 'God bless our military' has even more meaning for me now!

G.S.

PS. Other than a pretty good bruise and some weight loss, she was unscathed by her adventure!
Talk about miracles. What a great story. I think I can say we are all glad for this happy ending.
***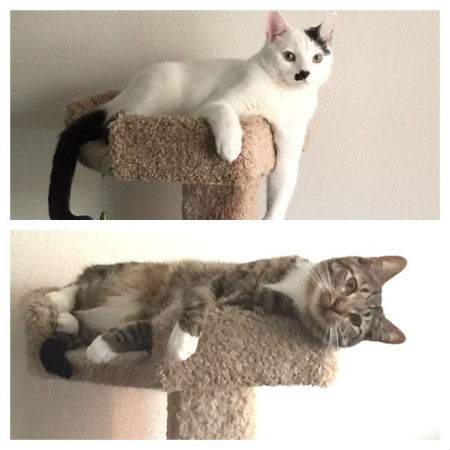 Longtime lurker and never commenter. This is Cricket, my second Airedale. He is one of a kind, the ultimate party dog. When we go to the dog park, he is never aggressive and has only raised the ire of one grumpy dog. All in all, Cricket is a fantastic pet!-Amy
Well Amy, it's about time you started commenting. And by the way, Cricket appears to be an awesome doggeh. We appreciate the submission.
***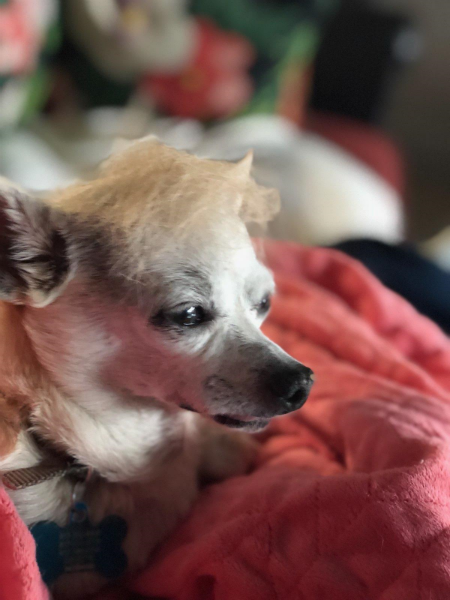 Sweet Pea is a Trump Supporter. Here is Sweet Pea in her favorite Doggle Trump style.-Craig in the Keys
Love the hair style Craig. Thanks for sharing with us.
***
Another Saturday, another great group of animals!!! Thank you folks.
Do you have a pet story you want to share? Does your pet want to be in the Pet Thread? It's simple to reach us, petmorons at gmail dot com.
Have a great week!

posted by Misanthropic Humanitarian at
03:00 PM
|
Access Comments