« Of Course: Comey's Former Special Assistant Jumps Ship to... CNN
|
Main
|
The Morning Report 2/7/18 »
February 06, 2018
Tuesday Overnight Open Thread (2/6/18 )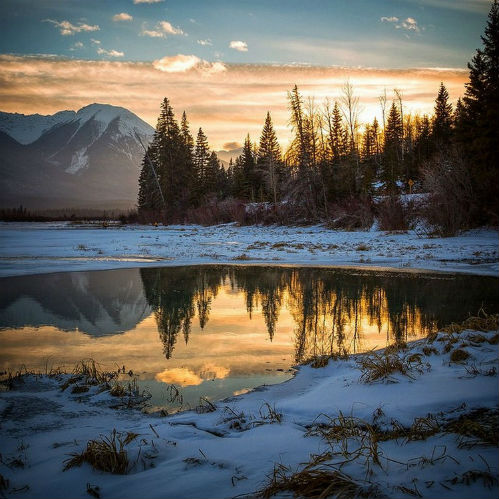 (America The Beautiful)
*****
Quotes of The Day

Quote I

That is the great distinction between the sexes. Men see objects, women see the relationships between objects. John Fowles

Quote II

Nothing in this world can take the place of persistence. Talent will not: nothing is more common than unsuccessful men with talent. Genius will not; unrewarded genius is almost a proverb. Education will not: the world is full of educated derelicts. Persistence and determination alone are omnipotent. Calvin Coolidge

Quote III

"With respect to the rest of the world, I would say that particularly for women … they will bear the brunt of looking for the food, looking for the firewood, looking for the place to migrate to when all of the grass is finally gone as the desertification moves south and you have to keep moving your livestock or your crops are no longer growing," Failed POTUS candidate Hillary R. Clinton.

As long as they have rocks to do the laundry all is good?
*****
*****
Wouldn't it be nice if we could have an open and honest conversation about immigration. "The cost of illegal immigration."

"At the federal, state, and local levels, taxpayers shell out approximately $134.9 billion to cover the costs incurred by the presence of more than 12.5 million illegal aliens, and about 4.2 million citizen children of illegal aliens." — Matt O'Brien and Spencer Raley.

It is also rather more than the single payment of $25 billion that it will cost to build a wall -- five and a half times more, and every year.

"Undocumented immigrants are at least 142% more likely to be convicted of a crime than other Arizonans. They also tend to commit more serious crimes..." — John R. Lott.

Doing jobs that Americans won't do.
*****

Social media. If you are going to use it to make dumb ass statements, be prepared to back them up, don't run away like a coward.
Anti-vaxxer shot down by someone who knows what they are talking about.
*****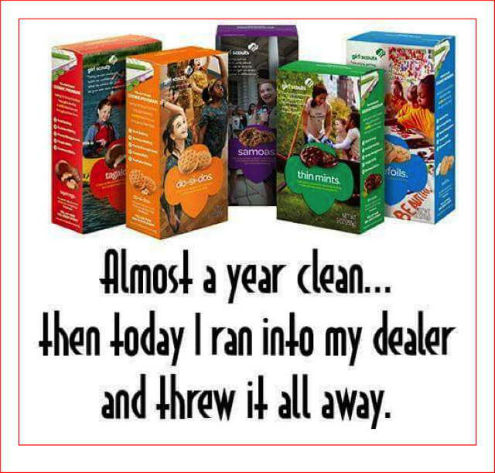 Kute, korner krack dealers are baaaaack.
Who let them out? Why are they everywhere? On the corners, by the entrances to supermarkets, at the crossings, and all over the place. They swoop into the neighborhood in massive SUVs driven by classic MILFs. They pull in, tumble out giggling, and yank their card tables and their boxes of contraband from the back. Then they set up their offerings in stacks, and slap crude handmade signs with a heavy helping of glitter on the tables. Then they don their gang colors and get to work on you.
*****

Iconic NHL GM and announcer calls out global warming folks.
*****
The ONT Musical Interlude
February 6, 1981, Composer Hugo Montenegro died in California. Had the 1968 UK No.1 & US No.2 single 'The Good The Bad And The Ugly' from the soundtrack to the Clint Eastwood spaghetti western film. Worked for RCA records, producing a series of albums and soundtracks and television themes, including two volumes of Music From The Man From U.N.C.L.E. via thisdayinmusic.com
***
February 6, 1945, Born on this day, Bob Marley singer / songwriter and guitarist who had the 1981 UK No.8 single with 'No Woman No Cry', plus over ten other UK Top 40 singles. In July 1977, Marley was found to have a type of malignant melanoma under the nail of a toe, Marley's health deteriorated as the cancer had spread throughout his body. He died on May 11th 1981. The 1984 'Best Of' album spent 330 weeks on the UK chart. In 1990, February 6th was proclaimed a national holiday in Jamaica to commemorate his birth. Inducted into the Rock and Roll Hall of Fame in 1994. via thisdayinmusic.com
*****

South Australia wants to build a new virtual power plant. South Australia and Tesla teaming up to produce it.

Just a few months after Tesla completed the world's biggest lithium-ion battery installation outside of the Hornsdale wind farm in South Australia, the Australian state and the electric vehicle-slash-energy company look like they're ready to partner again.

>
>
>
>
If all goes well after the second phase of the rollout, another 25,000 private South Australian households will have the option to buy into the system. Installations at public housing will be provided at no cost to the resident, but pricing for private residents hasn't been disclosed yet.
Give Tesla credit, they are profitable sucking off the government teat.
*****

It it weren't so sad, it would be funny. Pro-Choice, never heard of it.

State lawmakers in New Mexico recently proposed a bill that would force high school students to apply for college unless they provide the government with alternative post-graduation plan.

House Bill 23, sponsored by Republican state representative Nate Gentry and Democratic state senator Daniel Ivey-Soto, would require high school juniors to "file an application with a college or show that the student has committed to an internship or apprenticeship or military service."

Additionally, the bill mandates that local school boards must ensure that all students are "reasonably informed" about "the financial benefits of graduating a college and the availability of financial aid."
*****
Years ago I had an employer who regularly stated, "Respect is earned not given."
The FBI should pay heed to this. And maybe remember Ronald Reagan's statement of, "Trust but verify."
Campbell claimed that the FBI is being "tarnished" by "politicians seeking partisan gain."

"FBI agents are dogged people who do not care about the direction of political winds," he wrote. "But to succeed in their work, they need public backing. Scorched-earth attacks from politicians with partisan goals now threaten that support, raising corrosive doubts about the integrity of the FBI that could last for generations."

The agent's remarks alluded to the House Intelligence Committee's probe into the FBI's investigation of the Trump campaign.
*****
As Ace would say, "Social Justice Warriors are lethal parasites that always kill their host."

A New York elementary school was forced to cancel its father daughter dance to adhere to new policies calling for "gender neutral" events.

The parent teacher associations for Staten Island's Public School 65 put the father daughter dance on pause to double check whether it adheres to Department of Education new guidelines on gender practices, reports The New York Post.
*****

National & Wisconsin news all here at the Manitowoc Minute.
*****

Not content to foul up Father/Daughter dances, let's foul up the Olympics. Diversity scorecard anyone?

The Ted Stevens Act requires each sport's governing body and the USOC to send a report to both Congress and the president every four years that, among other things, details participation of minorities, women and people with disabilities. In a step toward even more transparency, the USOC now requires each sport's governing body to submit a diversity scorecard each year.
*****
The failure to plan on his part shouldn't constitute an emergency on our part. Tonight's Genius Award Winner.

A father of three who nearly died after drinking 25 energy drinks in six hours has called on them to be banned.

Nick Mitchell suffered a brain haemorrhage and three mini-strokes after downing Monster and Red Bull cans whilst running a karaoke evening in a sweltering club. A third of pugs 'suffer from potentially deadly problem with legs' The 56-year-old from West Yorkshire said: 'These drinks nearly killed me. I was so close to death and thought I might not make it through surgery. 'They should not be sold. They are as bad as drugs and should be banned.'
*****
Helping a police officer in need is Tonight's Feel Good Story of The Day.

Cpl. Cory Waters said that Meyer saved the officer's life, adding that if he had "not been in the right place at the right time, who knows what would have happened."

The attacker was arrested and is now facing several charges.
*****
Tonigh't ONT has been brought to you by Motivation.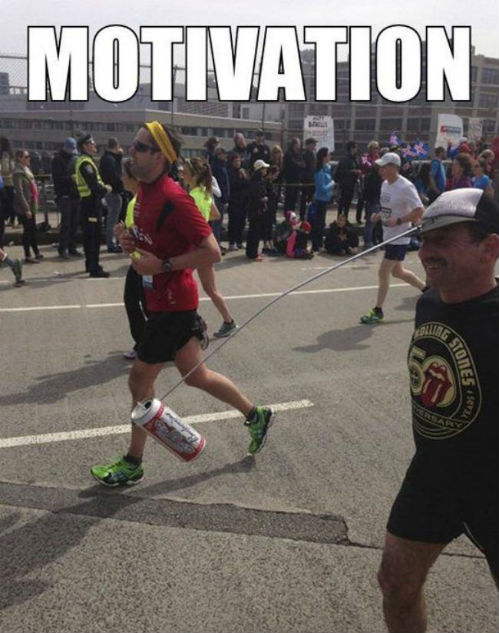 Notice: Posted with permission by AceCorp, LLC. Please mail loose change and ONT tips to petmorons at gmail dot com. Library books & recipes go to different Cobs.

posted by Misanthropic Humanitarian at
10:04 PM
|
Access Comments