ę Mini Chess Thread 02-03-2018
|
Main
|
Saturday Evening Movie Thread 12-03-2018 [Hosted By: TheJamesMadison] Ľ
February 03, 2018
Ace of Spades Pet Thread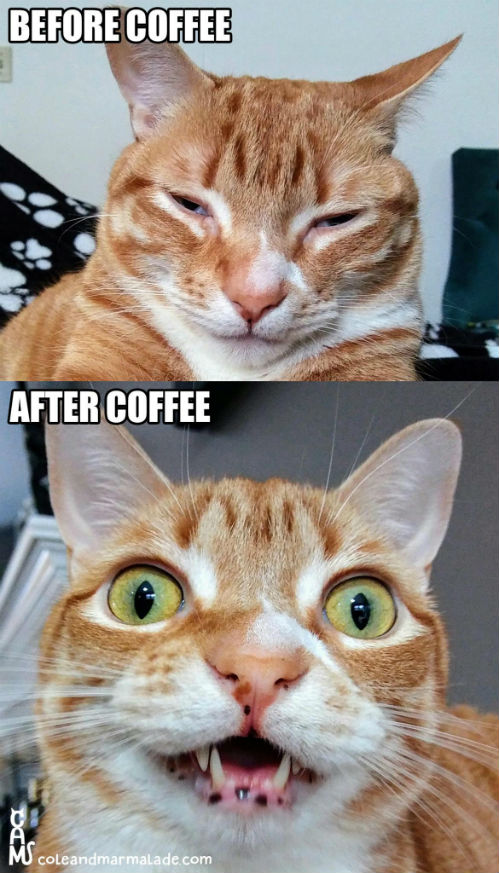 ***

Good afternoon and welcome to the almost world famous Ace of Spades Pet Thread. Stop whatever you're doing and take a break. Enjoy some time with other animal lovers.

***
A Little of This. A Little of That.

If dogs and cats could talk........

Face Book, what is it good for? Well, This cat finds a new home. That's a good thing.
I can't speak for you but, I now like United Airlines. There isn't room on this flight for an emotional rescue peacock.

Big game hunter is shot. He might have been hunted.

Get your motor running. Head out on the highway. Lookin' for adventure.
Is this love or a mental illness? Holy cat lady Batman.
Dogs can have winter fun.
***
Meet The PetMorons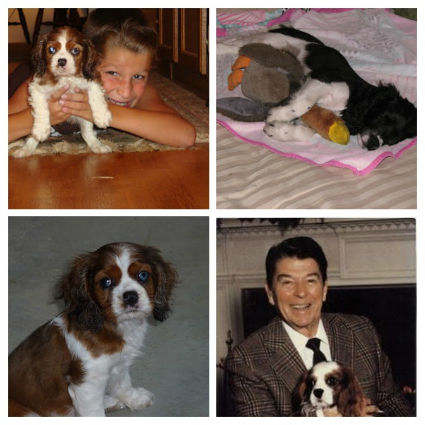 Our Darla looking a lot like Mr. Reaganís young pup. Kaz in upper right corner. -Tom
Quite the collage there Tom. Thanks!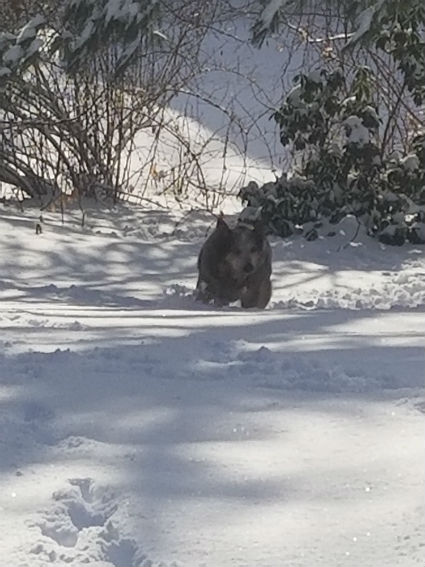 Corgi mix or bear? -DJ
We wish you would have given us some additional information DJ. If you're around today feel free to talk more about your pooch.
***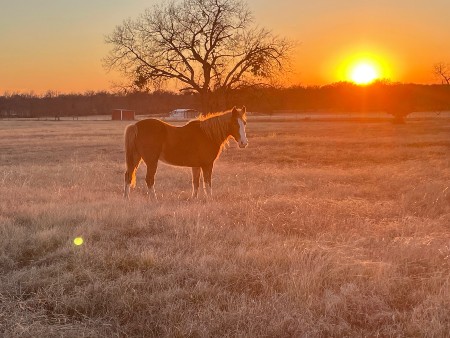 Hereís our sweetheart miniature schnauzer, Zoey.-Andy
Our family's first dog was a Miniature Schnauzer. There will always be a soft spot in my heart for that breed.
***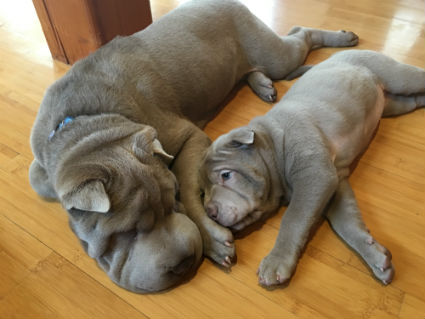 i there--
I want to share photos of our awesome Trajan (the larger of the two sharpeis in these pictures) and his cousin, little Winnie, both sharpeis.

Public service announcement: I should add that we are all breathing a sigh of relief after little Winnie survived a very serious case of parvovirus. When they tell you to keep your too-young-to-be-fully-vaccinated puppies away from other dogs, they are dead serious! The vet gave her only 50/50 odds to survive but with three days of aggressive veterinary hospital care she pulled through and is back to being her awesome normal self.

I should also add that Trajan is so awesome, he has his own Facebook page, since he is, after all, objectively the best dog. Search for him on FB under 'Trajan.'

Best wishes,
reader and occasional commenter 'Average Jen'
Wow, that is quite the story. So glad to hear that Trajan survived. It just goes to show that you should never skimp on vaccinations.
A little sermon from the Mis. Hum. have your pets checked out for heartworm. And give them the preventative meds. Easy and fairly inexpensive.
***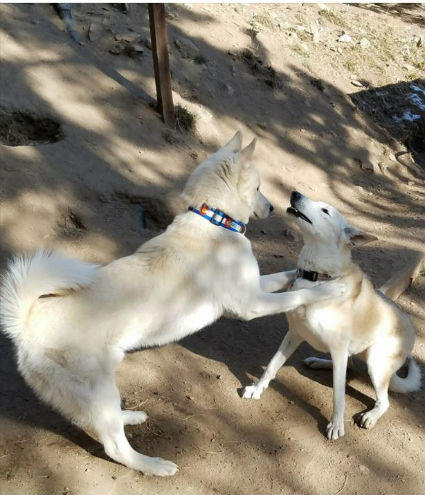 Hello MH, Last here,

We decided that it was time to shake up the "Last" household some, and are adopting another rescue. The one on the left is our new 4 year old, Luke. He's part Husky and part Samoyed (we think). Girl, the one on the right being sexually harassed is our 9 year old German Shepherd/Husky mix that we've had for 6 plus years. No, there will be no breeding going on, just good-natured play, and maybe a competition to see who can shed the most.

Apparently, Luke is a real lover boy that all the girls want to be around. At least, our Girl seems to like him well enough. Despite what it looks like, they are both similar in size, although Luke is a little bulkier and hairier, as it should be. And the very next second after this picture was snapped, Girl let him know that laying on of hands is not allowed. - Last

They look like happy and healthy pups! What a wonderful story.
***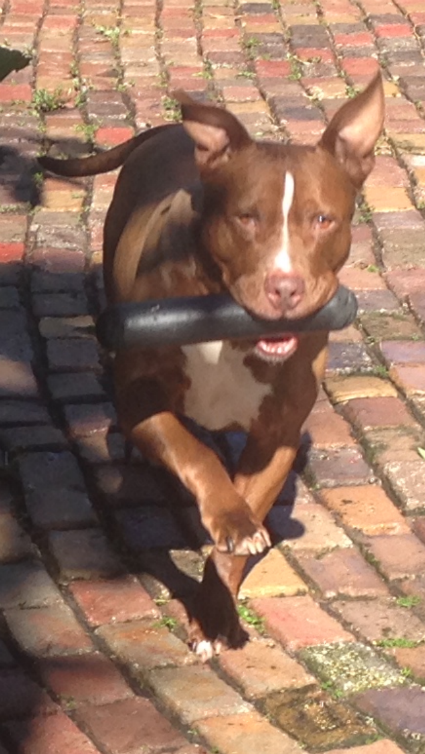 Hey There,

I sometimes write comments on AOSHQ under KK...

Attached is a pict of our dog Louie... but from the subject line you can see his real name, ha ha!
He came to be our dog through our daughter who got him when she was 17, but then moved to an apt where a pit was not allowed; so I semi consider myself a grandmom raising their grandchild, lol.

Seriously, when our daughter first brought him home, we were very wary of having a pit bull.
But, as you can see, we've mellowed and now absolutely love him! Totally changed our perception of pit bulls. His presence is a gift from God is so many ways!
I consider myself a bit of a weirdo, but I guess in this case moron fits the bill too... I have given him a few nicknames over the years: "cutie pants man" "Boobie" "Woobicon" good thing he is a dog and will never really understand these nicknames, cause I think I'd be in trouble!
Love looking at all the dog picts and videos posted, thanks for brightening up by life!
No need to thank me KK. It's folks like you and pets like Louie who brighten up the place.
***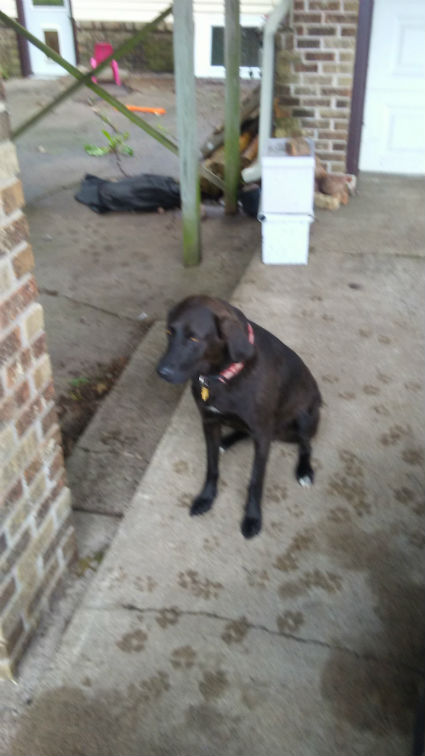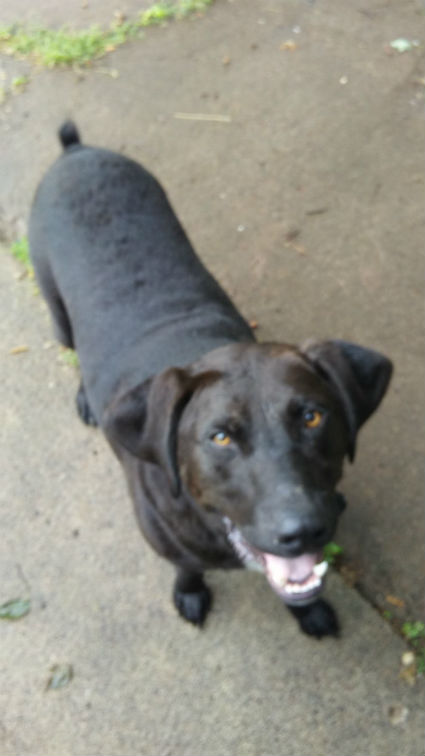 Ajax is the top one. He is not fond of his picture I guess. These are from last fall. Their mother may or may not have been purposely hit on the road. My sister does not believe in tying dogs up even for their own good. Baily liked to chase deer so... Anyway, Achilles was the biggest pup of the litter and my niece gave him to a friend of hers. The friend eventually realized 1 kid, 1 baby, 1 other dog, and one hound dog puppy was too much to handle. So she brought him back. He was smaller than Ajax. It turned out they were giving him the same amount of food as their small dog. Once he started eating properly he got bigger fast. He still will not let anyone in the same room as his food dish as long as he has food left. Ajax is very loving and both of them like their ear rubs. Unless its cold... Or raining. When they were smaller they would climb into my car on my lap to sniff around.

Deathknyte, occasional commenter
***
The dog is Pearl. She's plotting her next moved against the squirrels outside. The vex her sorely. She is six. Her mother was a Rottweiler and her father was a sweet talking traveling roué who spoke sweet nothings in her ear. Rumor has he was a Lab, but I suspect a Weimaraner who lived up the street. Pearl is very delicate and gently nibbles her food. She has long legs and looks like a doggie model. Unfortunately, she's a babe magnet. When my husband is walking her, young women go gaga over Pearl. (I have to admit, gold colored Mardi gras breads look stunning against her black cloak.)-Loretta
If you run out of squirrels bring Pearl over, we have a boatload of them.
***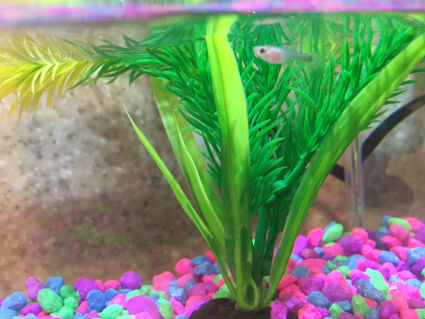 Introducing WeaselGuppy!!! Our new little pal - Gus the Guppy. He's not fully trained yet, but we're working with him. -Weasel
Surprised Gus didn't up in the Deplorable Gourmet cookbook.
***
What a great group of pets! Thank you for sharing with us. If you would like to submit a photo of your pet, please do. Include your name, pet's name and a little note about it. You can reach us at petmorons at gmail dot com.
Opening photo was a h/t from ALH.

posted by Misanthropic Humanitarian at
05:51 PM
|
Access Comments