« An Honest Socialist! Who Knew They Even Existed!
|
Main
|
Food Thread: When In Doubt...Throw It Out! (Or Feed It To The Kids) »
January 28, 2018
לעולם לא אשכח
April 13, 1945. WWII wasn't over, yet, but Germany writhed and screamed its death knell, impaled on the twin spears of the Soviet Union and the Anglosphere. In Berlin, Adolph Hitler ranted and raved and ordered phantom units into battle. Before the month was out he would kill himself, one more corpse among the millions rotting in the shattered ruins of a thousand year Reich.
The pogrom continued. Until the very end, the Nazis fanatically persisted in their quest to exterminate the Jewish people. Money, time, resources, all were prioritized for the slaughter when they could have been, in a sane country would have been, better utilized to fight back against the Allied armies. Trains full of vital military supplies were sidetracked in preference to murder trains, Jews packed like sardines into "40 & 8" boxcars.
One such train had left the Bergen-Belsen concentration camp on April 10th. Stuffed with over 2500 Jews, its crew had been ordered to drive the train into a river, drowning all aboard. Near the town of Magdeburg, they chickened out and abandoned the train, running for their lives from the advancing Allied forces. Packed like lemmings in the stiffing boxcars, the Jews aboard could only passively await their fate.
On the 13th, Major Clarence L. Benjamin of the 743rd Tank Battalion of the 30th Infantry Division of the Ninth Army was leading a patrol consisting of 2 Sherman tanks and a jeep. Suddenly he came upon a group of about 200 walking skeletons by the side of the road. Hearing their story, he followed them back to the abandoned train. As the American tanks crested a hill, the gaunt masses surrounding the train gave a shout and shambled forward on weary feet towards their rescuers.
The Americans had arrived at last.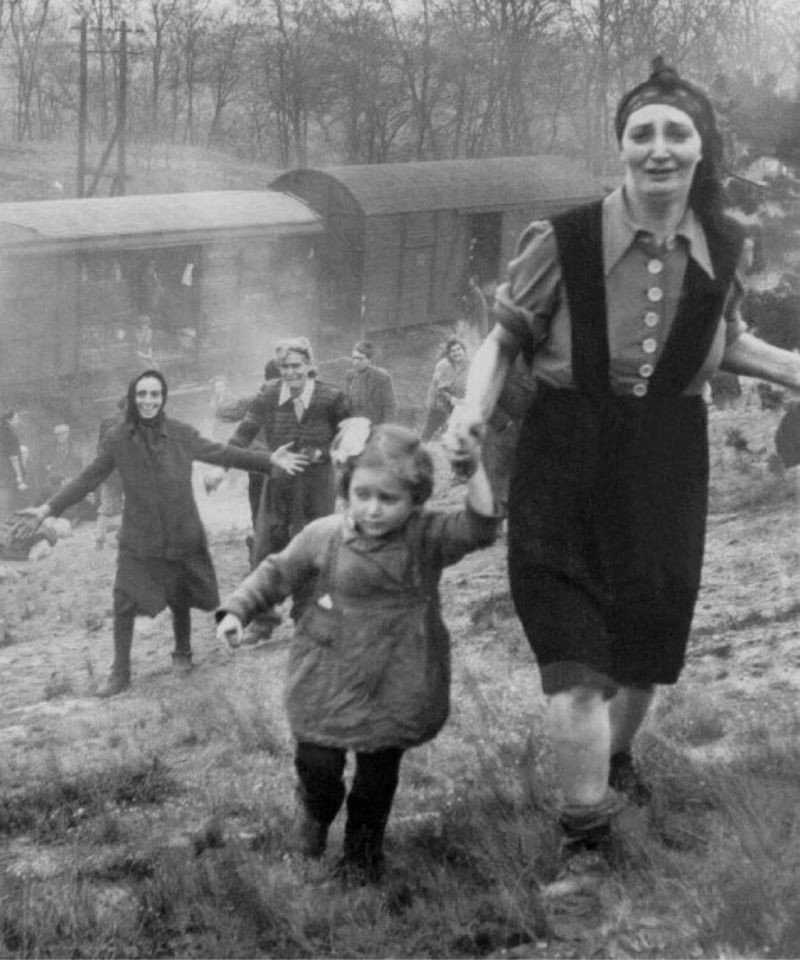 This post is a day late. Yesterday was officially International Holocaust Remembrance Day, but every day should be. 63 years after the train was liberated, a history teacher in upstate New York named Matthew Rozell arraigned for a reunion between surviving members of the train and US soldiers who liberated them. You can see videos about the reunion here and here. A more detailed account of the rescue is available here and here.
The title of this post is supposed to be "I will never forget" in Hebrew. If I got that wrong I apologize, I do not speak the language and relied on online translators. I am also indebted to twitter user @ColleenBoykin1 for posting the picture above along with links to this incredible story.

posted by WeirdDave at
02:45 PM
|
Access Comments