« Sunday Overnight Open Thread (1/7/18 )
|
Main
|
Mid-Morning Open Thread »
January 08, 2018
The Morning Report 1/8/18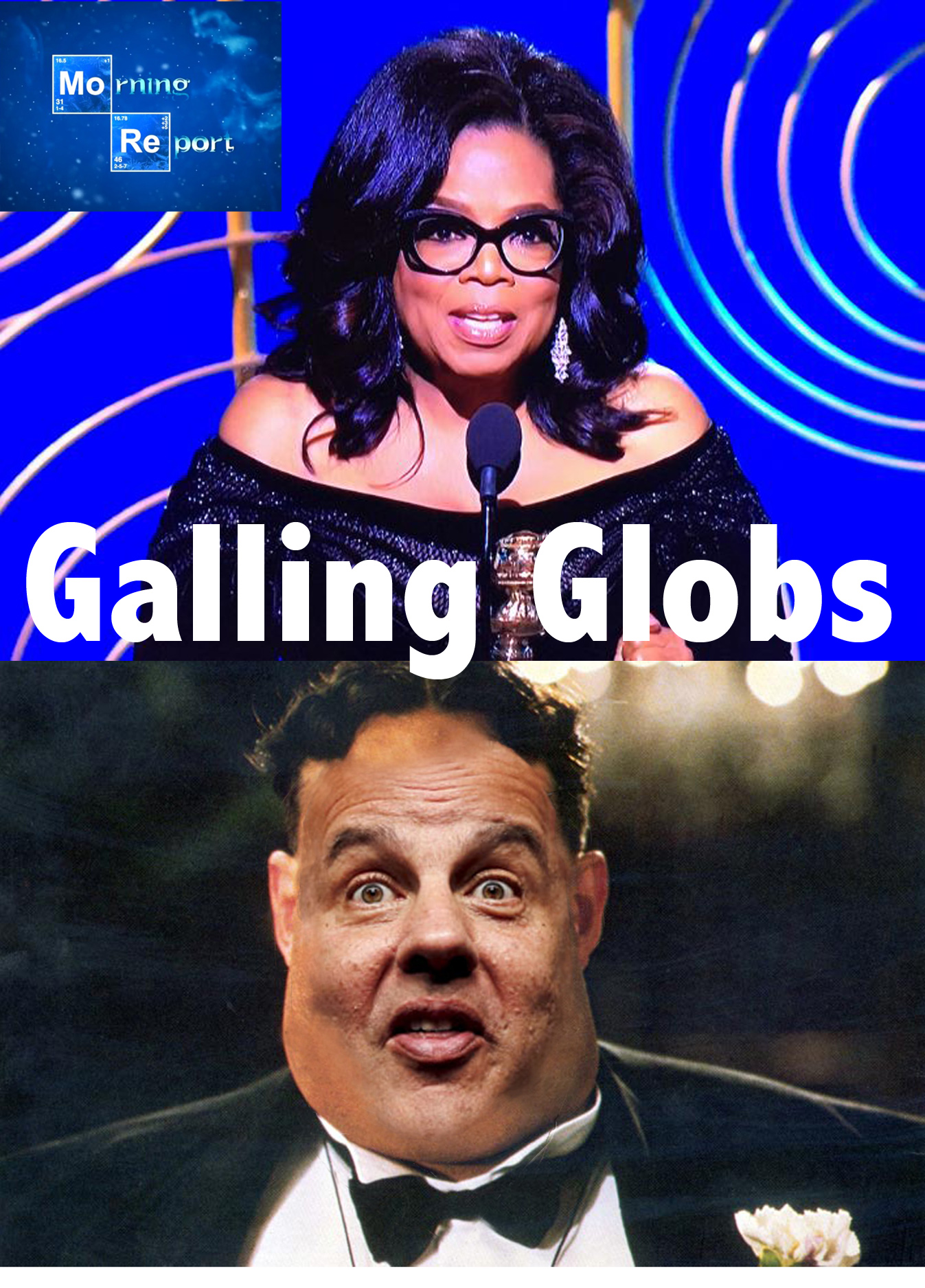 Good morning kids. First full work week of the new year begins, and mercifully we're seemingly past the brutal cold snap; supposed to hit 50 here in NYC by the end of the week, if you can believe it.
On to the latest news. Protests continue in Iran, but because of the Regime's media blackout, very little firsthand information is coming out of the country. And the tyrants in Iran are being effectively aided and abetted by the American anti-American propaganda machine here at home, which has spent infinitely more time on this Michael Wolff book, most of it fictional, since it deflects from the reality that President Trump has arguably had the most effective and consequential (in a positive way) first year than perhaps any president in recent memory. I have several links that give you the numbers in black and white, which you can add to the boom in the stock market, consumer and business confidence and a whole host of other signposts foreign and domestic, tangible and intangible, that America is finally on the rise or at least clawing it's way back from two decades lost in the wilderness.
And yet, bereft of any sort of legitimate policy differences, saddled with a 50-100-year record of demonstrable pain, suffering and failure inflicted on the nation as a result of the full implementation of their policies as intended, and day by day, with their media/cultural/academic complex exposed to growing numbers of Americans for the threat to their lives that it is, the Democrat-Left have nothing. Nothing but shrill, shrieking madness as they cling to a desperate gambit to paint this President as the one who's mad - based on nothing more than an infantile tome chock full of half-truths, innuendo and outright fabrication that the author himself has copped to. You want madness? There's your madness. And of course last night's Golden Globe Award spectacle, featuring Mrs. Steadman. BUT... I digress.
Back to Iran, as Nikki Haley blasted the Iranian regime at the UN the Mullahs nabbed old Mahmoud Ahmedinejad for supposedly inciting the protestors. Frankly, I don't see that Maynard Krebs-looking stooge who loves him some sharia being against an Islamic theocracy. Could be a phony diversion to appease the protesters or just plain old score-settling under cover of the protests. Meanwhile, an Iranian tanker collided with a freighter off the Chinese coast. Probably means nothing, but still, all things considered, maybe there was a school of Mossad laser-guided Joo-sharks nearby.
Did any of you know that PDT signed another executive order that opens the door to interstate sale of health insurance? I didn't. Interesting and encouraging piece by health policy wonk David Catron at American Spectator on this crucial issue.
From hither and yon, PDT seems to be unyielding on the Amnesty issue and will force the Democrats' hand vis a vis a government shutdown. Still, with his new BFF Lindsay Grahamnesty by his side, I'm more than a bit nervous about some sort of "deal" that would go against the base. I hope he stands firm on this because he'll be one and done if DACAns get a path to citizenship. The other big item on the legislative agenda will be welfare reform. With the tax bill passed and the "collusion" scam crumbling, hopefully the GOP has steel in their spine to get this done. That said, Mitch McConnell has had a national reciprocity bill on his desk for 44 weeks and has done nothing with it. Get off your flabby ass and pass the friggin' thing in the Senate already.
Stephen Miller totally pwn3d Fake Flapper over the weekend, causing him to pull a Don Lemon maneuver. When you have someone who not only doesn't accept your phony premises but also calls you out on them on camera, you know you're in trouble. Lastly, I give you the rotting carcass of a beached whale oozing ambergris, putrefaction and several thousand cubic meters of flatus.
Anyway, links from around the world, across the nation and up your street. Have a better one and remain blessed.


posted by at
06:55 AM
|
Access Comments