« Get Yer Petards...Petards For Sale!
|
Main
|
Weekend Gun Thread »
January 07, 2018
Food Thread: Technique Trumps Ingredients...Or Is It The Other Way Around?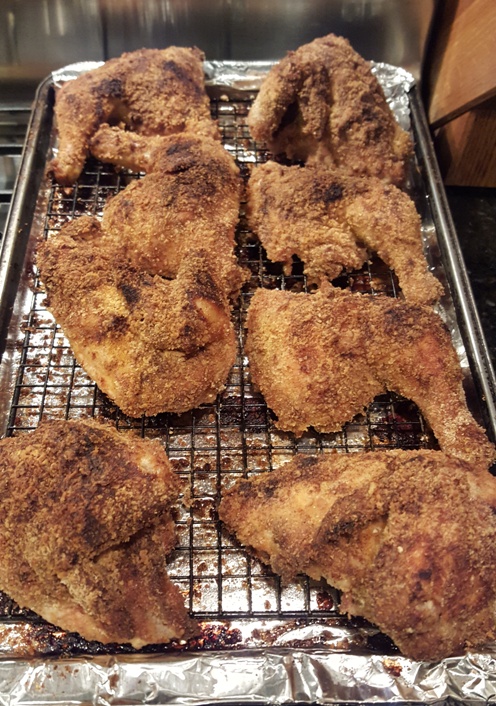 I have no idea who Laurie Colwin was. Apparently, at least according to The New York Times, she was a great food writer. Since they are never wrong, I must be an ignorant food savage. Anyway, they featured one of her recipes recently, and since it was a technique I had never tried, i gave it a shot.
Laurie Colwin's Baked Mustard Chicken worked very, very well, but I should never have ignored the whispers in the back of my mind that were saying, "don't use cinnamon you idiot!" They were right, and a fine technique was, if not ruined, certainly marred by the discordant flavor of not even as much cinnamon as they called for.
Luckily the technique survived the NYT's rewriting of her recipe, and I will be trying it again this coming week. It's really quite simple, and I think very forgiving, since the crispy crust seems to keep the chicken moist and tender, even after two hours of cooking at moderate heat. My guess is that the mustard and herb rub helps too, and combines with the bread crumbs to build an impenetrable layer to keep the moisture in.
Or I could be wrong, which has happened before and will happen again. Whatever the reason. the end result was very good (ignoring the cinnamon imbroglio). One modification though; I put the chicken on a rack instead of directly onto the pan. I think that the bottoms of the chicken pieces would have gotten soggy had I followed the recipe even more slavishly than I did.
******
Anyone care to bet that the "City Of Seattle Sweetened Beverage Recovery Fee" isn't going to raise quite as much as the geniuses on their city council think?
And how do you like that little bit of Newspeak? What exactly is the fee recovering? The additional health cost of sweetened beverages compared to...what? Coffee? Alcohol? Crack cocaine? Maybe Seattle should just go all in and tax illicit drugs too. That way drug crime would drop to zero as all of the dealers and users would rush to pay their fair shares instead of trying to avoid the law.
As usual, the soccer moms and latte-sipping liberal assholes are the ones who won't be paying this tax, because many of them will simply drive their Priuses and Range Rovers to the Costco outside of town. It's the poor and working class folks who will pay the disproportionate share of this insanity.

******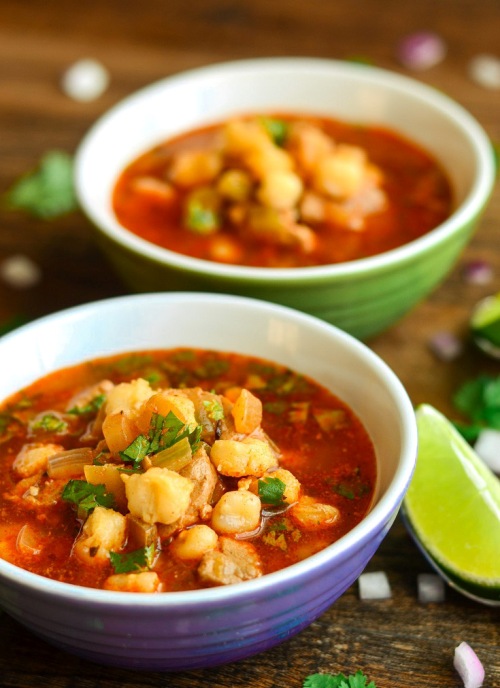 Anybody have a good recipe for "posole?" I haven't had it in years, but I walked past a display of packages of dried hominy and suddenly returned to my youth. I dated a woman whose mother made great posole, and I have never been able to recreate it. I have had good versions in Mexico, but I won't be going back there for the foreseeable future.

******
Classic French Onion Soup
Yummy! I love onion soup, but for some reason I don't make this much. Probably because I am an obsessive-compulsive and refuse to use commercial stock, and I just don't have the ingredients at hand for beef stock. Perfect is the enemy of good.
This recipe has an interesting technique for cooking the onions. Anyone ever see it before?

******
This came from someone, but I simply can't remember who. Maybe Marcella Hazan, maybe Bluebell or Fixerupper. I don't remember.
PENNE WITH CAULIFLOWER AND GARLIC
• 1 large head of cauliflower
• 4-40 garlic cloves, minced.
• Olive oil
• 1 pound box of dried penne pasta
• Salt and pepper
• Red pepper flakes
Trim the cauliflower and cut into florets. Leave some of the stem…it tastes good!
Rinse it thoroughly, leaving some of the water in the florets.
In a medium pot, add about 3/4 cup of good olive oil and the garlic. Put it over medium-low heat, watching carefully so that the garlic does not brown. When the oil is fragrant with the lovely aromas of garlic, add the cauliflower, toss as much as you can (it's tough to do, so don't worry too much) cover and let simmer for about 30 minutes over low heat, stirring occasionally. The cauliflower will gradually break down into smaller and smaller chunks as it cooks and you stir.
When the cauliflower is soft, remove the cover, increase the heat to medium, add a large pinch of salt and stir occasionally until the cauliflower begins to brown a bit and it breaks up almost into a mash. Add red pepper flakes to taste, check the salt, cook for a few more minutes, then toss over al dente pasta and serve hot.

******
Food and cooking tips, dark chocolate caramels, Perfectly marbled prime NY strips, Yorkshire pudding and other goodies with impressive girth:
cbd dot aoshq at gmail dot com
&topic=world_news">

posted by CBD at
04:00 PM
|
Access Comments