« Christmas 2017 EMT
|
Main
|
Mid-Morning Open Thread »
December 25, 2017
The Morning Report 12/25/17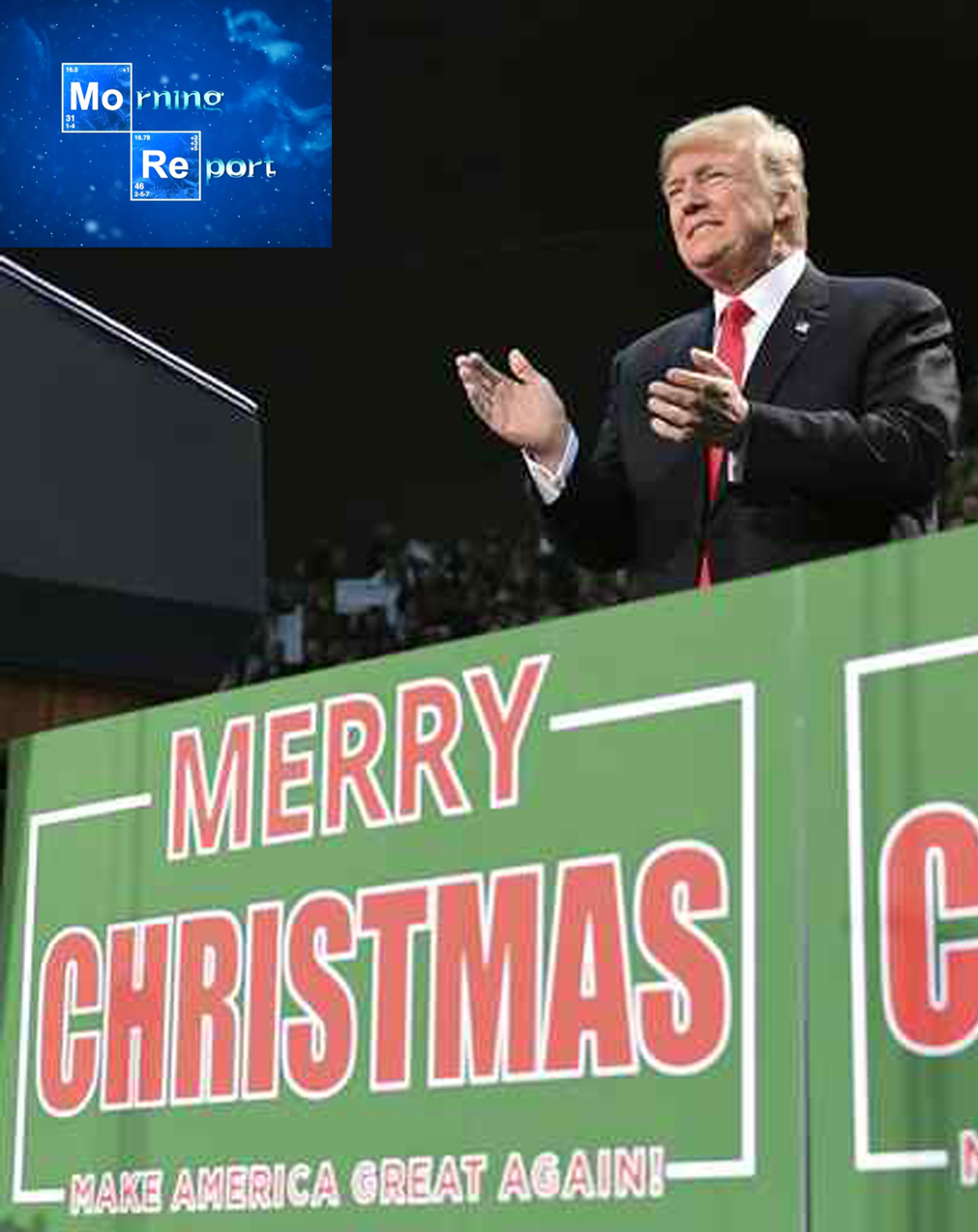 Good morning kids. Merry Christmas to you all and I hope Santa has left you lots of toys and goodies under the tree. As for this Yidlet from Flatbush, I give you some links to ponder over coffee and a nice gooey danish, and I'll try to keep the commentary light.
The President delivered his Christmas message and gave thanks to our armed forces, specifically to the many thousands who serve far away from home and in harm's way keeping us safe. Agreed. G-d bless and keep our men and women in uniform.
Even his saying the words "Merry Christmas" makes the Left's collective empty head explode with rage (see link #2). One of the ways his presence is quite literally making America great again is his eagerness to fight the culture war. The smart-set true-cons have poo-poo'd it for far too long but it's from the culture that everything else we believe in and hold dear emanates. For those who wonder how the hell we have sunk so low, look no further than that battle front.
In the wake of the UN's vote condemning our embassy move to and recognition of Jerusalem as Israel's capital, Nikki Haley has announced a cut of nearly $300 million to the UN budget, ostensibly in reaction to what she describes as waste and inefficiency but more than likely in reaction to last week's vote, and in reality, a decades-long history of backstabbing and screwing us over. I've linked to a piece from two years ago that tells the real story of just how much it costs us for the privilege of getting perpetually kicked in the groin at Turtle Bay. Ouch, indeed.
Surprisingly, nine nations voted "no" and stood with us last week while several dozen others either abstained or were absent. One of those "no" votes, Guatemala, has publicly announced it will also recognize Jerusalem as Israel's capital and will move its embassy there. Cynics will say it's just a suck-up move to keep the money coming from Uncle Sugar. But, wasn't that the President's message in the first place? In any case, if it was just about the money, they wouldn't necessarily be opening themselves up to attack, verbal and otherwise, from the rest of the world. Good for them. It's a shame that they're mired in poverty and squalor but that's another story for another time.
Closer to home, last Friday an adherent to the "religion of peace" was exercising some Muslim outreach by shooting at police in Harrisburg, PA and the DHS has officially called it an act of terrorism. Meanwhile, the wife of the terrorist who slaughtered dozens at the Pulse Nightclub has admitted to knowing about the attack in advance, and even being in the car with her husband as they cased the joint.
From hither and yon, Sheila Jackass-Lee is burnishing her resume as a mouth-breathing, sub-literate irritant, Chuck Schemer is holding hostage the confirmation of the candidate to head the Federal Railway Administration mere days after a fatal train wreck in Washington, the repeal of the individual mandate in the new Tax Reform Law has drawn Susan "I'll have another Tom" Collins into the spotlight with her hideous sop to the insurance companies, and Bernie Sanders, a goniffing momzer who has never experienced an honest day's work in his miserable existence, is demanding "working people" be allowed in on the NAFTA renegotiations. Who knew that a farshimmelt alte-kocker somehow represents and is the voice of America's youth. G-d help us.
So much for keeping the commentary light. Anyway, links from around the world, across the nation and up your street. Have a better one and remain blessed.

Have a Kung Fu Christmas!

posted by at
06:15 AM
|
Access Comments