« What's Under Your Tree? Open Thread
|
Main
|
Very Annoying Trope of Modern Movies: Inappropriately Silly Jokes Deflating Otherwise Emotional or Dramatic Scenes »
December 24, 2017
Food Thread: Roast Beast? I Don't Mind If I Do...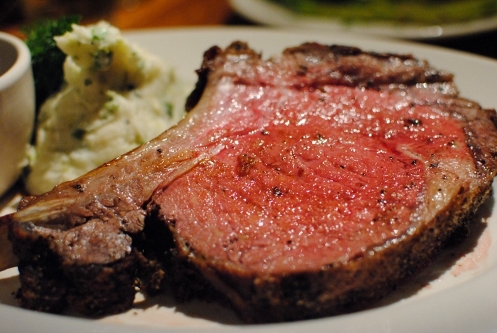 A note before we begin. 1817 copies sold! Which means we have cleared enough to write $2,500 checks EACH to Toys For Tots and Fisher House! And...there is yet another Moron cookbook giveaway! Weasel has upped the number of gift cookbooks! He claims that there are random numbers preselected by the vast criminal conspiracy headed by Bluebell (parole hearing is next week), and the Morons whose comments correspond to those numbers get a free cookbook. Of course the usual rules apply: nobody who has won a cookbook in one of the previous giveaways is eligible, the winners must provide a mailing address and the email address used in their comment to moroncookbook at gmail dot com by midnight tonight, and the winners must also submit an audio recording of them singing this, or this, or this, or this, along with a photo of them wearing their ugliest Christmas sweater.
******
In the grand scheme of beef-related things, I will take a NY strip. But there is something wonderfully festive about roast beef, and specifically a standing rib roast that's perfectly cooked (medium-rare, if you are asking) on the inside, and almost crispy and crunchy on the outside. And that's a challenge for the home cook, whose experience with large chunks of expensive beef is limited to once or twice each year. Most of us can splurge occasionally on a good steak, but a standing rib roast can be a three-figure investment!
There are lots of recipes available, and the different techniques are mind-boggling. My only suggestion is that you use gentle heat for most of the cooking, and only crank the oven to crisp and brown the outside. Of course you can reverse that and do the crisping first, or sous-vide it and use a blow torch to brown the exterior, or....
Another option is a tenderloin roast, or "Chateaubriand." A piece of prime tenderloin is a fortune, but there is plenty of it available at lower grades, and I think that with a good recipe they taste great. I don't think that the ridiculous extra cost for prime is nearly worth it (at least for this cut). My local market is selling choice tenderloin at $8/pound.! A nice herb rub and a gentle roast, and you have a beautiful and flavorful main course that is easy to make and doesn't break the bank.
And then there is lamb! Once again, the special cut -- the rack -- is a pricey meal, but a roasted leg of lamb can serve six or eight people for half the price of the rack. It's also easy to make, and because it is so big, you get a range of temperatures so that everyone gets what they want. I love lamb cooked to medium, but there are a few in my family who can only eat it when it is still baaah-ing. And the crispy fat on the ends? I'll fight you for it
One of the few kitchen tools that I think is indispensable is a good thermometer, or even better, a probe attached to an alarm. There are many good ones to be found, but I think that "The Dot" from ThermoWorks is the best combination of simplicity, accuracy and ease of use. But definitely use something when you are cooking that expensive hunk of meat; having to douse your rib roast in ketchup or steak sauce because it is horribly overdone will put a damper on your Christmas festivities. Although...if it does happen, be sure to tell us all about it next week!
So what's the festive flesh at your house?
******
I am in awe. I got this e-mail yesterday from commenter "Heidi," who is clearly a genius, probably the most beautiful woman on earth, and undoubtedly an absolutely fantastic cook.
Cannibal Bob and I were listening to the Patriot radio station here in Phoenix and the Seth and Chris show was on. They asked for book recommendations and I shot them an email recommending the Deplorable Gourmet. They spent 5 minutes on it and both ordered copies. They are huge fans of Ace of Spades and the morons. They couldn't believe they missed it. ...They read my email during the second hour (12/22/17) starting at 24:50. Hopefully, we sold more books!
Here's the link to the segment:
The Seth And Chris Show
, and here is a link to
ThePatriot.com
******
From a lurker who should be commenting, for two reasons: first, the recipe is clear and concise, and she explains the technique quite well. Second, she has a cool nic..."Suzy Sunshine!"
Hey, I have been observing your quest for good biscuits. This was my holy grail for 15 years and I finally found a method that gives me perfect biscuits every time. They are tender and flaky and light as air.

The night before I put my butter, flour, food processor bowl, and shredding blade in the freezer. The next morning I completely prep my work space before I take anything out of the freezer. The colder the ingredients the better. For a single batch mix two cups of self rising flour with a pinch of baking soda and about 1/4 tsp of baking powder. I then use the frozen food processor blade to shred one stick of frozen butter and stir that into the flour. Add buttermilk to make a wet dough (I don't measure but I would think it is about 3/4 cups or more). Stir gently until the ingredients are just combined and start to come together and then turn out onto a heavily floured board. Shape into a rectangle and fold it in half. Rotate 1/4 turn and do the same for a total of four times. The key is to use a light hand. Fold instead of kneed, roll lightly. Then roll out and cut out biscuits, re-rolling scraps. I get about 12 biscuits out of a single recipe. I buy frozen sausage patties and my biscuit cutter is the same size as the sausage patty.

These biscuits freeze well. I usually do a double batch and individually quick freeze them on a foil-lined baking sheet, and then keep them in a zipper bag in the freezer. I pull out a single biscuit and cook it in my toaster oven and have a fresh sausage biscuit every day!
******
Speaking of prime rib (yup...I'm fixated...and you get to share in my mania!),
here is a search for that phrase
on a marvelous website called "Dad Cooks Dinner." I have linked to it before, and will again, but this one is amusing, because there is one recipe that just does not belong. See if you can figure out which one. Go ahead...I'll wait. But there is no free cookbook for the first person to find it, that would be too easy.
******
Speaking of festive, Gumbo is marvelous. I would happily eat this as the centerpiece of a holiday dinner. Or for breakfast the next day.
Chicken And Sausage Gumbo
(adapted from Ken Wheaton)
Ingredients:


1 four-pound chicken, cut into parts

2 pounds of andouille sausage, sliced

2 onions, 1 diced and 1 cut into quarters

10 cloves of garlic, 5 minced and 5 whole

4 ribs of celery, 3 diced and 1 cut into quarters

2 bell peppers, diced

4 bay leaves

2 sprigs of fresh thyme or 1 teaspoon dry

1 bunch of green onions, green part diced

1 cup of canola oil plus a tablespoon

1 cup of flour

Salt, Cayenne and black pepper to taste

Method:
To make your roux, in a large cast iron skillet, mix together the flour and the canola oil. Place in an oven set at 350 degrees, walk away and let it cook for two hours. No hovering, no stirring, no nothing! After a couple of hours, take it out of the oven and it should be chocolate brown. Now, you can also do it the standing over the stove method if you prefer, but I don't.

While the roux is cooking, make your chicken and broth. First, season your chicken parts generously with salt, black pepper and Cayenne. Place the chicken parts in a large pot with the quartered onions, whole garlic, quartered celery, 2 bay leaves and 8 quarts of water. Bring to a boil and then simmer for an hour and a half, skimming any foam that rises to the surface.

Take the chicken out of the pot and when it's cool, remove the fat and pick the meat off the bones and cut into pieces. (Be sure and save the bones for another round of stock making.) When the broth is cool, strain and throw out the vegetables. Remove the fat with a gravy separator or by the plastic bag method. To do the latter, you'll pour the broth into a quart-sized plastic storage bag and once you see the fat rise to the top, snip off a bottom corner and drain it until you reach the fat layer. Do this in batches. You should have about 8 quarts.

Clean your pot (or get another big one if you're blessed with a large, well-stocked kitchen) and in the bottom of it heat up 1 tablespoon of canola oil. Add the diced onions and let them cook for 10 minutes. Add the chopped celery and bell pepper, cook for five minutes, stirring occasionally. Throw in the minced garlic and cook for a minute. Now stir in the roux and cook it with the vegetables for five minutes, stirring every so often. Add the chicken meat and half of the sliced sausage and cook for 15 minutes, stirring occasionally. If things start to get sticky, pour in some water or wine.

Now, slowly whisk in your strained chicken broth to the roux, vegetable, meat mixture. Throw in two more bay leaves and your thyme, bring to a boil and then simmer for an hour. At this time add the remaining sausage and cook for another hour. Fifteen minutes before it's done, add the minced green onions and check to see if it needs salt, black and Cayenne pepper.

Serve over cooked rice.


******


Food and cooking tips, real Maraschino cherries, Perfectly marbled prime NY strips, good biscuits (not the crap I made for Thanksgiving) and other goodies with impressive girth: cbd dot aoshq at gmail dot com

&topic=world_news">

posted by CBD at

04:00 PM

|

Access Comments