« EMT 12/24/17 Christmas Eve Edition
|
Main
|
What's Under Your Tree? Open Thread »
December 24, 2017
Sunday Morning Book Thread: 12/24/2017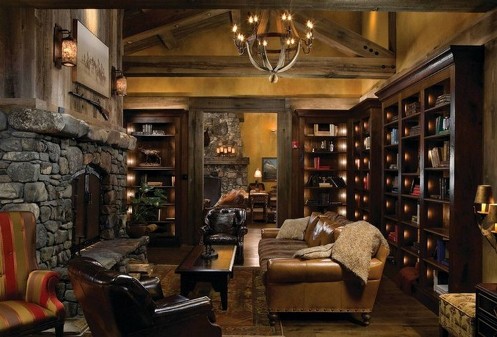 Just around the corner is a buxom serving wench or handsome swain bringing a large mug of hot tea or, for you drinkers, a low ball glass with a couple of large splashes of a good single-malt Scotch.
The fire has been built and awaits your match. You just started a very good book, and there is absolutely nothing on the schedule that will interfere with your reading pleasure...except for the end of the book.

******
Christmas-time is that part of the year when people really do make an effort to see, or at least speak with old friends and distant relatives; people who are important but, for whatever reason, we don't speak with or see very often.
Is it the same with books? I know that commenter JTB rereads LOTR every year, and I recall mentions of regular visits to old book friends from others.
What do you revisit?

******
OregonMuse sent me this link from Powerline:
In place of Time's top 10 books
, and there a few that look quite good, most especially Victor Davis Hanson's
The Second World Wars: How the First Global Conflict Was Fought and Won
and Ron Chernow's
Grant.
And another OM link of notable books, this time from The Federalist. The Federalist's Notable Books of 2017 is another pretty good list, with one or two recommendations from a bunch of their contributors. And there is a baseball book!

******
And still more stuff sent to the Book Thread....
Moron author Mark Huffman has just published Fallen, his second book of ante-diluvian fiction, by which it is meant the story takes place in the historical period between the Fall of Man and Noah's Flood:
Humankind was commanded to fill the earth and subdue it, and they have obeyed. In doing so, many have forgotten their Creator; thus, Noah of Eden, a preacher of righteousness, has spent the last few centuries as a wanderer in the world, proclaiming the old, true ways.

His mission is interrupted when a brutal, mysterious enemy fans the embers of lust for power into flames of war. Gathering companions, he races to avert disaster where he can, while realizing that—in more ways than he could have imagined—the earth, and everything in it, is fallen.
This novel, the second in Huffman's 'Antediluvian' series, is the sequel to Leviathan.
Mark has also written a fun series of urban fantasy short stories about a vampire psychiatrist with a sweet tooth.

***
Moron author David Dubrow's newest book is out:
Appalling Stories: 13 Tales of Social Injustice.
With political correctness gobbling up the culture like a fat kid on his sister's quinceanera cake, where do you go for quality, old-school entertainment?

Appalling Stories focuses on themes and characters you're just not supposed to read about anymore, using social issues as the setting, not the plot. Inside, you'll read about a disturbing erotic resort that caters to an exclusive clientele, a violent Antifa group biting off much more than they can chew, a serial killer with a furious inch, and a lot more.

The authors find message fiction as tedious as you do, and traditional publishing seems intent on shoving favored narratives down readers' throats. This anthology pushes back against PC moralizing, bringing you story above all else. Are you going to let Social Justice Warriors dictate what you can and can't read?

Consider this your trigger warning.

Featuring an exclusive foreword by R.M. Huffman, author of Leviathan and Fallen, books 1 and 2 of The Antediluvian Legacy.

My standard offer applies: I'd be happy to give an e-copy of the book for free to anyone who agrees to review it on Amazon. Please email me at davedauthor at gmail dot com
******
I'm on a few mailing lists for good deals on books, one of which is
Early Bird Books.
Nothing special, but I got a big chuckle out the blurb they included for a book about India called
A Goddess in the Stones: Travels in India
.
"An absorbing introduction" to the eclectic tribes and remote regions of India that are increasingly threatened by the encroachment of modernity (Kirkus Reviews).
Well, maybe not a chuckle...maybe it was more of a profanity-laced rant about liberals and their love for pre-industrial society (as long as they don't have to live in one), complete with zero prenatal care, early death from preventable disease, sub-standard housing conditions, and a horrid standard of living in all other respects.
******
I wanted to end with a mention of a quintessential Christmas book, but aside from Dickens' "A Christmas Carol," I can't think of any that fit the bill. But the Horde will undoubtedly have many in mind, so have at it!
&topic=world_news">

posted by CBD at
09:00 AM
|
Access Comments