« Wednesday Overnight Open Thread (12/20/17) Not Feeling Serious Edition
|
Main
|
Mid-Morning Open Thread »
December 21, 2017
The Morning Report 12/21/17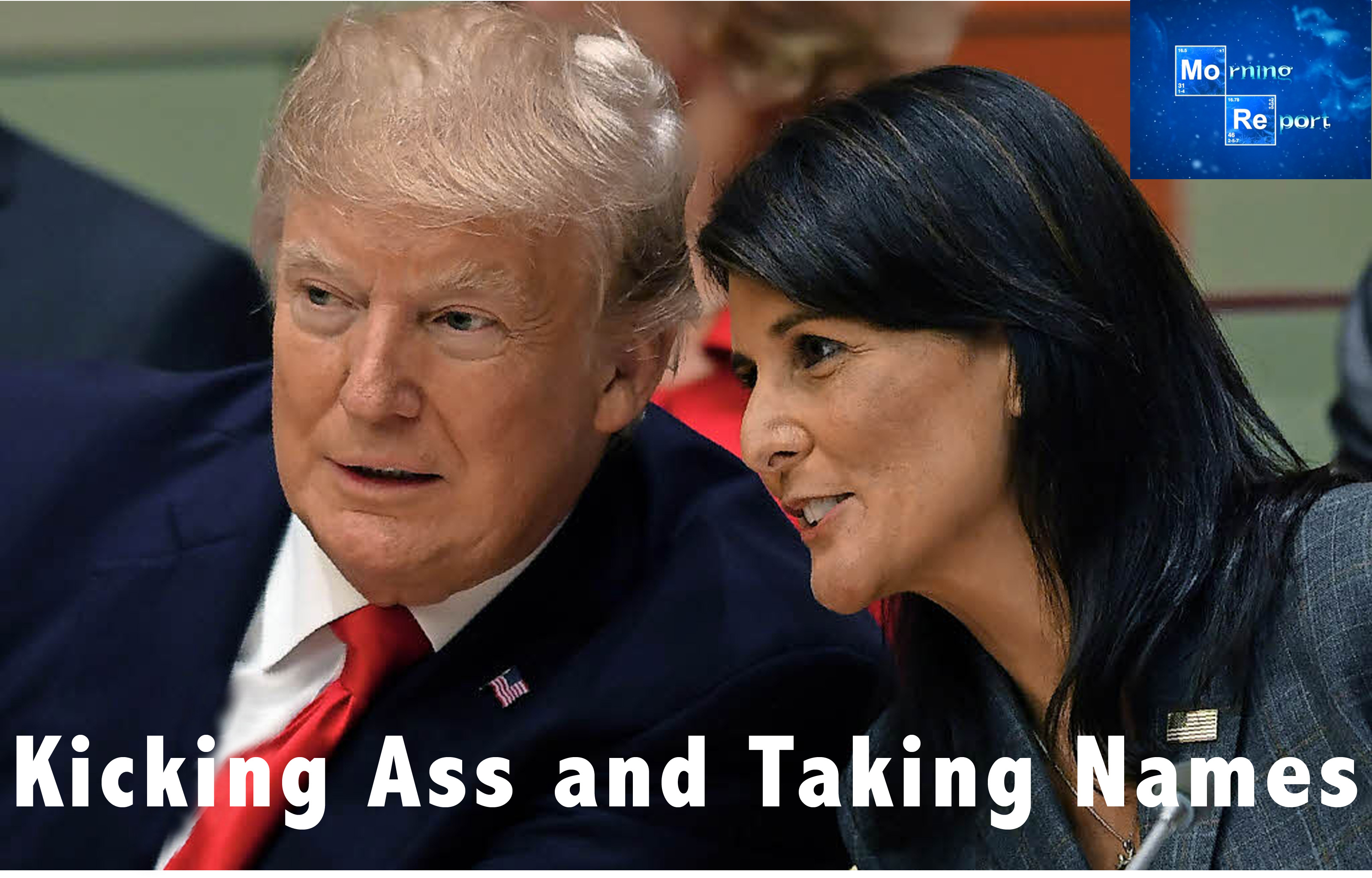 Good morning kids. The winter solstice has arrived, and from here on out the days will be getting longer. Major tax reform has now passed both houses of Congress and it's now on its way to the Oval Office awaiting the President's signature. Forgetting for a moment the actual nuts and bolts of the bill, it is a testament to the President's sheer force of will to get this thing passed, considering the magnitude of the legislation (it's not a fluff Lily Ledbetter nothing-burger photo op) and that since PDT came down that escalator in July of 2015 the GOP was hell bent to sabotage him at every opportunity. Do I think the GOP has surrendered to the President? I highly doubt it. But perhaps quite a few of them value their own personal political survival enough to get on board, at least for the time being. Whatever their own personal Machiavellian maneuverings, if in the end the things we need to get done get done, then I'm down for that struggle. To paraphrase the great Milton Friedman, because we can't seem to elect the right people to do the right thing, we have to make it politically profitable for the wrong people to do the right thing (something like that, but good). Hence Mitch McConnell ditching dead-Flake-walking Flake over supposed bipartisan DACA Amnesty in the new year.
Along with boosting investment and job creation at home, and a real tax savings for virtually all taxpayers, especially the "middle class" (the Left's lies about this notwithstanding), the Obamacare mandate, which after all is a tax (suck it, Lefties!) is now gone. And that leads us to the downside of the GOP - the Obamacare so-called "Stability Deal" which by all accounts is a gigantic sop to the insurance companies and at best does nothing to restore even a modest fig leaf of free market principles and the lowering of costs. The President has the wind at his back; I hope and pray that he swats this garbage out of the way and comes through with another huge promise; allowing the sale of insurance across state lines and killing in effect an outrageous, longstanding monopoly/oligopoly. And with the elimination of the mandate, which is essentially the guts of Obamacare, something is going to have to be done to at least get us back to the situation as of 2010, when that evil edict was foisted on us. C'mon, Mr. President; if you really want Americans to save money and also to end business as usual, the time has come to create an environment of competition in the insurance and health care industries that lowers costs and makes American healthcare great again.
Moving right along, we have a bevy of articles and essays about the political collapse of the Democrats. Yes, I realize I have a story about how that Virginia legislature seat that was won by a single vote might have been as a result of election fraud, but that just illustrates how utterly bereft of ideas and policies the Democrats are, and in fact always have been.
In Swamp news, I give you the utterly galling Ron Wyden who, after everything we are learning about Mueller and his team of Leftist Insurrectionists has the unmitigated temerity to say that an audit of the President would be tainted because the new interim IRS chief is one of his appointees. But in the real world, as opposed to Savannah Guthrie's vapid frontal lobe, we have a report from the IRS inspector general that it's business as usual at the agency, where citizens are routinely harassed and abused by agency bureaucrats. Over to you, Ron.
From hither and yon, the Left's latest strategy to win hearts and minds is to encourage people to go over to Ajit Pai's house, whose address they revealed on Facebook, and go take a dump on his lawn. I guess this is an example of how they, er, "compete" on the playing field of ideas. Before yesterday's Senate vote on the Tax Bill, Rosie O'Bollard offered a couple of usually squish RINOs $2 million dollars to vote "no." Scooter Libby and Martha Stewart went to prison for a helluva lot less than that which is prima facie felony bribery, no?
Lastly, and I covered this yesterday but I think it caps things off nicely, is the classy, honorable and tenacious Nikki Haley. As the UN General Assembly is set to vote to condemn the US for its recognition of Jerusalem as the capital of Israel, Haley and the President have adopted Rush Limbaugh's idea of the international shit list. Go against us at the UN and suffer the economic consequences. Ms. Haley has so far turned out to be far and away the President's best pick. She is to me the new Jeanne Kirkpatrick and perhaps with a soupcon of Daniel Patrick Moynihan. Looking ahead, I and others have stated that as of this writing, she could very well be Presidential material come 2024. Yes, I know her record on domestic issues has been spotty at times, but with age and experience generally comes wisdom, Leftists notwithstanding.
Anyway, links from around the world, across the nation and up your street. Have a better one and remain blessed.

UPDATE: Link #2 to IBD is now fixed, or should be.
Winter Solstice Long Distance Dedication...

posted by at
06:31 AM
|
Access Comments