« Wednesday Overnight Open Thread (12/13/17) 3rd Monday Of The Week Edition
|
Main
|
Mid-Morning Open Thread »
December 14, 2017
The Morning Report 12/14/17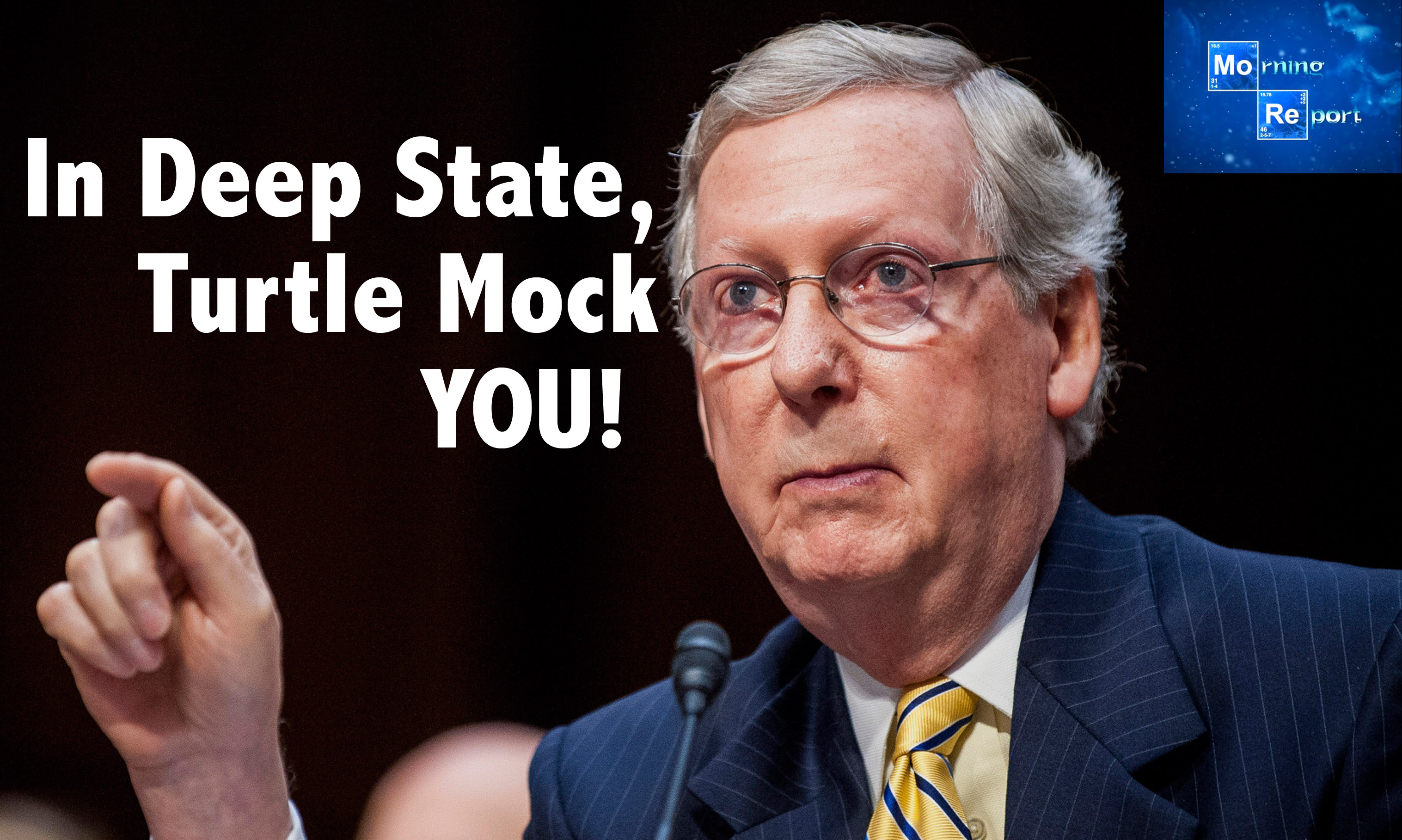 Good morning kids. We'll start of this Thursday with the continuing, and hopefully soon to end, autopsy of Tuesday's debacle in Alabama. As we all know, Roy Moore was a flawed candidate for a number of reasons. That doesn't mean I and most of you did not support him; we all wanted him to win. It's just that our wish-casting and transposing our logic on to the voters vis a vis allowing the alternative to win (which they did) was illusory. Now all that said, much of the blame can be laid squarely on the drooping shoulders of Mitch McConnell. He wanted an Establishment lackey, like Thad Cochran only with a marginally higher brain stem function, and NOT a member of the House Freedom Caucus, represented by Mo Brooks. And so from the get-go he supported Luther Strange, but for whatever reason (I am uninformed about Alabama local politics) Moore threw his Stetson into the ring and the voters chose him in the runoff. And the rest as we all know is history. Now, yes, while Moore as stated was flawed, the combination of the smear campaign against him, his own idiosyncrasies, and the abandonment by the GOP-e until it was essentially too late gave away what should have been a lock to a Democrat. This crap cannot happen again. I have no idea how we a) get good candidates and b) fight both the Democrat-Media Complex smear machine and the GOP-e at the same time. Mercifully, I think the Democrats have much more to lose in the midterms and despite this considerably significant steal in Alabama, I also think they are deluding themselves into thinking they're going to win big in the midterms. We shall see.
And that said, the Tax Reform bill has cleared reconciliation and a vote on the final bill could come before Christmas. Despite its flaws and sops buried in it, there are significant items that could ignite an already roaring economy into the stratosphere. With a legislative success that should translate into real economic gains for ordinary citizens, the Democrats should in theory be beaten yet again, and handily, as they have been for every election since 2010 (the two-term Reign of Error notwithstanding).
Rod Rosenstein, the miserable Deep State worm who inflicted Robert Mueller on us, was grilled alternately by Jim Jordan and Trey Gowdy. But the execrable sub-moron Sheila Jackson-Lee beclowned herself yet again.
In Groperdammerung news, a Kentucky GOP state legislator reportedly committed suicide over allegations of sexual assault of a teenager, a former Minnesota Planned Parenthood apparatchik chick has been named to replace Al Franken, but will Franken give up his seat or will he have to be physically ejected like Omarosa Manigault apparently was after being fired by PDT yesterday? And Marcy Kaptur is bucking for a position on the Saudi Arabian Modesty Squad by saying women invite sexual harassment by dressing provocatively. Even in the War on Women, generals fire on their own troops, eh Marcy?
From hither and yon, John McCain's tumor was readmitted to the hospital yesterday, there's a report that indicates ISIS may have created a phony Christian terrorist group to take the blame for last month's Egyptian mosque massacre, scrawny race hustler and paid insurrectionist DeRay McKesson is suing Jeanine Pirro and Fox news for defamation of character (assumes character not in evidence) and finally an essay by the great Oleg Atbashian of People's Cube fame about how the Left's sexual assault feeding frenzy is a direct result of the sexual revolution it created all those years ago. Sow, Reap. Some assembly required.
Anyway, links from around the world, across the nation and up your street. Have a better one and remain blessed.


posted by at
06:54 AM
|
Access Comments